Takeda and Discovery Education Partner on New Initiative Focusing on Health Equity
Suite of No-Cost Digital Resources Designed to Help Foster a Health Equity Mindset for Students and Educators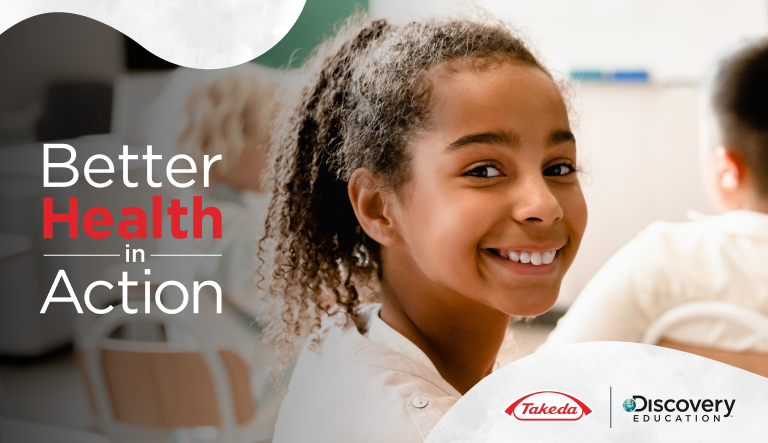 CHARLOTTE, N.C. and BOSTON November 16, 2022 /3BL Media/ - Takeda (TSE:4502/ NYSE:TAK), a global biopharmaceutical leader, and Discovery Education, the worldwide edtech leader, today announced a new partnership focused on transformative health equity education. The education initiative – Better Health in Action: From Classroom to Community – is built to empower the next generation of health equity leaders to learn about the urgent widespread issue of health inequity and to be a force for change.
Designed to engage students in the critical topics of health equity globally and their connections to science, technology, engineering, and mathematics (STEM), Better Health in Action provides students, educators, and families in grades 6-8 with a suite of engaging digital resources at no cost. Better Health in Action's standards-aligned resources are designed for wherever learning takes place and provide students with tools for exploring health equity, understanding health literacy, and addressing health inequities in their communities.
Through videos, self-paced learning modules, and family discussion guides that will soon be available in nine languages, this initiative analyzes community inequities and addresses how each person can do their part to help address them through improved health and education. In addition, the Better Health in Action website, to be available globally, takes students inside the lives of a diverse portfolio of professionals with career paths centered on STEM and health, offering students opportunities to imagine their future and potential in the journey towards health equity.
"As a more than 240-year old company, we've always asked ourselves, what more can we do for patients? As the head of Takeda's Center for Health Equity and Patient Affairs, an obstetrician-gynecologist for over 20 years and an assistant adjunct professor, I know there is much more to be done before we can achieve health equity – where everyone, everywhere has the opportunity and resources to reach their full health potential," said Charlotte Owens, M.D., Vice President and Head of the Takeda Center for Health Equity and Patient Affairs. "Equity starts with understanding, and that's why we're committed to partnering with Discovery Education to help students understand the principles of health equity and identify health inequities in their own communities. We also have a responsibility to create the world we want for generations to come. Discovery Education is our ideal partner to inspire this next generation, providing students with educational solutions to become health equity champions."
Better Health in Action currently offers educators and students a series of immersive career profiles and student activations. Students can take the learning further with activities that teach STEM skills and inspire leadership. The career profiles feature leaders from Takeda, including:
Charlotte Owens, M.D., Vice President and Head of the Center for Health Equity and Patient Affairs;
Kimberly Aguilar, B.Sc., a Manufacturing Scientist; and
Craig Kaftan, M.Sc., an Associate Director of Pharmaceutical Sciences.
"Health is a building block for success in life. In partnership with Takeda and our first program focused closely on health equity, we are helping to show students the power of health and how equity sits at the center. With comprehensive health-focused resources highlighting STEM skills through engaging activities and inspiring career opportunities, Better Health in Action empowers the students of today to effect positive change lifelong," said Amy Nakamoto, General Manager of Social Impact at Discovery Education.
Learn more about Better Health in Action at BetterHealthInAction.com or within Discovery Education's K-12 learning platform. Connecting educators to a vast collection of high-quality, standards-aligned content, ready-to-use digital lessons, intuitive quiz and activity creation tools, and professional learning resources, Discovery Education provides educators an enhanced learning platform that facilitates engaging, daily instruction. New resources and content will be added regularly to Better Health in Action.
For more information about Discovery Education's award-winning digital resources and professional learning services, visit www.discoveryeducation.com, and stay connected with Discovery Education on social media through Twitter and LinkedIn. To learn more about Takeda, visit https://www.takeda.com or connect on Twitter or LinkedIn.
###
About Takeda
Takeda is a global, values-based, R&D-driven biopharmaceutical leader headquartered in Japan, committed to discover and deliver life-transforming treatments, guided by our commitment to patients, our people and the planet. Takeda focuses its R&D efforts on four therapeutic areas: Oncology, Rare Genetics and Hematology, Neuroscience, and Gastroenterology (GI). We also make targeted R&D investments in Plasma-Derived Therapies and Vaccines. We are focusing on developing highly innovative medicines that contribute to making a difference in people's lives by advancing the frontier of new treatment options and leveraging our enhanced collaborative R&D engine and capabilities to create a robust, modality-diverse pipeline. Our employees are committed to improving quality of life for patients and to working with our partners in health care in approximately 80 countries and regions. For more information, visit https://www.takeda.com.
About the Takeda Center for Health Equity and Patient Affairs
Through the Takeda Center for Health Equity and Patient Affairs (HEPA), launched in 2020, Takeda is collaborating with diverse partners, including patients, communities and organizations, as well as public and private organizations, to identify and address health inequities in communities. Within Takeda, HEPA sits at the intersection of research and access activities, serving as a center of excellence to all business units. Equity starts with understanding. Once we understand diverse patients' needs and the communities in which they were born, grow, live, work and age, we can create more inclusive practices and develop innovative medicines that better reflect how patients wish and need to engage with healthcare to achieve their highest level of health.
About Discovery Education
Discovery Education is the worldwide edtech leader whose state-of-the-art digital platform supports learning wherever it takes place. Through its award-winning multimedia content, instructional supports, and innovative classroom tools, Discovery Education helps educators deliver equitable learning experiences engaging all students and supporting higher academic achievement on a global scale. Discovery Education serves approximately 4.5 million educators and 45 million students worldwide, and its resources are accessed in over 100 countries and territories. Inspired by the global media company Discovery, Inc., Discovery Education partners with districts, states, and trusted organizations to empower teachers with leading EdTech solutions that support the success of all learners. Explore the future of education at www.discoveryeducation.com.
Contacts
Grace Maliska
Discovery Education
gmaliska@discoveryed.com
Megan Ostrower
Takeda
Megan.ostrower@takeda.com