Symantec Slashes GHGs by More Than 30% in Just Three Years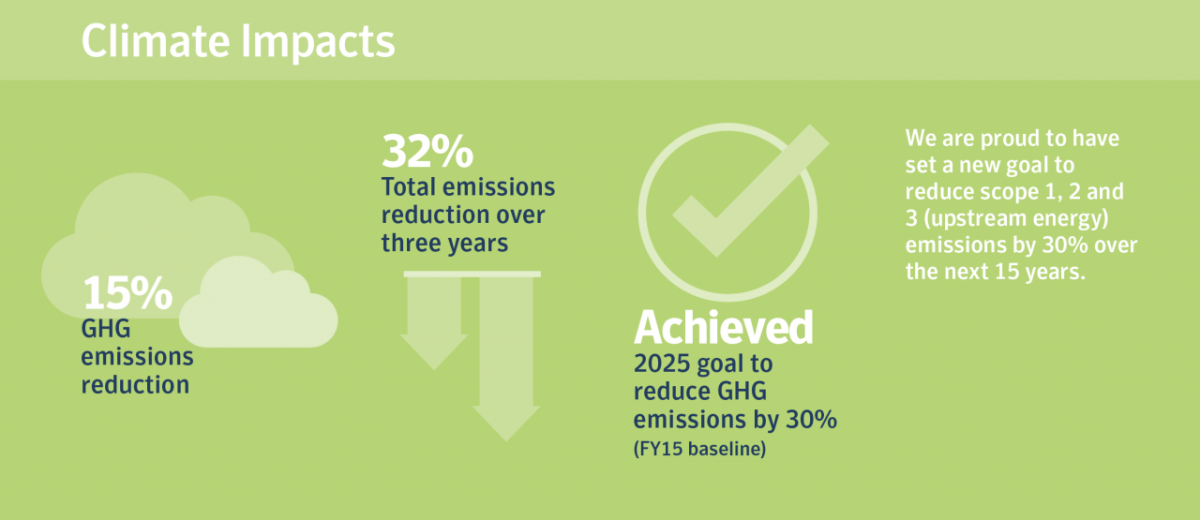 As featured in Symantec's 2018 Corporate Responsibility Report
We recognize the urgency with which society must collectively act to mitigate the threat of climate change. At Symantec, we continue to promote a low carbon future by reducing resource use across our operations, engaging our employees, and taking part in industry initiatives to transition to renewable clean energy.
Achieving our greenhouse gas reduction goal 
In 2016, we set a goal to reduce our scope 1 and 2 GHG emissions to 30 percent below fiscal year 2015 levels by 2025. Only three years into this 10-year period, we have already exceeded our goal and reduced emissions by 32 percent. In fiscal year 2018 alone, we reduced emissions 15 percent, primarily through space consolidation projects that led to an overall reduced footprint and decreased energy use. We also reduced emissions at our Mountain View headquarters with a new zero-carbon electricity contract.
During fiscal year 2018, we signed on to participate in the Science Based Targets initiative (SBTi). Because we met our 10-year goal earlier than anticipated, we are now working on a new scope 1 and 2 GHG emissions reduction goal, as well as our first scope 3 goal, in line with the SBTi criteria. Read more about the SBTi here.
We also participate in a multistakeholder initiative—Renewable Energy Buyers Alliance—to help remove barriers to, and grow buyer demand for, renewable power. This initiative supports access to low-carbon solutions and a shift toward fewer GHG-intensive energy supplies.
Beyond reducing operational emissions, we launched a companywide, global campaign to inspire employees to become environmental stewards. The Going Green in 2018 campaign seeks to increase awareness of Symantec's commitment to sustainability, to engage employees in building a more sustainable business, and to inspire them to make more sustainable choices outside of work. Going Green in 2018 includes personal sustainability goal setting, sustainable food choices, environmental volunteering, and giving back to our planet, among other activities.
Leveraging our collective influence
Symantec participates in various environmental initiatives, including:
Business for Social Responsibility's Future of Internet Power Initiative, which aims to increase data centers' use of clean and renewable power.
Ceres Business for Innovative Climate and Energy Policy campaign.
Ceres Connect the Drops campaign, which brings together Californian companies and policymakers to advance resilient water solutions and ensure sustainable management of the state's stressed, and often unpredictable, water supplies.
As part of our commitment to the communities in which we operate, we funded, in partnership with Planet Water Foundation, a new water tower in India. Employees from our site volunteered to help build the tower.
Partnering with Thinkstep to advance end-of-life recycling
As part of our ongoing commitment to environmental stewardship in our products and supply chain, Symantec partnered with Thinkstep, a sustainability consulting firm, to manage our compliance with WEEE (waste electrical and electronic equipment) Battery and Packaging Compliance globally.
Strengthening our supply chain protocols
We have stringent due diligence processes in our supply chain to detect and prevent human trafficking. In 2018, we assessed an additional 18 suppliers using Dun & Bradstreet's Human Trafficking Index for a total of 56 suppliers assessed. To date, we have assessed our full list of physical product suppliers and several key service suppliers.
Learn more about Symantec's progress in the 2018 Corporate Responsibility Report.