Sustainable Customer Solutions at FedEx
Sustainable Customer Solutions at FedEx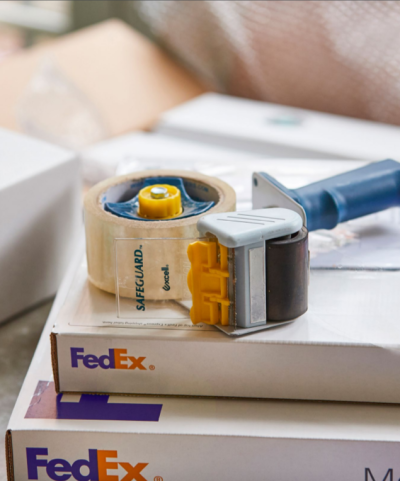 Tuesday, September 27, 2022 - 12:20pm
FedEx works with customers to evaluate offering end-to-end sustainability for our supply chains through options such as carbon neutral shipping offerings and sustainable packaging solutions. We assist customers in optimizing package size and weight to minimize waste, increase shipping efficiency, and reduce emissions, as applicable. We help customers ship packages responsibly by offering free packaging options for FedEx Express shipments that are reusable, recyclable, and made from recycled content. All FedEx-branded cardboard packaging is 100% recyclable. The FedEx Sourcing team evaluates each critical packaging supplier annually on environmental management practices and sustainability program improvement. In addition, the thirdparty certified content percentage of our packaging materials was 75% during FY21.
Furthermore, FedEx Office sources paper responsibly for commercial copy and print services by adhering to their forest-based paper product procurement policy. In FY21, 100% of all paper purchased by FedEx Office was from vendors with responsible forest-management practices. 
At several FedEx Logistics facilities that serve technology industry customers and FedEx internal operations, we receive electronic equipment returns that we work to properly dispose, which could include refurbishment or recycling. In particular, the FedEx Forward Depots division of FedEx Logistics recycled over 464 metric tons of information technology equipment on behalf of our customers throughout FY21.
FedEx Logistics also offers a long-standing value-added service connecting customers with material recycling providers in North America. This service includes transportation, processing, and recycling of materials, with a 99% landfill diversion rate, along with 100% traceability for secure inventory management. Through this service offering, more than 1,000 metric tons of customer materials are recycled annually.