Sustainability in Action: Neiman Marcus Group's Bergdorf Goodman Building in New York City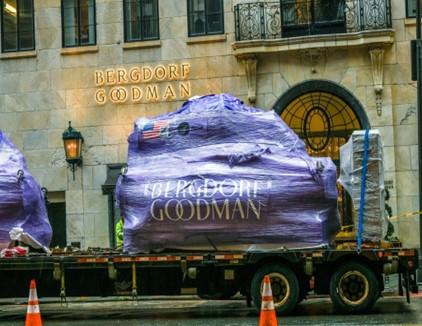 We're helping solve our customers' big challenges by innovating and delivering solutions that are better for their business - and for the environment.
Project At-a-Glance
The opportunity: Help the Neiman Marcus Group achieve its goal of a net-zero future by improving energy efficiency and reducing carbon emissions at their historic Bergdorf Goodman building.
The solution: Replacing the building's outdated, inefficient absorption chillers with two 500-ton water-cooled, energy-efficient Trane® electric chillers, low-GWP refrigerant, and upgraded controls.
Sustainability outcomes:
annual carbon reduction of 642 metric tons
total elimination of the use of natural gas and progression toward electrification
an estimated $61,000 savings in annual energy costs
compliance with New York City's Local Law 97, one of the most ambitious plans for eliminating emissions in the nation
The Neiman Marcus Group (NMG) has been revolutionizing luxury retail for over 100 years. With the recent launch of its first-ever Environmental, Social, Governance report, "Our Journey to Revolutionize Impact," NMG has applied its bold spirit to sustainability commitments, pledging to reduce Scope 1 and Scope 2 emissions by 50% by 2025 and to transition to 100% renewable energy use by 2030.
To reach these ambitious benchmarks, NMG worked with its longtime building technology and energy solutions partner Trane to create an enterprise-wide decarbonization roadmap. Understanding that buildings account for nearly 40% of greenhouse gas (GHG) emissions,[1] NMG and Trane looked to the company's iconic New York City storefront, the 94-year-old Bergdorf Goodman building, as a starting point.
Big challenges require bold solutions
The historic building sits in the heart of midtown Manhattan, at the intersection of 57th Street and Fifth Avenue, and houses the Bergdorf Goodman Women's Store. While the Bergdorf Goodman building is known for its elegant architecture, unique slanted mansard-style rooflines, and rich history, the nine-story building was also accounting for nearly 20% of the energy usage in the entire NMG fleet of stores.
After an initial comprehensive review to assess the functionality of the building, Trane and NMG considered infrastructure needs, key performance indicators, and Trane's portfolio of innovative, sustainability-focused technologies to develop a comprehensive solution: Replacing the building's outdated, inefficient absorption chillers with two 500-ton water-cooled, energy-efficient electric chillers and upgrading to a low-GWP refrigerant and optimized controls.
In addition to improving the building's energy efficiency and launching NMG on its path toward net-zero, the proposed solution would also allow the Bergdorf Goodman to be among the first historic buildings to comply with New York City's Local Law 97, a groundbreaking law requiring large buildings to meet new energy efficiency and greenhouse gas emissions limits by 2024, with stricter limits coming into effect by 2030[2].
The significant infrastructure upgrade, which took place in the center of bustling New York City without disrupting the day-to-day operations of the Bergdorf Goodman Women's Store, required seamless coordination between the two companies and other key New York City agencies, including the Department of Buildings, the Department of Transportation, and the Landmarks Preservation Commission.
Pioneering comprehensive solutions through innovative technology
Innovative, energy-efficient, decarbonizing technology from Trane enabled the Bergdorf Goodman building to eliminate the use of natural gas, progress toward full electrification, and transition to renewable energy use, significantly reducing its carbon footprint.
Trane's next generation, low-GWP refrigerant electric chillers offer more efficiencies and capacities, setting a new standard for buildings in New York City, while upgraded controls optimize the system's runtime and ensure more consistent comfort for customers.
Together, the carefully-orchestrated installation of the chillers and controls is expected to reduce the building's emissions by 642 metric tons of carbon – the equivalent of GHG emissions from 138 gasoline-powered passenger vehicles driven for one year. As a direct result of their increased efficiency, the upgrades in the building will save NMG an estimated $61,000 in annual energy costs.
Strategic partners with shared climate goals 
The partnership between Neiman Marcus Group, a luxury retailer visionary, and Trane demonstrates the power of collaboration and shared values around renewable energy and decarbonization.
For Neiman Marcus Group, the installation represents a significant milestone along the company's path toward decarbonization and places NMG at the forefront of energy innovation in historic buildings. At the same time, NMG's transition to renewable energy supports New York City's goal of reaching net-zero GHG emissions by 2050 and Trane Technologies' goal of reducing a gigaton of carbon emissions from customers' footprints by 2030.
The Bergdorf Goodman project is only the beginning of NMG and Trane's decarbonization strategy, which includes deep decarbonization assessments at other high sales retail buildings across multiple states. As NMG continues on the pathway to net-zero, Trane will be there to offer holistic, bold solutions: delivering efficient results for business and creating a lasting, positive impact on the planet.
You can learn more about this project on trane.com. 
 
[1]Source: U.S. Green Building Council
[2] https://www.nyc.gov/site/sustainablebuildings/ll97/local-law-97.page