Supporting the Wave of New Black Women Entrepreneurs
More and more Black women have become entrepreneurs in recent years. Milestone Circles is on track to help thousands reach their business goals in a post-pandemic economy.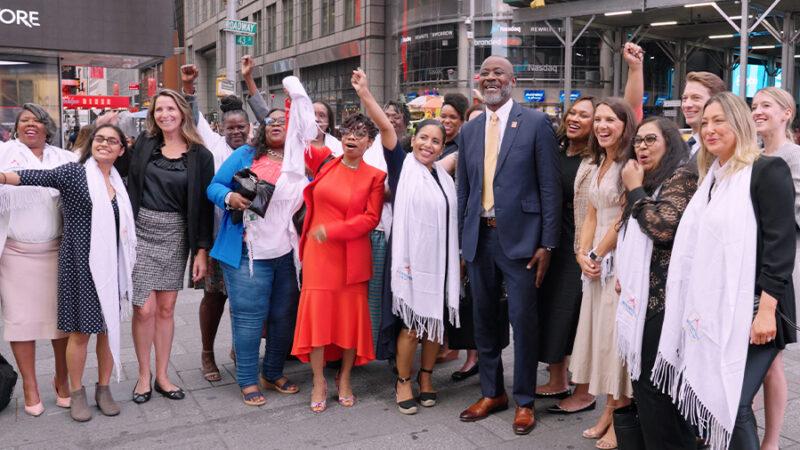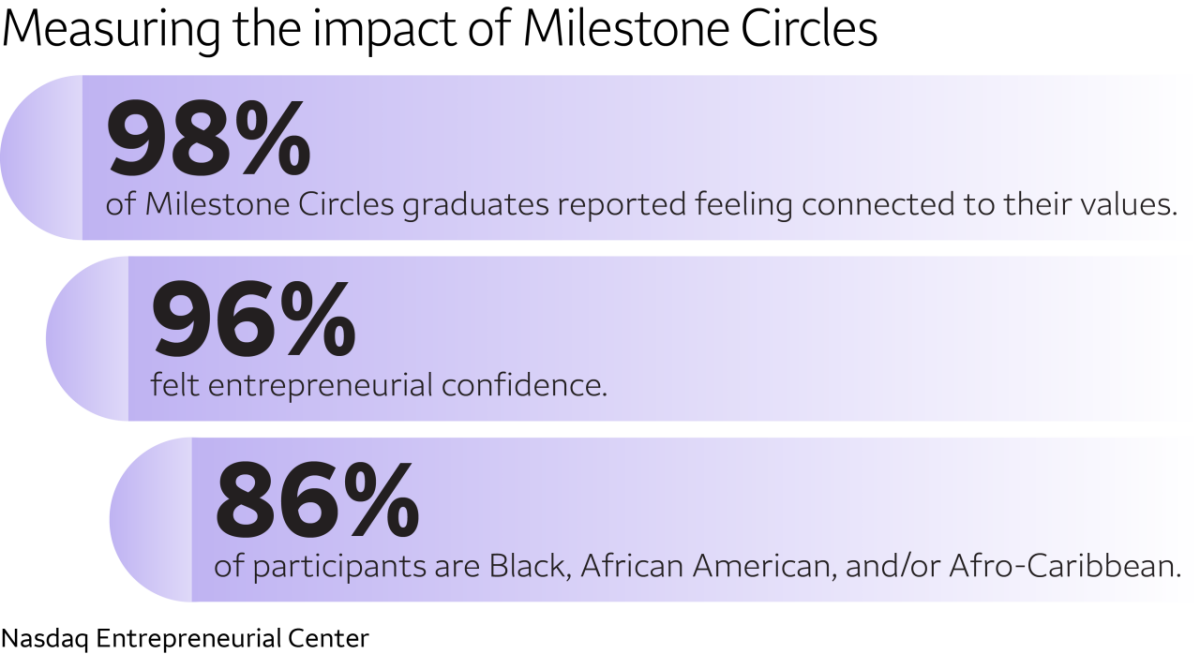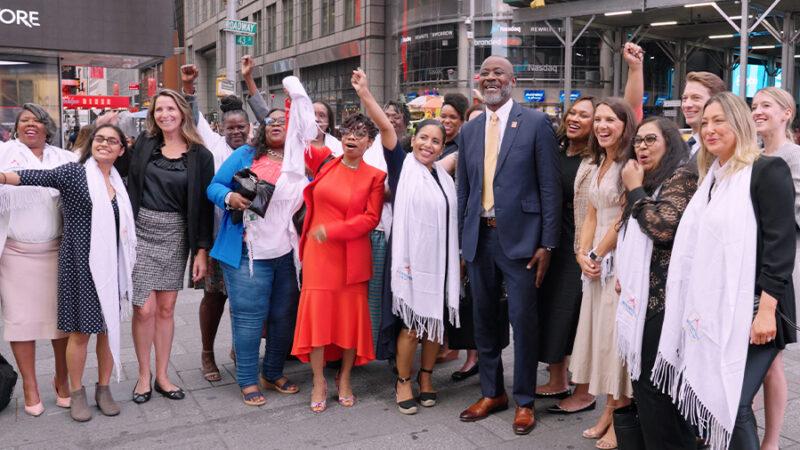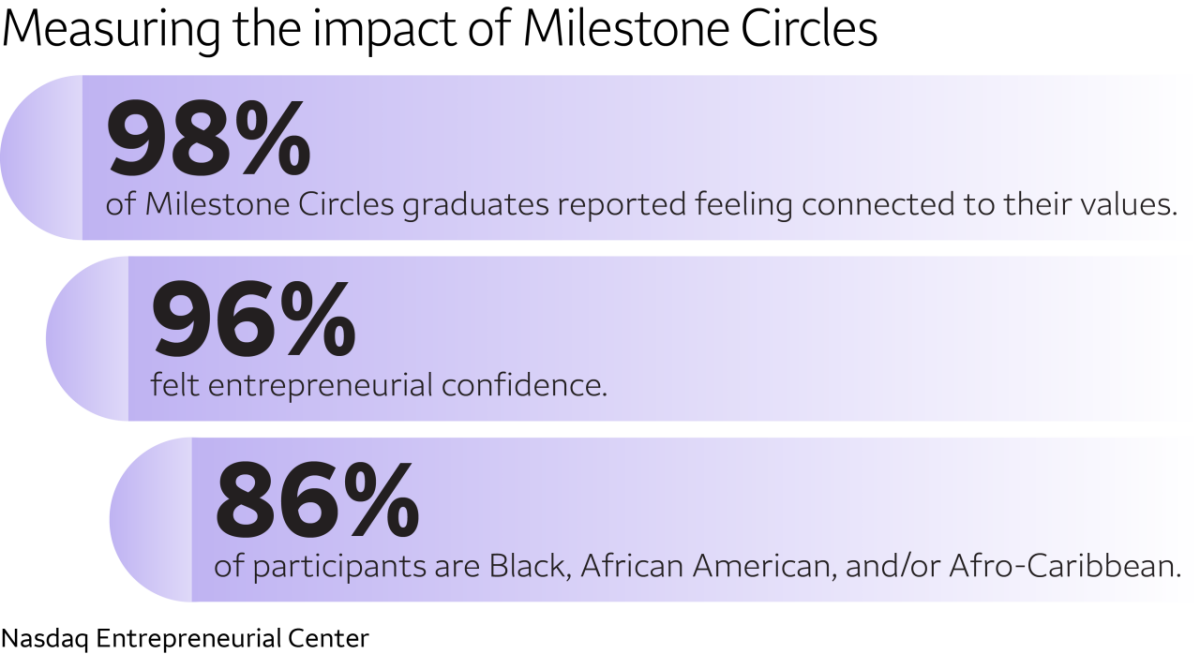 Saundra Gilliard started her business in early 2020, just weeks before COVID-19 would officially become a pandemic. It turns out, she was far from alone. A few years later, one trend is emerging from the pandemic's economic shock: more Black women-owned businesses are being founded and growing quickly, outpacing other businesses. In fact, Gilliard and her woman-coaching business Femininely Free! are part of a surge in new Black women-owned businesses, which grew 32.7% between 2019 and 2023. That's compared with the 12.1% growth of all women-owned businesses during the same period, according to the upcoming 2023 Wells Fargo Impact of Women-Owned Businesses report to be released in November.
"I was trying to make a business out of a hobby that I had for about 20 years," said Gilliard, who's based in Philadelphia. "I think that sometimes you have a dream and you're not really sure how to get the business going."
To help her launch Femininely Free! Gilliard turned to Milestone Circles, a mentoring program for women entrepreneurs offered by the Nasdaq Entrepreneurial Center (NEC) and funded by Wells Fargo Foundation support. Participants, 86% of which have been Black, African American, and/or Afro-Caribbean, learn to improve their business alongside a "circle" of fellow entrepreneurs.
Milestone Circles, now entering its third year, has connected nearly 2,000 women business owners to powerful peer networks that help them hit their business milestone. Wells Fargo and the NEC plan to double the number of graduates to 4,000 by the end of 2024 to better meet the needs of the thousands of women entrepreneurs who've already applied to the free program, which is part of Wells Fargo's Connect to More program.
"[Milestone Circles] helps women entrepreneurs like myself to know that, listen, you're not by yourself," said Cynthia Hurley, a Brooklyn, New York-based entrepreneur and founder of Make Cent$ With Your Money, which promotes financial literacy to women and young people. "This is a community of women who are facing challenges, who are all looking to do the same thing: grow their business."
Black women-owned businesses are growing
Black women-owned businesses aren't just increasing in number after the pandemic, they're growing faster, too. While the average revenue among Black women-owned businesses is still lower than others, it's catching up, increasing 35.3% between 2019 and 2023 compared with 7.1% and 4.1% for women-owned and Black-owned businesses, respectively, according to the Wells Fargo report.
Tamika Chance of Waldorf, Maryland, has grown her IT support firm T12 Technologies by learning to better market herself and her services, which helped her win new contracts. It's a skill she picked up in her Milestone Circle.
"As a woman entrepreneur, it's very difficult to have people speak to you and sometimes take you seriously in the services that you do," Chance said. "With Wells Fargo, they're providing the tools, information, and paths to reach those tools and resources you need to grow."
One reason for growth: support
One factor behind the recent growth in Black women-owned businesses is that these business owners are harnessing new opportunities and resources.
While Black women are more likely to earn less, get less financing, and not have networks to rely on, the past few years have brought new investment from banks to support small businesses and a renewed push from consumers to support Black-owned businesses, according to the report. For example, Wells Fargo, the Bank of Doing, launched the $420 million Open for Business Fund in 2020 to help small businesses impacted by the pandemic with a focus on expanding financing opportunities for women- and Black-owned businesses through community development financial institutions, or CDFIs.
Through the Milestone Circles program, thousands of women entrepreneurs have built their own community and made their business ideas into a reality.
"It's important that banks help the communities in which they serve. Wells Fargo has been a partner in the community ever sense I can remember," Gilliard said. "If you're in the community, you should be a part of the community. That's my motto."