Suncor 2022 Report on Sustainability: Biodiversity
We're committed to preserving and promoting biodiversity in all areas where we work. This includes conserving habitat and reclaiming the landscape we've disturbed.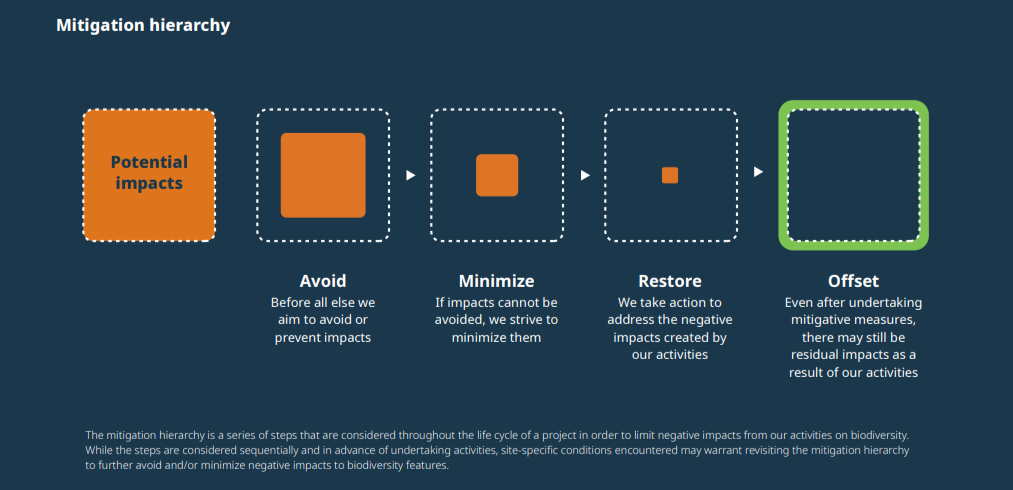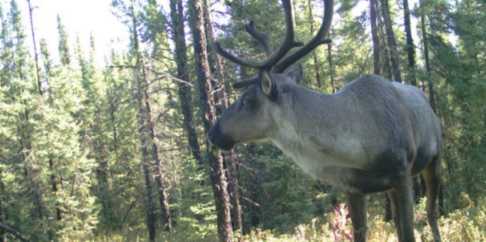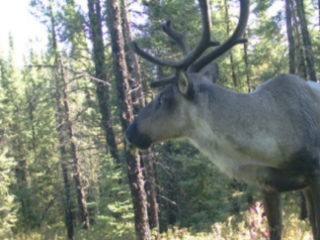 Our approach
Throughout the life cycle of our projects, we seek to avoid, minimize, restore and/or offset impacts to biodiversity from our operations. We do this by:
incorporating the principles of the mitigation hierarchy, integrated land use and management planning processes into project design, operation, reclamation and closure
using tools such as constraints mapping and wildlife sweeps to understand and ensure our development and construction activities avoid sensitive environmental areas and species potentially impacted by our activities
minimizing disturbances to the greatest extent possible while considering multiple factors
employing mitigations such as wildlife crossings, low-impact seismic, waste management procedures and managing human-wildlife interaction to reduce conflicts
working internally, with industry peers and with multi-stakeholder organizations to monitor, conserve, restore and reclaim habitat for birds, mammals, fish and other species, including those at risk such as caribou.
To protect both people and wildlife that use our sites and nearby areas, our internal Wildlife Standard describes the responsibilities of all on-site employees and contractors. This is supported by a wildlife committee with representatives from each of our operating sites coming together to discuss wildlife-related best practices.
Biodiversity monitoring and evaluation
We monitor biodiversity in and around our oil sands operations and reclaimed sites in accordance with our regulatory commitments and aligned with broader regional initiatives. Reclaimed terrestrial, wetland and aquatic areas are monitored according to site-specific reclamation monitoring plans that assess the components of biodiversity, while vegetation regrows and ecosystems develop over time. This monitoring allows us to collect soil, vegetation, wildlife use and water quality information to support reclamation certificate applications once it's determined requirements have been met. We further evaluate biodiversity across our sites through wildlife monitoring, conducted in accordance with approved site-level wildlife mitigation plans that include bird deterrents at ponds; the use of wildlife crossings over above-ground pipelines; and effectively managing human-wildlife interactions.
Through remote cameras, we've captured images of wildlife in reclaimed areas and in proximity to our oil sands operating sites. No endangered or critically endangered species from the International Union for Conservation of Nature Red List of Threatened Species have been identified within our operating areas in northern Alberta. Notable wildlife observed using reclaimed habitat on our sites include the Canadian Toad, Canada Warbler and Olive-sided Flycatcher.
In collaboration with our industry peers, stakeholders and regulatory agencies, we work with organizations such as the Alberta Biodiversity Monitoring Institute (ABMI), the Canada-Alberta Oil Sands Monitoring (OSM) Program and Canada's Oil Sands Innovation Alliance (COSIA) to:
mitigate and monitor the impacts of our operations
understand and reduce the cumulative effects of oil sands development
address regional biodiversity risk.
The OSM Program was formed out of a recognized need for a robust, reputable, and science and traditional knowledge-based monitoring system in the oil sands region. The program's goal is to provide assurance to local communities, the province, the country and the international community that oil sands resources are being developed responsibly. As key funders, Suncor and Syncrude have significant interests in ensuring the program succeeds and believe we add value as the OSM Program aims to highlight key questions and pursues increased transparency, improved governance and meaningful stakeholder engagement.
Under the OSM Program, the Terrestrial Biological Monitoring (TBM) theme area brings together multiple investigators and research programs to consider the relationship of oil sands development to biodiversity in a regional context. Through the TBM workplan, Suncor and Syncrude support programs such as the Monitoring Avian Productivity and Survivorship program – one way researchers monitor bird populations to assess the return of bird species to reclaimed land, as well as to gather demographic information that contributes to bird and habitat conservation continent-wide. Other aspects of the workplan incorporate monitoring technologies including wildlife cameras and acoustic recording units.
Caribou recovery and conservation
In the oil sands region, complex combinations of natural- and human-caused factors have created landscape changes and indirectly increased predation, resulting in declining caribou populations. We recognize the importance of caribou recovery and conservation and have implemented initiatives designed to support this objective. For example, in 2021, a section of road at our Firebag site, within the Richardson caribou range, was decommissioned with the intention of returning the land to boreal forest caribou habitat to assist species recovery.
Suncor is a member of COSIA's Regional Industry Caribou Collaboration joint industry project. The project works with academics, the Government of Alberta and the ABMI Caribou Monitoring Unit to co-ordinate restoration in priority areas, find new ways to improve biodiversity understanding and restore habitat throughout northeast Alberta. These efforts all play a role in caribou recovery.
Land conservation
Both Suncor and Syncrude believe in the value of multi-stakeholder approaches to address industry impacts on the environment.
For almost 20 years, Suncor has partnered with the Alberta Conservation Association through the Boreal Habitat Conservation Initiative to secure areas of intact boreal forest and wetlands that preserve biodiversity. We have done this by ensuring components of the larger boreal forest ecosystem have remained undisturbed. To date, we have helped secure more than 4,000 hectares (ha) of ecologically sensitive land across 43 different conservation sites in Alberta as voluntary offsets.
In 2018, Syncrude joined the governments of Alberta and Canada, the Nature Conservancy of Canada and the Tallcree First Nation to create the Birch River Wildland Provincial Park, a conservation area of 330,000 ha, located near Wood Buffalo National Park. This partnership helped create the world's largest protected area of boreal forest and is intended to offset future Syncrude land disturbance.