Stanley Black & Decker: Recent Milestones in Our ESG Evolution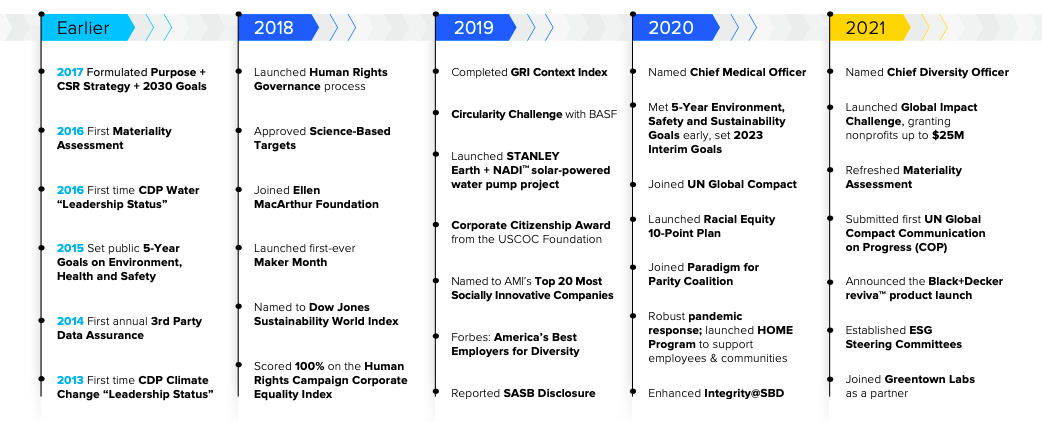 As featured in Stanley Black & Decker's 2021 ESG Report
Our journey began in recognition of the changing expectations stakeholders have of corporations, and our evolving views of what success in our business should look like. 
Our commitment to being a good corporate citizen goes back to our founding, and we have been taking action on sustainability for many years. As a core business strategy, ESG evolves and expands across the Company as we continue to make progress toward our goals.
2021 ESG Brand Highlights
BLACK+DECKER reviva™ Commercializes Circular Design: Launched reviva™ line of sustainability-led power tools with 50% certified recycled content in the enclosures using Eastman's advanced molecular recycling.
DeWALT POWERSTACK™ Breaks Through: Launched POWERSTACK™ power tool batteries using breakthrough pouch battery cell technology to deliver greater power and runtime, more sustainably, in a more compact and lighter package.
DeWALT Perform & Protect™: The DeWALT® line of Perform & Protect™ Power Tools continues to grow, with features designed to provide a high level of control, dust containment or low vibration that lessen worker discomfort without sacrificing performance.
STANLEY TOOLS ToolBank Disaster Services: As part of a long-standing partnership STANLEY supported ToolBank USA in its response to the devastating tornadoes in Kentucky, Illinois and Tennessee that occurred in December 2021. ToolBank Disaster Services rapidly deployed its mobile unit to the area to help the local community with cleanup and recovery efforts.
CRAFTSMAN "Makers Project" Contest: During October's Maker Month, CRAFTSMAN featured individuals making a difference in their community as part of its "Makers Project" contest, celebrating those who build with pride. Winners were featured on CRAFTSMAN social media channels throughout the month. In addition, CRAFTSMAN amplified our "Thank A Maker" message during the NASCAR Xfinity and Cup Series at Texas Motor Speedway.
CRAFTSMAN 2021 Racing for a Miracle: CRAFTSMAN teamed up with the Ace Hardware Foundation and Christopher Bell of Joe Gibbs Racing to raise funds and awareness for Children's Miracle Network Hospitals (CMN Hospitals) for the 2021 Racing for a Miracle program. With a donation of $100,000 to the ACE Foundation, the Company supported the hospital network's vital work. 2021 marks the 15th year of Stanley Black & Decker supporting the Racing for a Miracle program, donating more than $1.5M over that time.
PORTER-CABLE Farm Aid Support: PORTER-CABLE, Tractor Supply Co. and The Tractor Supply Co. Foundation teamed up to co-sponsor the 2021 Farm Aid Live and Streamed Concert series, reinforcing our philanthropic commitment to the communities we serve. The Farm Aid streaming concert had an estimated reach of 1 billion impressions.
CUB CADET Electrified Residential Lawn Care: Cub Cadet launched, in 2021, a full line of electric outdoor power equipment that provides hassle-free power for any lawn. Powered by lithium-ion batteries, the line includes zero turn, tractor and walk-behind mowers, plus handheld tools that offer uncompromising cut quality in a premium, quiet, powerful package.
HUSTLER Supporting the Community: Hustler Turf believes in supporting the communities where we live and work. Just as the company cares about the wellbeing of their employees, they also believe in being good stewards to their neighbors. Supporting the Harvey County United Way is an great way to impact families and children in need of assistance through the impactful programs they provide. In 2021 Hustler employees donated more than $146K and received the 2021 Corporate Leadership Award from the United Way.
STANLEY ENGINEERED FASTENING Medical Cartridge Technology: Stanley Engineered Fastening launched a disruptive innovation in medical cartridge technology. This versatile product serves people who live in rural areas with no access to the sophisticated, million-dollar equipment and temperature-controlled facilities required to perform many diagnostic COVID-19 tests. WHO-certified, the product is easy to use with minimal training and can handle multiple biological specimens (blood, saliva, etc.), making it applicable to a wide variety of tests. Launched in India in 2020, the product was further deployed in over a dozen countries on three continents in 2021.
STANLEY INFRASTRUCTURE InSite Mobile Sheer: The InSite solution was fully launched in 2021 and creates a connected mobile shear by enabling data collection and communication. It includes a control box on the attachment plus a mobile app where the data being collected can be viewed and analyzed. This gives realtime access to data normally only available during service diagnostics in order to optimize shear performance and improve utilization while minimizing downtime.
STANLEY ACCESS TECHNOLOGIES Opening Doors for Habitat for Humanity ReStores: Stanley Access Technologies donated automatic doors to Habitat for Humanity of Greater Indianapolis for the 2021 opening of their new ReStore, providing customers with a touchless retail experience. Habitat for Humanity ReStores are independently owned reuse stores operated by local Habitat for Humanity organizations that accept donations and sell home improvement items to the public at a fraction of the retail price.
Click here to read more in Stanley Black & Decker's 2021 ESG Report