Sofidel Supports Franklin Middle School Girls Basketball Team
-Sofidel donates $4,000 and hosts basketball clinic with University of Pennsylvania alumna-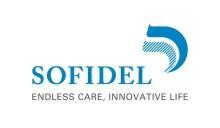 GREEN BAY, Wis., January 25, 2023 /3BL Media/ - To give back to the local community, Sofidel announced a $4,000 donation to the Franklin Middle School girls basketball team in Green Bay, Wisc. The donation will be used to purchase uniforms and equipment for the 2022-23 basketball season.
"Our goals for this season are to practice hard, learn from each other and build community," said Heather Zelzer, Associate Principal, Franklin Middle School. "This generous donation from Sofidel will help support our girls in their journey."
In November, Sereena Weledji, Marketing Assistant at Sofidel, hosted a basketball clinic for about 35 middle school girls. Weledji graduated from the University of Pennsylvania in May 2022 where she played competitive basketball and was a 2019 Ivy League regular season champion.
"It was an honor to work with the girls and teach them the importance of hard work and dedication on and off the court," said Weledji. "We're thrilled that our donation will help provide some of the tools they need for a successful season. Sofidel is committed to helping children in the Green Bay community reach their full potential."
Sofidel entered Green Bay in 2012 through the acquisition of Cellynne Paper Company and expanded its operations in the area in 2015 when it acquired Green Bay Converting. The Green Bay plant aims to produce high quality products while reducing its impact on the environment. The Green Bay plant is committed to investing in new ways to give back to the community.
For more information, visit www.sofidlel.com.
About The Sofidel Group
The Sofidel Group, a privately held company owned by the Stefani and Lazzareschi families, is a world leader in the manufacture of paper for hygienic and domestic use. Founded in 1966, the Group has subsidiaries in 12 countries – Italy, Spain, the UK, France, Belgium, Germany, Sweden, Poland, Hungary, Greece, Romania, and the USA - with more than 6,400 employees. A member of the UN Global Compact and the international WWF Climate Savers program, the Sofidel Group considers sustainability a strategic imperative and is committed to promoting sustainable development. For more information, visit www.sofidel.com.
Media Contact:
Christina Alvarez
Mulberry Marketing Communications