Social Value Canada Fall 2018 SROI Training
Social Value Canada Fall 2018 SROI Training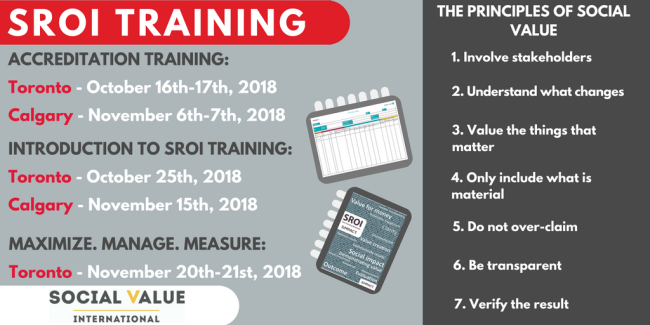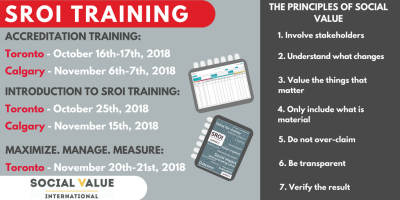 Tuesday, July 31, 2018 - 4:45pm
Dear Social Value Colleagues,
Please note Fall dates have been announced for SROI  Accreditation and SROI Introductory Training. Also, a new course is offered for those interested in techniques to maximize social impact: Maximize. Manage. Measure.
SROI Accreditation Training - Toronto October 16-17, 2018 / Calgary November 6-7, 2018
This course is led by trainers approved by Social Value International (SVI). The SROI Accreditation Course is a two-day course, essential for all professionals seeking to achieve SROI Accreditation status by Social Value International.
An Introduction to SROI - Toronto October 25, 2018 / Calgary November 15, 2018
This introductory course has also been certified in alignment with the principles of Social Value International. A one-day course, An Introduction to SROI is designed for individuals seeking to build knowledge of core concepts as they begin to explore SROI as a project management and measurement framework, and as a tool to enhance communications.
Maximize. Manage. Measure. (NEW COURSE OFFERING) - Toronto November 20, 2018
Are you a social impact manager, finance director, senior manager or commissioner? Do you work in an organization seeking social value evidence to inform decisions? This practical, hands-on course is focused on the skills needed to Maximize. Manage. Measure your social impact. 
-30-
About Social Value Canada
Social Value Canada aspires to: 
be the social value hub for Canada - a network that brings people together to share ideas, experiences and methodologies 
be the place to access training to assess and value impact; and,
share relevant resources on social impact measurement in Canada and around the world.