Smarter Spending Habits: Regions Bank Provides Free Resources for Better Money Management Amid Inflation
Regions Next Step hosted a financial wellness webinar to help people improve spending and saving skills as costs rise.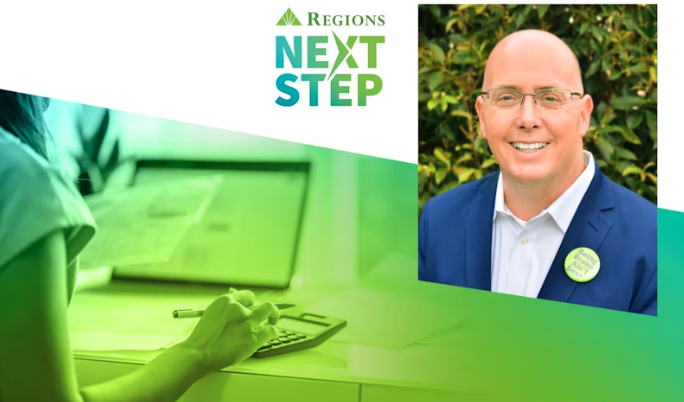 Originally Published On Doing More Today
Regions Bank announced a collection of available resources to help people improve the way they spend, save and manage debt. Available resources are part of Regions Next Step, the bank's no-cost financial education program that serves people of all ages, regardless of whether they bank with Regions.
With the increasing cost of consumer goods and services, Americans are feeling the squeeze on their wallets. According to the U.S. Bureau of Labor Statistics, inflation hit a four-decade high over the summer, and the price of consumer goods rose 8.2% from one year ago in September. With rising prices for gas, food, rent and other essential items, it is a critical time to carefully budget and spend wisely.
To help people manage their money while costs continue to increase, Regions Next Step hosted a special discussion called "Inflation Money Tips: Guidance for Spending, Saving and Reducing Debt." The webinar took place live on October 26 at 11:30 a.m. CT – and is available for people to access at their convenience and gain valuable skills.
During this webinar, Eric Smith, who is known nationally as "The Financial Literacy Coach," covered best practices for spending, saving and reducing debt during challenging economic times. Access to the webinar is available at this link. The webinar is accessible via mobile devices, tablets and desktop computers.
"In today's financial climate, it's more important than ever for people to take an honest look at their financial behaviors and consider what changes may need to be made," said Joye Hehn, Next Step financial education manager for Regions Bank. "Eric Smith has provided financial guidance to countless professional athletes. We are pleased to work with him on this upcoming webinar so he can share his advice with anyone looking to learn simple and practical tips on creating an action plan for smarter spending, continuing to save amid inflation, and paying down debt."
Free resources are also available year-round through Next Step. This includes online, self-paced money management courses and Regions' Weekly Webinar Series available in the expanded Next Step library of resources. The full schedule of weekly webinars is available here, and new dates are added regularly.
Regions Next Step also recommends the following:
For more, visit www.Regions.com/NextStepFamilyBudget, or visit any Regions branch to speak with an associate.
About Regions Financial Corporation
Regions Financial Corporation (NYSE:RF), with $158 billion in assets, is a member of the S&P 500 Index and is one of the nation's largest full-service providers of consumer and commercial banking, wealth management, and mortgage products and services. Regions serves customers across the South, Midwest and Texas, and through its subsidiary, Regions Bank, operates approximately 1,300 banking offices and more than 2,000 ATMs. Regions Bank is an Equal Housing Lender and Member FDIC. Additional information about Regions and its full line of products and services can be found at www.regions.com.
About Regions Next Step®
Regions Next Step is the financial education program from Regions Bank, offering a free collection of action-oriented tips, tools and resources. Next Step is designed to simplify financial topics, help people of all ages and business of varying sizes stay on track and meet financial goals. Resources are available online, in-person, virtually, and in English and Spanish. In 2021, Next Step provided financial education to more than 1.4 million people across the company's footprint, delivered approximately 124,000 financial wellness workshops, received 2.4 million financial education content page views and associates completed 7,000 financial education volunteer hours. Additional information and resources are available at Regions.com/NextStep.