Sheryl Telford, VP of EHS & Corporate Responsibility at the Chemours Company, Joins WEC Board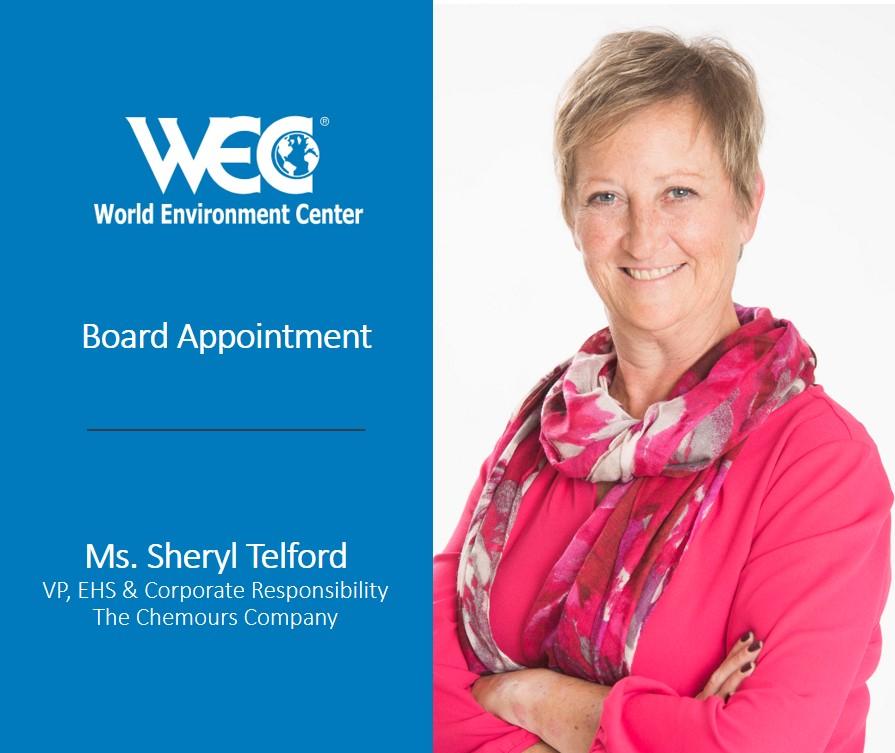 October 22, 2018 /3BL Media/ - The World Environment Center (WEC) is pleased to announce the appointment of Sheryl Telford to its board of directors.
Telford leads corporate responsibility and environmental health and safety at Chemours.   Most recently she guided development of Chemours' recently launched Corporate Responsibility Commitment and its associated goals. The Chemours Corporate Responsibility Commitment is an enabler of the company's growth strategy with emphasis on an evolved portfolio of products, inspired people, and caring for a shared planet. Telford is responsible for engaging 7,000 Chemours employees in 58 locations around the globe to advance the company's commitments. 
"I am delighted to join the board of an organization whose members are leaders in sustainable development and who are committed to advancing sustainable development globally," said Telford.
Commenting on the appointment, Francisco Suarez Hernandez, chair of WEC's board of directors and director of Coca-Cola FEMSA's New Business Initiatives, said, "The World Environment Center is delighted to have Sheryl join our board. She brings diversity of thinking and depth of knowledge in the chemical sector to our Board."
Telford sits on the Board of Delegates of the National Safety Council and the Board of Directors of the Wildlife Habitat Council.  Prior to joining Chemours, Telford held positions of increasing responsibility at DuPont, PSE&G, and the New Jersey Department of Environmental Protection.
She holds a Bachelor of Administration degree in Chemistry and Physics from Wheaton College in Massachusetts.
###
About World Environment Center 
WEC is an independent, global non-profit, non-advocacy organization that advances sustainable development through the business practices and operations of its member companies and in partnership with governments, multilateral organizations, non-governmental organizations, universities and other stakeholders. For more information please visit wec.org, or follow us on twitter @WorldEnvCenter, Facebook @WorldEnvironmentCenter or LinkedIn
About The Chemours Company 
The Chemours Company (NYSE: CC) helps create a colorful, capable and cleaner world through the power of chemistry.  Chemours is a global leader in titanium technologies, fluoroproducts and chemical solutions, providing its customers with solutions in a wide range of industries with market-defining products, application expertise and chemistry-based innovations.  Chemours ingredients are found in plastics and coatings, refrigeration and air conditioning, mining and general industrial manufacturing.  Our flagship products include prominent brands such as Teflon™, Ti-Pure™, Krytox™, Viton™, Opteon™, Freon™ and Nafion™.  Chemours has approximately 7,000 employees and 26 manufacturing sites serving approximately 4,000 customers in North America, Latin America, Asia-Pacific and Europe.  
Chemours is headquartered in Wilmington, Delaware and is listed on the NYSE under the symbol CC.  For more information please visit chemours.com, or follow us on Twitter @Chemours, or LinkedIn.