SFO's Harvey Milk Terminal 1 Becomes the First Airport Terminal in the World to Achieve Full WELL Certification
Platinum level achievement recognizes Boarding Area B facility for enhancing human health and well-being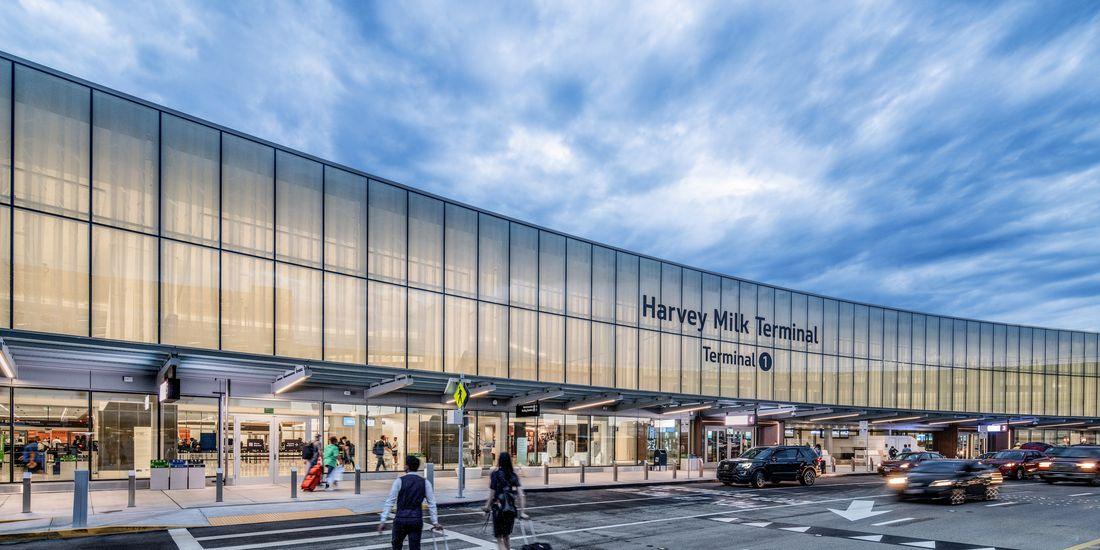 SAN FRANCISCO, October 28, 2022 /3BL Media/ - The San Francisco International Airport (SFO) announced that Harvey Milk Terminal 1 has become the first airport terminal in the world to earn a full WELL Core Certification, a performance-based system for measuring, certifying, and monitoring features of the built environment that impact human health and well-being, such as air, water, nourishment, light, movement, thermal comfort, sound, materials, mind, and community. SFO earned this certification, at the highest level of Platinum, for Harvey Milk Terminal 1 Boarding Area B, which includes the 25-gate concourse, post-security concession space, and an integrated connector to the U.S. Customs Federal Inspection Area.
"We are honored to be the first airport in the world to achieve full WELL Certification," said Airport Director Ivar C. Satero. "Harvey Milk Terminal 1 was designed with both our passengers and employees in mind… as a place to be relaxed, a place to be healthy, and a place to be inspired by the legacy of pioneering civil rights leader Harvey Milk. My sincere thanks go out to the entire project team for setting the new standard for how airport facilities can truly benefit the people who use them."
"We are proud to celebrate WELL Core Certification at the Platinum level with the San Francisco International Airport, the first airport to achieve this WELL designation" said Rachel Hodgdon, President and CEO of the International WELL Building Institute. "Thousands of passengers, staff and service providers go through the SFO Terminal 1 Boarding Area B every day, and all will benefit from the careful implementation of numerous WELL principles, ranging from improved air, water and light quality to healthier snacks and acoustic comfort. WELL's people-first approach will help enhance the travel experience for many flying in and out of the Golden City."
The SFO project earned the WELL designation under the WELL Building Standard™ version 2 pilot (the WELL Standard). The WELL Standard, spanning over 100 features in 10 impact areas, is a vehicle for buildings and organizations to deliver more thoughtful and intentional spaces that enhance human health and well-being. The WELL Standard includes a set of strategies—backed by the latest health and scientific research—that aim to advance human health through design interventions, operational protocols, sustainability policies, and that foster a culture of health and well-being. Built upon the pioneering foundation of the first version of the WELL Building Standard (WELL v1), WELL v2 draws expertise from a diverse community of WELL users, practitioners, public health professionals and building scientists around the world.
"SFO's commitment to social responsibility and sustainability aligns with what we strive to achieve on every project at HKS – using research proven strategies to positively impact occupant well-being," said Allison Smith, Sustainable Design Leader at HKS, who also served on IWBI's Airport Advisory in 2020. "The process of pursuing and becoming the first airport terminal in the world to achieve WELL Certification allowed our collective teams to better understand how to apply this people-focused standard to highly complex transportation projects and ultimately have a positive impact on the health and well-being of staff, tenants, and the traveling public."
Health and well-being measures were prioritized throughout the project, resulting in many benefits for the terminal occupants. Highlights include:
Highly efficient outdoor air filtration system to remove pollutants and odor to provide healthier indoor environments which meet the enhanced indoor air quality requirements of WELL as verified through third-party testing.
Radiant heating and cooling to complement displacement ventilation to provide energy efficiency, improved indoor air quality and enhanced passenger comfort.
Displays annual water quality test results, including enhanced taste properties, throughout the terminal on the display monitors.
Dynamic glazed windows that change with the sun's location, to reduce glare and improve comfort.
Large windows harnessing daylight to reduce the need for electric lighting and to support occupants' circadian rhythms.
Building materials and furnishings with low-total volatile organic compound (TVOC) emissions.
Selection of products, systems, and materials with the least environmental or planetary impact based upon Health Product Declarations (HPDs).
Implementing green cleaning processes that support occupant and employee health.
Acoustic management through sound reducing surfaces, quieter mechanical systems, and the 'quiet airport' program
The construction of Harvey Milk Terminal 1 is divided into two projects: Boarding Area B (BAB) and Terminal 1 Center (T1C). The WELL Certification award applies to Boarding Area B (BAB) of Terminal 1.
Design-build, construction, and project management team are as follows:
BAB Design-builder: Austin Commercial & Webcor Builders Joint Venture with HKS / Woods Bagot ED2 International / KYA
BAB Construction Manager: WSP / AGS
T1C Design-builder: Hensel Phelps with Gensler / Kuth Ranieri
T1C Construction Manager: AECOM & Cooper Pugeda Management Joint Venture
For more information about Harvey Milk Terminal 1, please visit: www.flysfo.com/T1.
About San Francisco International Airport
SFO is excited to welcome travelers back to the skies with an airport experience featuring seamless access, thoughtful amenities, sustainable design and inspiring artwork and exhibits. SFO reminds travelers that face masks are still required by federal mandate for air travel.
For up-to-the-minute departure and arrival information, airport maps and details on shopping, dining, cultural exhibitions, ground transportation, masks and COVID related protocols and more, visit www.flysfo.com. Follow us on twitter.com/flysfo and facebook.com/flysfo.
About International WELL Building Institute
The International WELL Building Institute (IWBI) is a public benefit corporation and the world's leading organization focused on deploying people-first places to advance a global culture of health. IWBI mobilizes its community through the administration of the WELL Building Standard (WELL) and WELL ratings, management of the WELL AP credential, the pursuit of applicable research, the development of educational resources, and advocacy for policies that promote health and well-being everywhere. More information on WELL can be found here.
International WELL Building Institute pbc is a wholly owned subsidiary of Delos Living LLC. International WELL Building Institute, IWBI, the WELL Building Standard, WELL v2, WELL Certified, WELL AP, WELL Portfolio, WELL Score, The WELL Conference, We Are WELL, the WELL Community Standard, WELL Health-Safety Rating, WELL Health-Safety Rated, WELL Equity, WELL Performance Rated, WELL Performance Rating, Works with WELL, WELL and others, and their related logos are trademarks or certification marks of International WELL Building Institute pbc in the United States and other countries.
Media Contact: media@wellcertified.com