SCS Reaches New Carbon Offset Milestone at 125 Million Metric Tons Verified
GHG Project Developers, Landowners, and Offset Buyers Enjoy Benefits of Project Verification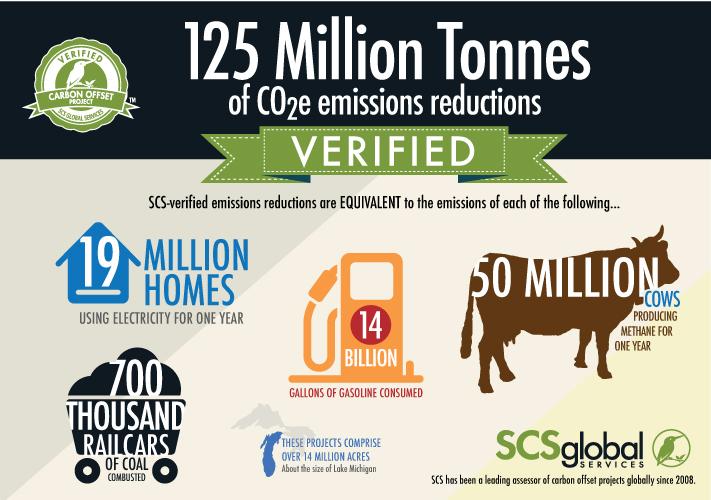 SCS Global Services Reaches 125 Million Offsets Verified
EMERYVILLE, Calif., December 18, 2017 /3BL Media/ - SCS Global Services (SCS) has achieved a new milestone, crossing the 125 million metric tons CO2e mark for carbon offsets verified. This achievement reflects greenhouse gas (GHG) offset projects evaluated over nearly 10 years by SCS, including projects focused on forests and land-use, agriculture, renewable energy, ozone depleting substances (ODS), and more.
To put this in perspective, this amount is comparable to 50 million cows producing methane for one year, providing electricity to 19 million homes, or 14 billion gallons of gasoline consumed.
"SCS' carbon offset verification team works with project developers and land owners globally to verify GHG emission reductions and removals, helping them demonstrate that their projects are contributing significantly to climate change mitigation," said Christie Pollet-Young, Director of Greenhouse Gas Verification. "This milestone is the result of the tireless efforts of our clients. We are grateful to work with so many organizations and individuals who have dedicated their resources to this innovative approach of payment for ecosystem services." 
Learn More about Carbon Offset Verification for forestry and land-use and energy, industrial & agricultural sectors.