Scotiabank is Proud to Support One Million Kids and Counting … and it's Only the Beginning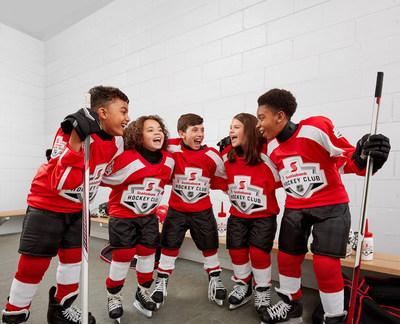 TORONTO, Oct. 3, 2017 /3BL Media/ - Scotiabank has reached the important milestone of supporting one million kids and counting, through its commitment to kids' community hockey across Canada, since 2008.
To celebrate this milestone, Scotiabank's love for hockey and its continued support of young people in the community, the Bank is surprising some kids' community hockey teams and young inspirational leaders with the opportunity to attend NHL® games in all seven Canadian NHL cities, during the 2017-2018 hockey season.
"Through Scotiabank's support of community hockey, we have helped give over one million kids and counting the chance to play Canada's favourite game," said John Doig, Chief Marketing Officer at Scotiabank. "We have seen so many dreams become a reality through sport, and we are proud to be able to help provide young people across the country with the chance to see their hockey heroes play the game they love. At Scotiabank, we believe that everyone needs a team. Whether at home, work or at school, we know that being part of a team is a living example of how we are better together."  
Scotiabank supports hockey at all levels in Canada – from grassroots hockey through to the NHL. This year we are continuing our support of community hockey teams, all seven Canadian NHL teams, the Canadian Women's Hockey League, and some of the biggest celebrations of hockey including Scotiabank Hockey Day in Canada, Rogers Hometown Hockey, Scotiabank Girls Hockey Fest, and many more! 
Scotiabank isn't stopping at supporting one million kids. We have even more hockey dreams to make a reality.
To mark the start of the hockey season, Scotiabank will be providing tickets to nearly 1,200 kids for marquee games across Canada, including 2017-2018 NHL home opener games in Toronto, Ottawa, Calgary and Edmonton and Scotiabank sponsored games in Vancouver, Winnipeg and Montreal.
 
Sixty kids will have the chance to attend the 2017 Scotiabank NHL100 Classic™, in Ottawa on Saturday, December 16, 2017.
 
Scotiabank is once again inviting kids between the ages of seven - 14 to apply to be a Scotiabank Skater, and have the opportunity to lead their hockey heroes onto the ice at the start of an NHL, AHL or OHL game.
 
150 kids will have the opportunity to attend the Toronto Maple Leafs' Next Century Game presented by Scotiabank, on the afternoon of Tuesday, December 19, 2017. 
 
Beginning tomorrow, the second year of Scotiabank's Heroes of Hockey Day – a 20-part video series designed to shine a spotlight on the important life lessons kids learn from the game of hockey – will begin airing weekly during Scotiabank Wednesday Night Hockey on Sportsnet. The series will highlight the Orillia Terriers from Ontario, and the Vancouver Angels from British Columbia, two kids' hockey teams that have given back to their communities in a big way. In the series, the teams will face off to compete to win the Heroes of Hockey Day title and an all-expenses paid trip to Scotiabank Hockey Day in Canada, taking place in Corner Brook, Newfoundland on Saturday, January 20, 2018.
"At Scotiabank we believe that investing in young people is the pathway to community prosperity, and we are committed to helping them reach their infinite potential," said Jacquie Ryan, Vice President, Sponsorship & Philanthropy at Scotiabank. "Young people are our future leaders and Scotiabank's goal is to help ensure that they have the necessary skills and resources they need to support their success.  That's why we are celebrating the milestone of Scotiabank supporting one million kids and counting through community hockey and why we remain committed to making more hockey dreams come true for young Canadians."
Scotiabank and Maple Leafs Sports and Entertainment (MLSE) recently announced an expanded sponsorship and philanthropic partnership which will see the home of the Toronto Maple Leafs and Toronto Raptors transformed into the Scotiabank Arena in July, 2018. The announcement is an extension of Scotiabank's love of the game of hockey and its commitment to helping young people reach their infinite potential.  This partnership will enhance that support in the Greater Toronto Area and help expand community hockey programs for young people across the country.
About Scotiabank:
At Scotiabank, we aim to support organizations that are committed to helping young people reach their full potential. Young people are our future leaders and Scotiabank's goal is to help ensure that they have the necessary skills and resources they need to support their success. Together with our employees, the Bank supports causes at a grassroots level. Recognized as a leader for our charitable donations and philanthropic activities, in 2016, Scotiabank contributed more than $70 million to help our communities around the world.
Scotiabank is Canada's international bank and a leading financial services provider in North America, Latin America, the Caribbean and Central America, and Asia-Pacific. We are dedicated to helping our 24 million customers become better off through a broad range of advice, products and services, including personal and commercial banking, wealth management and private banking, corporate and investment banking, and capital markets. With a team of more than 88,000 employees and assets of over $906 billion (as at July 31, 2017), Scotiabank trades on the Toronto (TSX: BNS) and New York Exchanges (NYSE: BNS). For more information, please visit www.scotiabank.com and follow us on Twitter @ScotiabankViews.
About Scotiabank Hockey
Scotiabank is the Official Bank of the NHL®, NHL Alumni™, CWHL, Vancouver Canucks®, Winnipeg Jets®, Toronto Maple Leafs®, Ottawa Senators®, Edmonton Oilers® and the Calgary Flames® whose home arena is the Scotiabank Saddledome. The Bank also supports the Montreal Canadiens®. Scotiabank's Community Hockey Sponsorship Program has supported over million kids through its involvement with minor hockey teams in communities across Canada. To find out more about Scotiabank's hockey programs, please visit www.scotiabank.com/the5thseason.
Score big with Scotiabank Hockey Club! You could win amazing prizes like VIP hockey experiences, Shop.NHL.com gift codes, NHL® game tickets, and more! Register today at www.ScotiabankHockeyClub.com.
NHL and the NHL Shield are registered trademarks and NHL100 Classic name and logo are trademarks of the National Hockey League. NHL and NHL team marks are the property of the NHL and its teams. All Rights Reserved.
SOURCE Scotiabank For Media Enquiries Only: Erin Truax, Global Communications, Scotiabank, erin.truax@scotiabank.com, (416) 578-9659