How Friendlier Takeout Containers Can Help Cut Down on Plastic Waste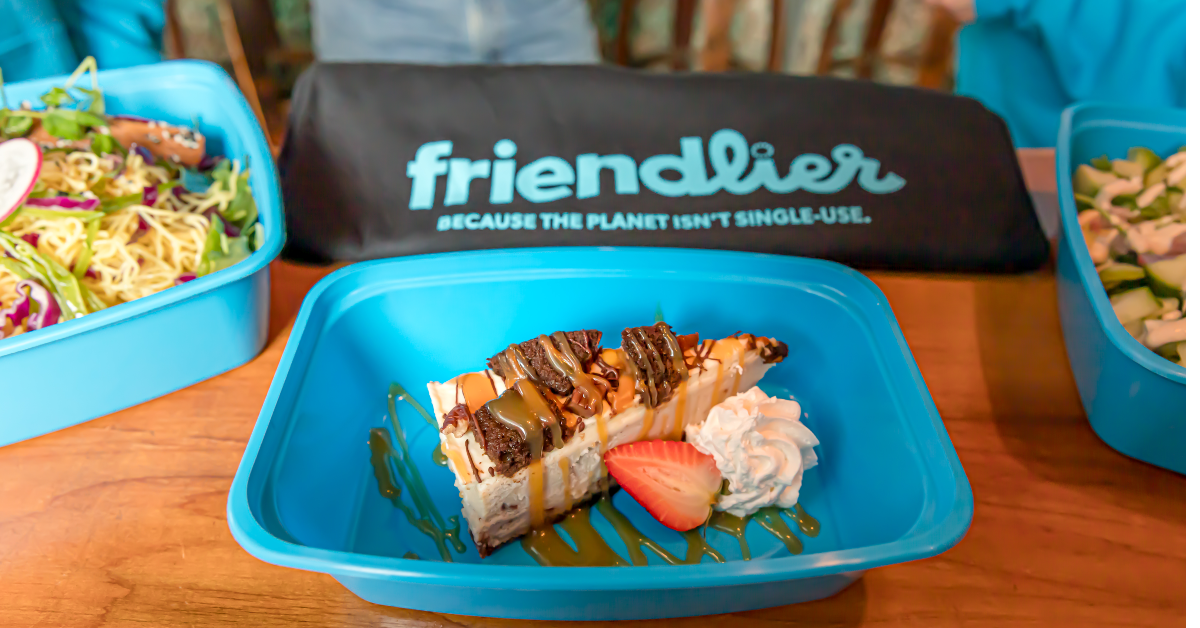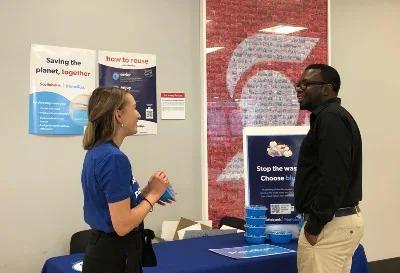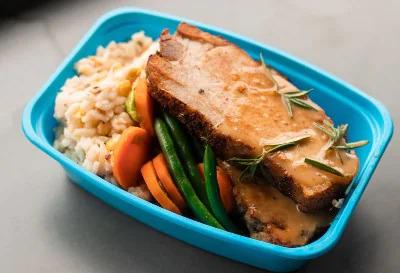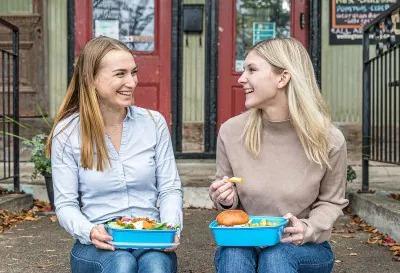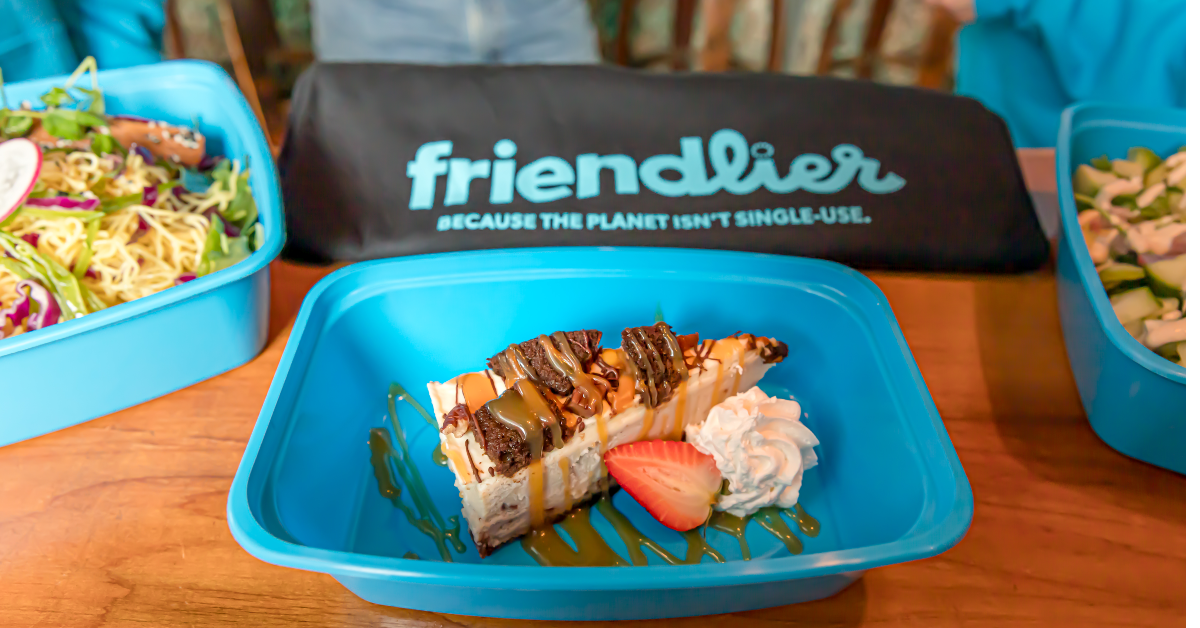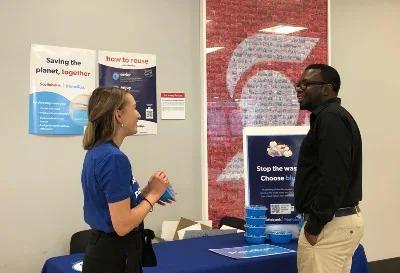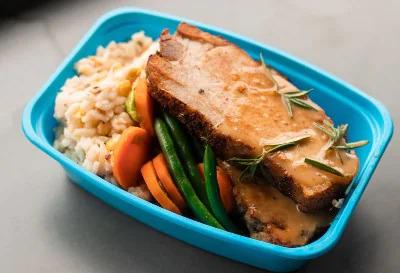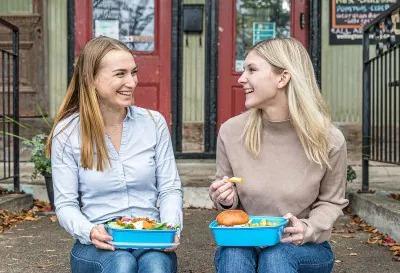 Originally published on Scotiabank Media Centre
Travel can be rich with learning opportunities. Traveling, studying, and living in Sweden proved to be life-changing for two University of Waterloo Chemical Engineering students.
Jacquie Hutchings and Kayli Dale learned firsthand the benefits of a circular economy, a model that aims to reduce or eliminate waste by reusing and repairing materials for as long as possible, and then recycling the materials at the end of their life.
"Wherever we ate lunch in Sweden, it always seemed to be on real china, people sat down, socialized, and then simply returned their dishes," said Hutchings. "At music festivals we'd get mulled wine in a reusable mug and have to pay an additional deposit — and people were fine with it."
The duo are co-founders of Friendlier, a reusable container company aimed at reducing single-use plastics, and their model is being piloted at Scotiabank's Toronto headquarters as part of the Bank's broader efforts to cut down on waste.
The pair came up with their plan for a business venture after noticing the minimalistic and "cool" re-use culture across Europe and realized they could use their process engineering knowledge, passion to learn, and ability to network to create their own model.
The product itself had to check several boxes. "It had to be functional for the restaurant — microwave safe, keep food hot and fresh, have a really good spill-proof seal and stack nicely so restaurants could keep a large inventory. And the cost couldn't be astronomical," Hutchings said.
Hutchings and Dale landed on containers made from 100% polypropylene. "They're manufactured in Ontario, can be used up to 100 times, microwaved, put through dishwashers, and are BPA free," said Hutchings. The colour blue was chosen so the containers are recyclable in a municipal stream where often black plastics are not recyclable, as optical sorters are unable to see black. And after the 100 uses? The circular model means the containers are recycled as pre-consumer recycled materials.
The pair also had to create an app to handle the payment side of things. "It's all done with your phone and is essentially like renting a container, there's no true cost to the patron since it's a refundable deposit," Dale said.
New federal ban on some single-use plastics
Federal data shows that in 2019, 805 million takeout containers were sold in Canada. These containers make the top 10 list of items most frequently found and intercepted on beach cleanups in Canada before entering rivers, wetlands, forests and landfills.
The new ban from the federal government outlines that companies will not be permitted to import or produce single-use plastic takeout containers by December 2022 and will be banned from selling them by December 2023. Prime Minister Justin Trudeau said this change equates to eliminating one million garbage bags full of plastic waste over the span of 10 years and the Liberal government is aiming to reach its zero plastic waste goal by 2030.
Scotiabank's take
Scotiabank's strategy is multi-pronged, as components of the plastics problem can't be looked at in isolation. There's clear opportunity to engage with companies at every stage of the plastics life cycle and continue to use influence to help reduce plastic waste and pollution.
By financing investments for continued packaging innovation, greater use of recycled content, plastic waste sorting technologies, and improved recycling, Scotiabank strives to help contribute solutions to this societal challenge. Through meetings with North America's largest waste management companies, consumer organizations and industry leaders, Scotiabank has expressed a clear interest in providing capital to companies that would develop innovations to reduce plastics waste.
The Bank has also contributed to Conference Board of Canada research to help inform public policy on plastic waste management and in 2021, the Bank joined Circular Economy Leadership Canada (CELC), a multi-sectoral, national organization dedicated to advancing solutions that eliminate waste at all stages of the product life cycle and accelerating the transition to a Circular Economy in Canada. Through participation with CELC, Scotiabank has convened with leaders from business and civil society to collaborate in seeking innovative circular economy solutions and strengthening the Canadian ecosystem.
Happening now: the Scotiabank Friendlier pilot
At Scotiabank's Toronto headquarters, cafeteria patrons used an average of 125,000 pieces of disposable plastics monthly. While a relatively small part of the overall problem, every piece of disposed plastic contributes to the issue— and every small, actionable step helps the greater cause.
While compostable and recyclable containers have always been an option, "containers that can be used up to 100 times takes us one step further and aligns with Scotiabank's sustainability goal of creating a more cost-effective and eco-friendly operation," said Dickson Dsouza, Manager of Food Services, Global Operations at Scotiabank. "The pilot launched on July 5, and we will assess the overall effectiveness of the model on the employee experience come September," he said.
Patrons will need to select the reusable container, scan the code on the bottom and follow prompts to set up an account. Although handled through e-transfer, there is no need to provide banking information, just an email address. Their food order will then be served in that container, with the additional rental fee tacked onto the total bill. When finished, they return their container to any marked drop-off bin throughout the ecosystem of offices and common areas. Patrons can track their deposits on the Friendlier app and can even donate their deposit to various charities, such as Dress for Success Canada Foundation.
Hutchings points to The Beer Store as an example of a strong reuse system that has become mainstream, with an impressive 95% return rate. "We look up to how they structured their system by making it convenient and just making it the social norm to bring your bottles back," she said.
"Restaurants tell us wasteful packaging is their number one complaint," Dale said. "Now the sustainable containers are resulting in repeat business, and our customers are even winning sustainability awards."
But the bigger picture for the founders of Friendlier? They want to eliminate the throwaway culture completely and change the way people think about packaging and consumption. "While we've started with takeout containers, we really want to build an infrastructure where anything and everything can be tracked and reused and nothing has to ever be thrown away," Hutchings said.
Click here to connect with a business banking specialist near you.