Scotiabank Donates One Million Dollars to the Rick Hansen Foundation School Program Empowering a New Generation of Accessibility Champions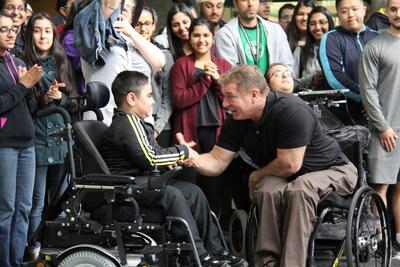 December 1, 2017 /3BL Media/ - Scotiabank celebrates International Day for Persons with Disabilities by announcing a one million dollar donation to the Rick Hansen Foundation School Program.
The Rick Hansen Foundation School Program provides educators and students with a comprehensive set of free, bilingual resources designed to increase disability awareness, accessibility, and inclusion.  The program aims to raise awareness and change attitudes about accessibility and inclusion, and empower young people to take action on issues that matter to them.
"At Scotiabank, we are committed to ensuring that all people are treated in a way that allows them to maintain their dignity and independence," said Barb Mason, Group Head and Chief Human Resources Officer at Scotiabank. "Scotiabank is proud to be the Co-Presenting Partner of the Rick Hansen Foundation School Program. We believe young people are our future leaders and Scotiabank's goal is to help ensure that they have the necessary skills and resources they need to support their success and reach their infinite potential."
Feedback from the Program, which has been running for over 11 years, has been overwhelmingly positive with students and educators seeing a noticeable improvement in student attitudes towards, and perceptions of, people with disabilities, and results in student initiatives to improve classrooms, schools, and communities.
"In order to create an accessible and inclusive Canada for people with disabilities by 2050, it is important to mobilize the next generation of Canadians now," said Rick Hansen, Founder and CEO of the Rick Hansen Foundation. "Scotiabank has been a long-standing partner on our journey over these many years. We are thrilled that they have joined us to mobilize thousands of youth in every province and territory to identify and remove barriers so that people with disabilities can achieve their full potential. Together we will get there faster!"
Scotiabank announced the donation at a global event held today to recognize International Day for Persons with Disabilities. The event featured a panel with talks focused on:
the importance of accommodation to utilize top talent;
the progress of accessibility in digital products; and,
with Scotiabank leadership discussing how accessibility benefits us all.
Scotiabank's goal has always been to help create a better life for people in the communities they serve. Learn more about how Scotiabank is supporting young people in the community and their belief that inclusion makes us stronger.
About the Rick Hansen Foundation
The Rick Hansen Foundation was established in 1988, following the completion of Rick Hansen's Man In Motion World Tour, to continue raising funds and awareness to create a world without barriers for people with disabilities. Over nearly 30 years, RHF has worked diligently to achieve real change through collaboration, partnerships and teamwork, inspired by Rick Hansen's original dream to liberate the amazing potential of people with disabilities. RHF breaks down barriers by changing attitudes, creating accessible spaces and inspiring an inclusive world. Learn more at www.rickhansen.com   
About Scotiabank
At Scotiabank, we aim to support organizations that are committed to helping young people reach their infinite potential. Young people are our future leaders and Scotiabank's goal is to help ensure that they have the necessary skills and resources they need to support their success. Together with our employees, the Bank supports causes at a grassroots level. Recognized as a leader for our charitable donations and philanthropic activities, in 2017, Scotiabank contributed more than $80 million to help our communities around the world.
Scotiabank is Canada's international bank and a leading financial services provider in North America, Latin America, the Caribbean and Central America, and Asia-Pacific. We are dedicated to helping our 24 million customers become better off through a broad range of advice, products and services, including personal and commercial banking, wealth management and private banking, corporate and investment banking, and capital markets. With a team of more than 88,000 employees and assets of over $915 billion (as at October 31, 2017), Scotiabank trades on the Toronto (TSX: BNS) and New York Exchanges (NYSE: BNS). For more information, please visit www.scotiabank.com and follow us on Twitter @Scotiabank.
For Media Enquiries Only: Erin Truax, Global Communications, Scotiabank, Email: erin.truax@scotiabank.com, Cell: (416) 578-9659; Jollean Willington, Rick Hansen Foundation, Email: jwillington@rickhansen.com, Cell: (778) 881-7792