Scotia Volunteers Assist Salvation Army with Grocery Packing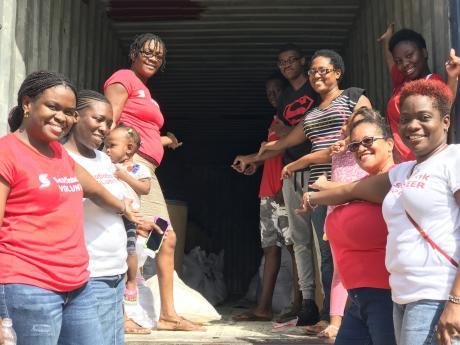 Image credit: http://jamaica-gleaner.com/
This article originally posted on http://jamaica-gleaner.com
What better way to get into the spirit of the season than by giving a helping hand to those in need? When the Salvation Army reached out to Scotiabank for their assistance with the packaging of groceries for the less fortunate, a number of staff members volunteered to give of their time.
For approximately three hours on the morning of Saturday, December 9, approximately 25 Scotia volunteers came together to help. They immediately got busy, working in assembly-line fashion to pack more than 1,000 parcels with everyday staples such as sausage, cornmeal, rice, flour, mackerel and red peas.
Click here to continue reading
About Scotiabank
Scotiabank is Canada's international bank and a leading financial services provider in North America, Latin America, the Caribbean and Central America, and Asia-Pacific. We are dedicated to helping our 23 million customers become better off through a broad range of advice, products and services, including personal and commercial banking, wealth management and private banking, corporate and investment banking, and capital markets. With a team of more than 88,000 employees and assets of $896 billion (as at October 31, 2016), Scotiabank trades on the Toronto (TSX: BNS) and New York Exchanges (NYSE: BNS). Scotiabank distributes the Bank's media releases using Marketwired. For more information, please visit www.scotiabank.com and follow us on Twitter @ScotiabankViews.