Sally McCrady Honored with American Banker Community Impact Award
Sally McCrady Honored with American Banker Community Impact Award
Watch our video to see how she and her team bring our community commitment to life through PNC Grow Up Great®.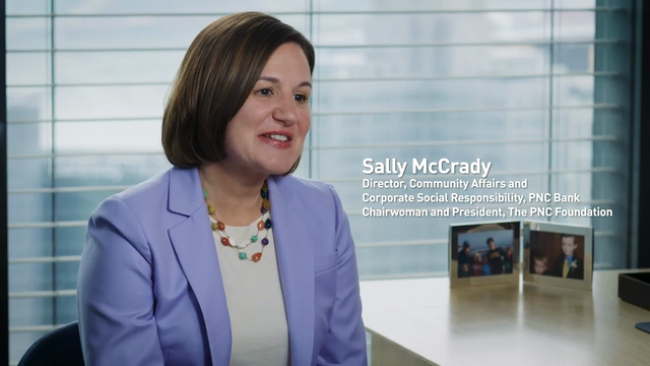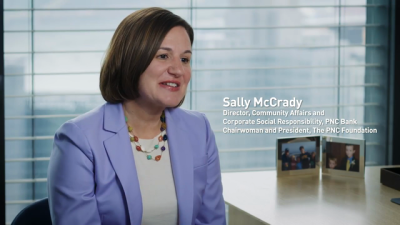 Wednesday, October 16, 2019 - 1:30pm
PNC has always believed our company will thrive when our communities thrive. Sally McCrady leads the charge to bring our commitment to our communities to life – and, American Banker honored her efforts with its 2019 Community Impact Award.
As director of Community Affairs and Corporate Social Responsibility, and chair and president of the PNC Foundation, Sally leads programs including PNC Grow Up Great, our $500 million, bilingual effort to improve access to high-quality early childhood education that's now served 5 million children across 40 U.S. markets.
"I often say that Sally has the most fun job in the company," Bill Demchack, PNC chairman, president and chief executive officer said in his introduction. "But it's also one of the most challenging because, across our markets, there are many needs."
"Sally and her team work tirelessly alongside our regional presidents to see that our foundation grants and charitable sponsorships make the greatest possible impact in the communities we serve. Her work not only creates tremendous goodwill for our company but, most importantly, it's improving quality of life and creating new opportunities to prosper for people in communities across the country."
Learn how Grow Up Great has been inspiring great futures for 15 years
About PNC
The PNC Financial Services Group, Inc. is one of the largest diversified financial services institutions in the United States, organized around its customers and communities for strong relationships and local delivery of retail and business banking; residential mortgage banking; specialized services for corporations and government entities, including corporate banking, real estate finance and asset-based lending; wealth management and asset management. For information about PNC, visit www.pnc.com.