Ryerson University Team Wins Youth Empowerment National Champion Title
Ryerson University Team Wins Youth Empowerment National Champion Title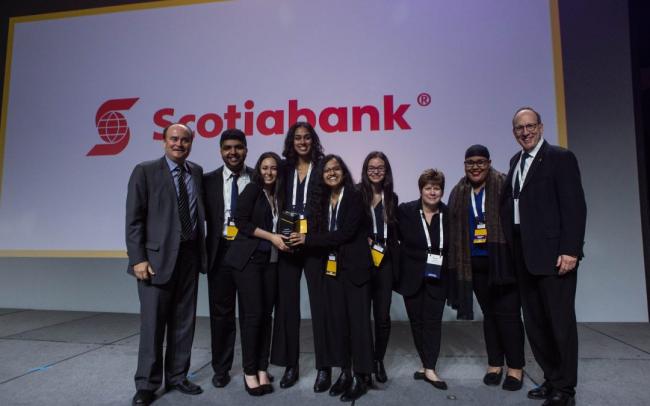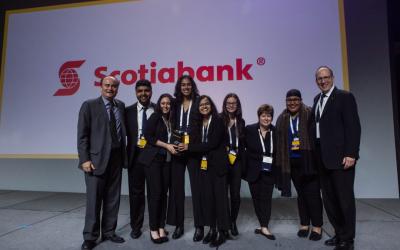 Friday, May 18, 2018 - 10:35am
Ryerson University students partnered with a local school in Pisac, Peru to implement a horticultural education program designed to generate a sustainable revenue stream for the school.
Enactus Ryerson has been named the 2018 Scotiabank Youth Empowerment Challenge National Champion by this country's largest student leadership development organization, Enactus Canada, and program supporter Scotiabank. The national competition took place at the 2018 Enactus Canada National Exposition in Toronto.
Enactus Ryerson's Project Sacred Valley has impacted over 200 students, employing six youth with an annual income of $4,800 CAD.
"When we prioritize the well-being of our youth, we all benefit," said Sean Albert, Senior Vice President, Toronto Region, Scotiabank.  "At Scotiabank, investing in our communities has been a focus for more than 185 years, and we believe investing in young people is the pathway to community prosperity. Congratulations to Enactus Ryerson for winning the Scotiabank Youth Empowerment Challenge and truly making a difference in the lives of young Canadians."
The Scotiabank Youth Empowerment Challenge is a national competition that encourages post-secondary students to develop and deliver projects that address the needs and opportunities facing youth. Focused on education, learning skills and supporting the life-long success of youth aged 25 and under, this challenge has engaged 5,085 students since 2015, who have impacted more than 31,265 youth through 302 community empowerment projects.
"At Enactus, our mission is to empower the next generation of entrepreneurial leaders," says Nicole Almond, President, Enactus Canada. "Through our partnership with Scotiabank, we encourage them to empower other young adults to reach their infinite potential, ensuring a brighter future for us all."
The 2018 Enactus Canada National Exposition unites 1,500 delegates including the country's brightest university and college students, academic professionals and top Canadian CEOs to enable progress by supporting entrepreneurial action through competition, recognition, and education.
For competition results throughout the event, please follow @Enactus_Canada on Twitter. All event results will also be published on enactus.ca/events/national-exposition.
ABOUT ENACTUS CANADA: Enactus Canada, a national charity and the country's largest post-secondary experiential learning platform, is shaping entrepreneurial leaders who are passionate about advancing the economic, social and environmental health of Canada. Guided by academic advisors and business experts, more than 3,300 post-secondary students led 275 community empowerment projects and business ventures last year in communities coast to coast, positively impacting over 26,000 lives.
As a global network of 36 countries, Enactus uses the power of entrepreneurial action to transform lives and shape a better, more sustainable world. For more information, visit enactus.ca.
ABOUT SCOTIABANK: At Scotiabank, we aim to support organizations that are committed to helping young people reach their infinite potential. Young people are our future leaders and Scotiabank's goal is to help ensure that they have the necessary skills and resources they need to support their success. Together with our employees, the Bank supports causes at a grassroots level. Recognized as a leader for our charitable donations and philanthropic activities, in 2017, Scotiabank contributed more than $80 million to help our communities around the world.
Scotiabank is Canada's international bank and a leading financial services provider in North America, Latin America, the Caribbean and Central America, and Asia-Pacific. We are dedicated to helping our 24 million customers become better off through a broad range of advice, products and services, including personal and commercial banking, wealth management and private banking, corporate and investment banking, and capital markets. With a team of more than 89,000 employees and assets of over $923 billion (as at January 31, 2018), Scotiabank trades on the Toronto (TSX: BNS) and New York Exchanges (NYSE: BNS). For more information, please visit www.scotiabank.com and follow us on Twitter @Scotiabank.
Media Inquiries:
Nicole Almond
Enactus Canada
nicole@enactus.ca
(416) 702-2251