Rockwell Automation's Military Veterans Training Program Authorized as a Department of Defense SkillBridge Program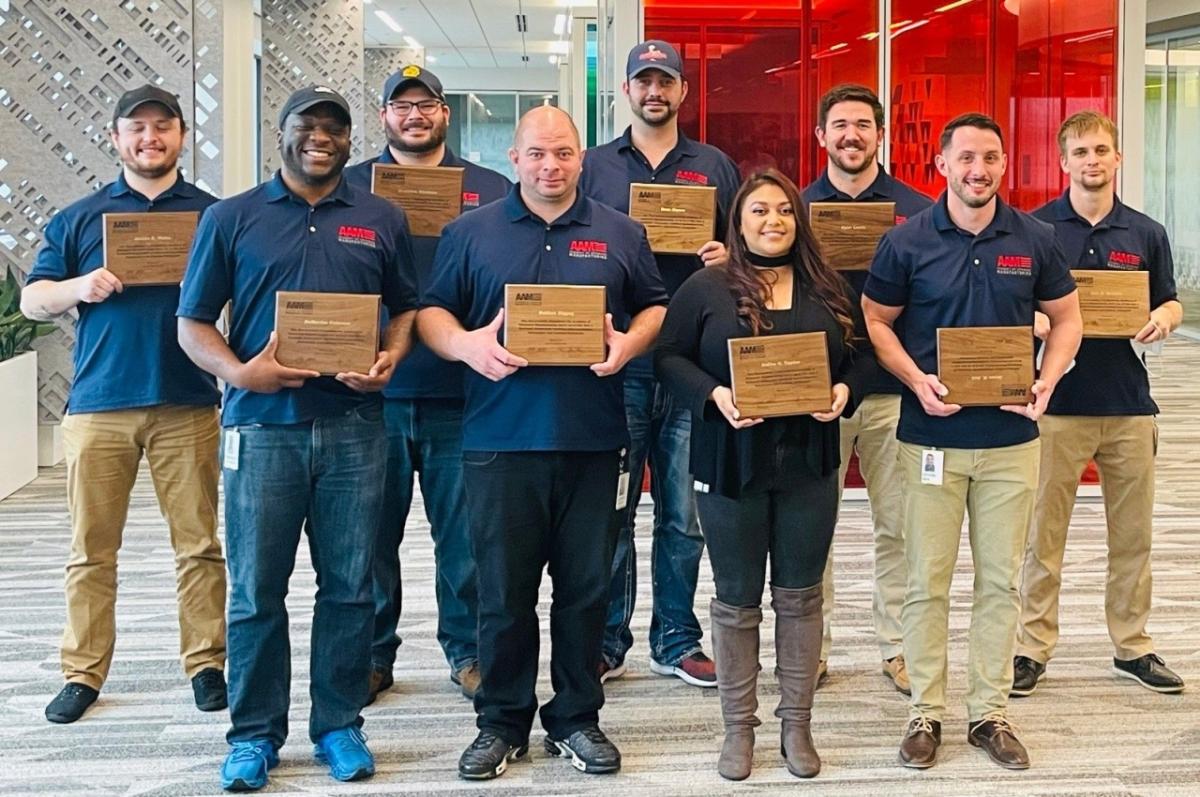 The 18th cohort to graduate from Rockwell Automation's Academy of Advanced Manufacturing™.
MILWAUKEE, November 11, 2021 /3BL Media/ - Rockwell Automation's (NYSE: ROK) Academy of Advanced Manufacturing™ (AAM) program has been authorized as a Department of Defense SkillBridge Program.
AAM, jointly developed with the ManpowerGroup, serves as a bridge from the military to manufacturing. The free 12-week program trains military veterans and provides them with high tech career opportunities in advanced manufacturing and production at Rockwell Automation customer manufacturing sites.
SkillBridge connects service members with industry partners in real-world job experiences. For industry partners, SkillBridge is an opportunity to access and leverage the world's most highly trained and motivated workforce. For Rockwell and Manpower, it means they can recruit in-person and virtually on military bases with potential candidates preparing to separate from service. Thanks to SkillBridge, AAM held its first in-person hiring event at the Fort Hood U.S. Army base in September.  
Even before the pandemic, the lack of skilled labor was a major challenge for the manufacturing industry. It's become even more urgent as U.S. companies nearshore manufacturing closer to home to address supply chain issues. A 2021 study found the U.S. manufacturing skills gap could result in 2.1 million unfilled jobs by 2030. 
Since AAM's 2017 inception, the program has upskilled and certified more than 250 military veterans as automation controls and instrumentation technicians. AAM has placed most of those grads in high demand manufacturing roles with average starting salaries between $55,000 and $75,000. Grads represent all branches of the military and 42% are people of color.
More than 80 Rockwell customers have hired AAM grads, and a quarter of those manufacturers are repeat employers interested in multiple hires including The Goodyear Tire & Rubber Company. The company's four recent hires serve in area manager, maintenance specialist, and electronic technician roles at Goodyear's Danville, Virginia tire plant. 
Matt Brown, Goodyear's Danville engineering manager and a Navy veteran, said AAM offers a unique opportunity to tap into highly trained candidates and builds on those candidates' technical capability.
"This program basically gives us ideal candidates for the roles we need to fill," said Brown. "They're coming in ready to work and they already have the leadership qualities we're looking for." 
AAM combines technical classroom training, hands-on lab experience, and professional development education at Rockwell's state-of-the-art facilities in Milwaukee, Wisconsin and Cleveland, Ohio. Housing is provided and candidates are paid weekly and receive a per diem allowance for their participation. AAM's 19th cohort is underway, and its 20th cohort will start in January, the first of six cohorts for next year.
New in 2022, AAM will pilot including transitioning and veteran spouses with technical backgrounds in electronics.
Learn more about the Academy of Advanced Manufacturing and about Rockwell careers for veterans.