Revolutionary Drone Solution Takes Home the Gold at Booz Allen's Summer Games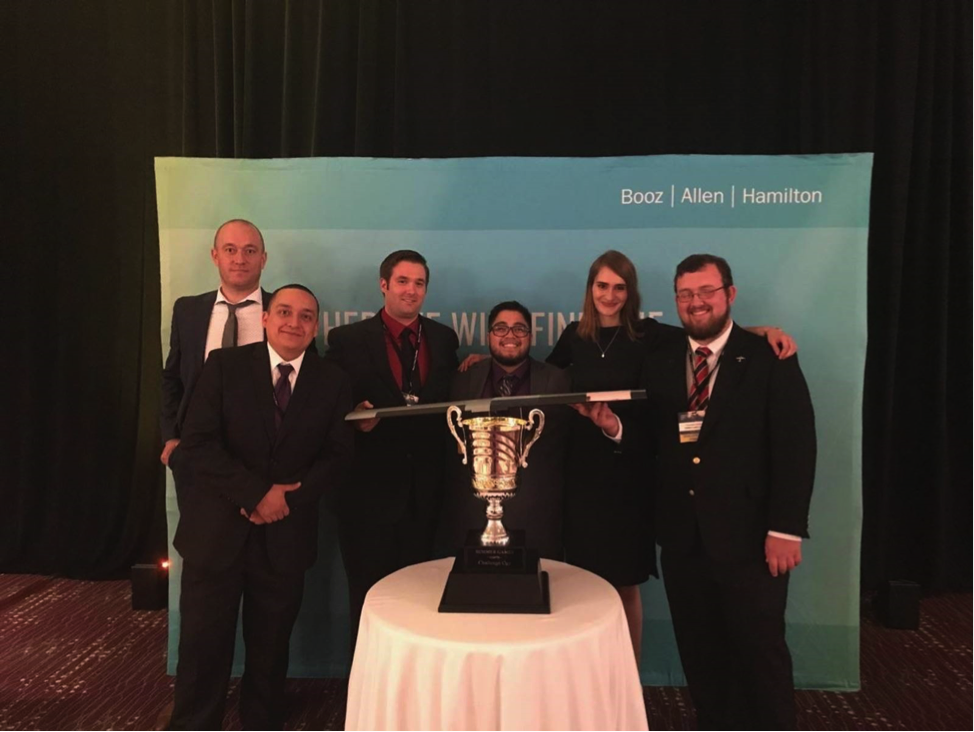 Pictured (from left to right): Ethan White (mentor), Francisco Hernandez, Jared Smith, Alex Baldonado, Francesca Jarrett, Chris Andersen. Not pictured: Andrea Salazar.
More than 50 percent of the workforce will be comprised of Millennial talent by 2020. This generational shift, combined with the increasing demand for companies to find top STEM-based talent, has resulted in an arms race for interns. What is the secret sauce to attracting and retaining top tech-savvy Millennials?
Booz Allen Hamilton is challenging the traditional idea of the internship by creating a competitive platform that gives interns the chance to solve real-world problems – from using drones to track Ebola or harnessing high-tech sensors to stop human trafficking. After the atypical 10-week program, intern teams present their projects to senior leaders – think: Shark Tank for Social Good – and the winning team is given funding to turn their ideas into reality.  Now, three years into our program, we have found our model for attracting and retaining the next generation of innovators.
This summer, over 80 intern teams across Booz Allen offices in 24 cities tackled some of society's greatest challenges. They developed apps to help first responders locate people most in need of help after disasters. They challenged the IOT and empowered consumers to secure their own smart home devices. They employed machine learning to help secure the nation's critical infrastructure.
Read about the intern team that won the Summer Games challenge and three other notable intern projects that hold the promise of creating lasting change in the world.
WINNING PROJECT
Improving the reliability of Unmanned Aerial Vehicles (UAVs) during the winter: The DOD employs Unmanned Aerial Vehicles (UAVs) to support a variety of tactical, operational and strategic operations. But icing, which poses a risk to all aircraft, is especially a problem for military UAVs because of their small size, autonomy, and flying conditions. "It's estimated that icing damage to UAVs has cost U.S. taxpayers more than $100 million dollars over the past ten years, as well as untold lost mission opportunities," said team member Francesca Jarrett.
The team developed a product that improves the reliability and effectiveness of UAVs with a three-part system that works to prevent, detect, and remove ice. "The team's breakthrough moment occurred when we realized that we weren't looking for one large advance to solve the problem of icing on UAVs—if that were the case, the solution would have been found already," said Ethan White, lead scientist at Booz Allen and the team's mentor. "Instead, we realized that the solution would require a number of a cutting-edge technologies working in concert and evolving over time—that's what is unique about our solution."
"The ARID system offers a solution to the problem of icing at a very low cost," Francesca added. "We estimate that our product will cost around $150 per UAV, potentially saving hundreds of millions of dollars for the DOD while transforming the field of UAV flight."
"In 10 years, I think we will all wonder how we ever lived without UAVs delivering everything from food to clothes and life-saving medicine," Ethan said. "The technology is growing in ways we can't imagine and we are happy to be a part of making the technology more reliable."
NOTABLE PROJECTS
Pitching in to fight the nation's opioid epidemic: A team based in Washington, D.C. developed both a diagnostic tool to predict which preventative programs will best serve cities and communities, and an app to connect opiate-addicted people with community resources. "Booz Allen encourages innovation and new ideas while demanding we seek our fullest potential; our project will benefit society by connecting communities, raising awareness, and saving lives from opioids," said team member Emma Branch.
 
Improving drivers' ability to judge water level during flooding:  As we approach National Preparedness Month, a proactive Charleston, S.C.  team developed a tool to potentially help prevent vehicle-related deaths during a flood. The team's app allows users to visualize street flood levels using their phone camera and an interactive augmented reality display. "Our hope is that our mobile application transforms risk communication for the Digital Age," said team member Nicole Woolcock.
 
Transforming assistive technology for people who are blind:  The winner of last year's Summer Games Challenge Cup, Team Iris, built a high-tech navigation system for people who are blind. This summer, a new group of interns revisited the project and worked to make the Iris device less cumbersome and to build a marketing campaign for the assistive technology. "We see a bright future for Iris and we are making sure its users can access the technology soon and at its best. Our goal is for Booz Allen to successfully take this product to the market to introduce a product that could greatly change peoples' lives," said team member Ali Epstein.
As Labor Day nears, the Summer Games interns will return to school. Some of these projects will receive funding and additional support from the firm.
And the vast majority (80%) of the Summer Games Class of 2017 will continue to pursue their passions after graduation when they join the firm as full-time employees.
Think you have what it takes to be a Summer Games Intern? Learn more here.