The Global Race to 5G Dominance: Insights From Booz Allen and Industry Experts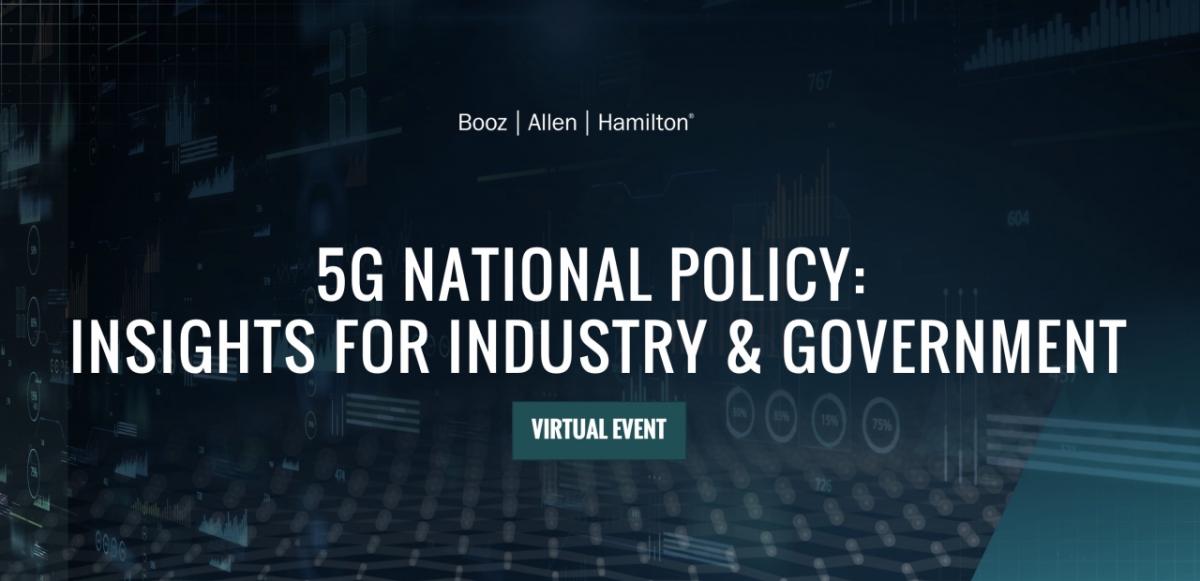 Booz Allen leaders convened a panel of industry experts to discuss the global race to 5G dominance as part of the firm's recently released report: 5G Geotechnological Competition in the Digital Age: Global Benchmarks and Insights for the U.S.
"5G will give countries new ways to project power through governance and diplomacy, foreign aid and trade, and security and law enforcement. At the same time, slow or poorly managed rollouts of these novel technologies can introduce new vulnerabilities to national and homeland security, constrain economic growth, and limit international influence."
-5G Geotechnical Competition in the Digital Age
As fifth-generation mobile network technology continues to shape the next decade, what will success look like? Where do leading nations stand now in their 5G implementations, and how will further 5G development, adoption, and deployment disrupt the global balance of power?
Booz Allen grapples with questions like these in 5G Geotechnological Competition in the Digital Age: Global Benchmarks and Insights for the U.S. The report examines 5G capabilities across 10 nations and introduces the Booz Allen 5G Power Framework. Here, five pillars give national policymakers a holistic approach to harnessing and activating the 5G ecosystem, from developing and securing 5G infrastructure to enabling a 5G industry through a strong workforce to accelerating 5G adoption. "It's a great framework that contextualizes the complexity of what is in 5G," said Jennifer Congdon, Booz Allen Senior Associate and the firm's 5G Technology Partnerships Lead.
Recently, Booz Allen convened a panel of industry experts to discuss the global race to 5G dominance and how the United States can achieve an advantageous position amid competitors like China. Highlights follow from their remarks and Booz Allen's report.
Addressing—and dominating—the full 5G ecosystem
With 5G, it's tempting to focus on phones and handsets. But such a view is too limiting, panelists explained.
The story of 4G and LTE, the previous generations of network connectivity, demonstrates why. Powered by homegrown innovators in everything from internet and mobile technology to chip design, the United States became a global leader in 4G, and these innovations fueled much of the economic growth of the past decade.
According to Josh Marcuse, head of strategy and innovation, global public sector for Google, 5G leadership will require similar "ecosystem dominance." He cited the many aspects of 5G infrastructure such as backhaul, core network infrastructure, software-designed networking, and beyond—all areas in which an aspiring 5G leader must invest.
Booz Allen's 5G Geotechnical Competition in the Digital Age report cited "the ability to produce 5G hardware, software, and services domestically," adding that "Policies should target advanced capability and capacity to manufacture 5G hardware and software and services to develop 5G architecture and assemble component parts."
Driving adoption through "killer apps"
Adoption is another critical aspect of 5G success. Just as U.S.-based applications like Google, Uber, and Airbnb brought 4G into daily lives, and propelled the United States into 4G dominance, consumers will need similarly relevant and compelling products and services for 5G.
"5G development and deployment will be like a highway without cars running on it if we don't see those killer apps," said Gary Barnabo, Booz Allen's director of 5G strategy.
Blair Levin, a nonresident senior fellow with the Brookings Institution's Metropolitan Policy Program, pointed out another big user group in the journey to 5G adoption: city and county governments. How can we motivate municipalities to adopt this new network technology for their residents and further drive 5G deployment?
Collaborating and competing on the global stage
With the 5G ecosystem's many vendors, technologies, and components worldwide, success depends on effectively putting all these pieces together. In areas like compatibility and governance, no nation will be able to go it alone. Congdon stressed focusing on counteracting limited competition, open networks/ORAN, and addressing and fostering a trusted supply chain in order to achieve the most from 5G and 5G-enabled technology.
"Standards-setting, nationally and internationally, will help us accelerate 5G interoperability and adoption," Congdon said. She asked Jaisha Wray, associate administrator of NTIA's office of international affairs, about the influence of global standards and how these can be leveraged toward global 5G leadership.
Wray emphasized the importance of an open, collaborative approach: actively collaborating with like-minded governments on innovation, expanding the 5G supply chain, and spurring competition and vendor diversity.
The world is moving in this direction. For example, Wray said she's seen international summits recognize the importance of Open RAN, a radio access network driven by open source and virtualization principles. Such conversations need to continue about how open networks can foster growth and why vendor diversity matters, Wray said.
As nations work together strengthens the overall 5G ecosystem, they can also use collaboration to sharpen their edge. "Aggressively pursuing leadership of international standards development organizations" can ensure that 5G norms and policies reflect a nation's values and national security priorities, according to the 5G Geotechnical Competition in the Digital Age report.
Prioritizing the human component
5G and 5G-enabled solutions have the power to transform life for millions of Americans.
"Increased funding for deployments in government installations and rural broadband initiatives will expedite market adoption and shrink the digital divide limiting professional opportunities and access to services for many Americans outside metropolitan areas," Booz Allen's 5G Geotechnical Competition in the Digital Age report states.
Marcuse noted that access to broadband is now being considered in the same way public education once was as an emerging right.
Just as people from all walks of life will benefit from 5G, people will play a critical role in bringing this technology to life, Barnabo declared. A skilled, sustainable 5G workforce "should be treated like a critical national asset," he said, a key enabling component of 5G adoption and area worthy of long-term investment and capacity-building. 
A national 5G ecosystem will require education and retraining—increasingly for software and services professionals rather than hardware engineers, Barnabo said. It will also require private sector "skin in the game" for partnerships and pilot programs and to ensure the workforce remains "planted physically in the United States."
"There is an opportunity to use 5G as the anchor for large-scale workforce transformation," Barnabo said.  
Learn more about Booz Allen's work in 5G, watch the webinar recording and read the latest 5G report from the firm.