Register for an Introduction to Social Return on Investment Training in Calgary and Toronto!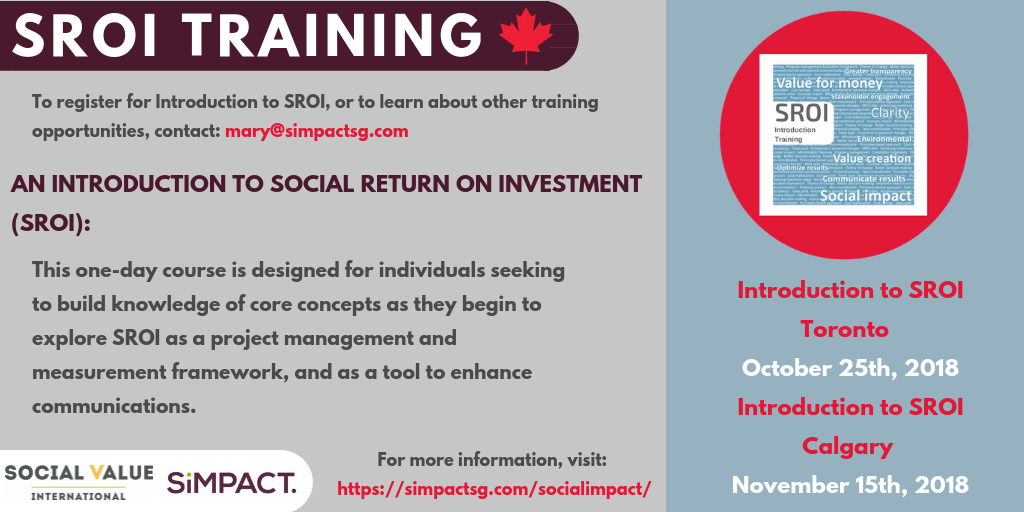 October 2, 2018 /3BL Media/ - SiMPACT builds capacity in social impact and valuation through a variety of courses. These include social return on investment (SROI) training, SROI Accreditation Training, and courses highlighting techniques to maximize impact. One-on-One SROI coaching and customized training courses are also our speciality.
Information about upcoming courses can be found below. Please contact SiMPACT at mary@simpactsg.com to register or for more information.
An Introduction to SROI Training
Toronto - October 25th, 2018
Calgary - November 15th, 2018
This introductory course has been certified in alignment with the principles of Social Value International. This one-day course is designed for individuals seeking to build knowledge of core concepts as they begin to explore SROI as a project management and measurement framework, and as a tool to enhance communications.
For more information about upcoming courses, please visit: https://simpactsg.com/social-impact-value-courses/