The Ray, GDOT and Troup County Launch Drone Program To Innovate Emergency Response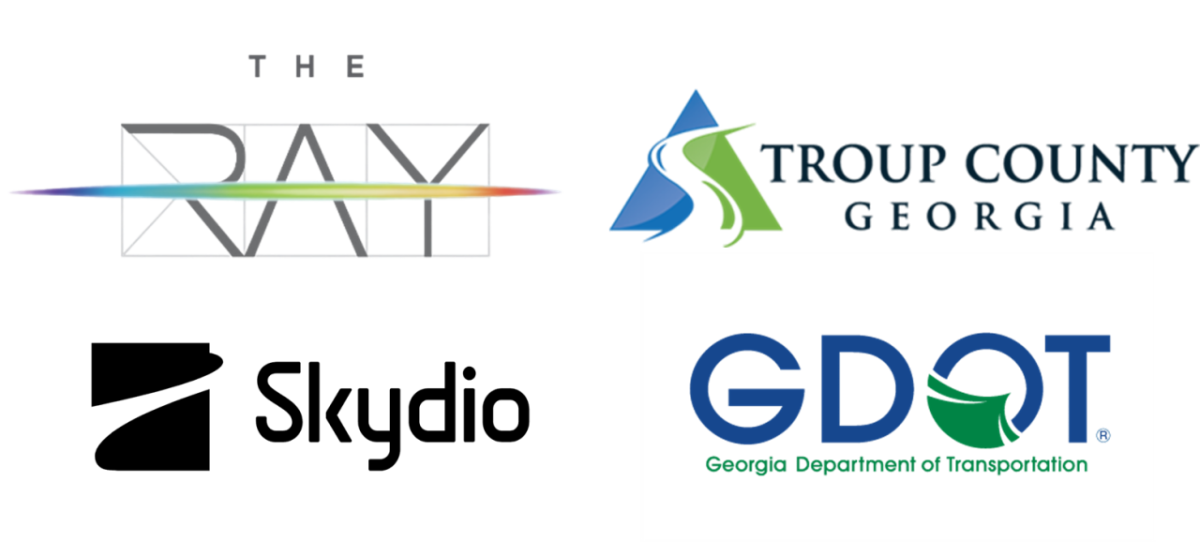 August 14, 2023 /3BL/ - The Ray, a nonprofit organization advancing net-zero transportation and energy infrastructure in partnership with the Georgia Department of Transportation (GDOT), Troup County, Georgia and Skydio, the leading U.S. drone manufacturer and world leader in autonomous flight, today announced a strategic partnership to develop a cutting-edge "drone as a first responder" (DFR) program along "The Ray Highway" on Interstate 85. The goal of the new program is to enhance safety and emergency response capabilities in the entire West Georgia region, a rural area which hosts multiple key interstate corridors. Interstates 85, 185 and 75 provide freight connectivity for key Southeast manufacturing and logistics.
"GDOT's interest in safety is evidenced not only by our ongoing investment in safety, but our continued interest in efforts such as this," said John Hibbard, Division Director of Permits and Operations for GDOT. "At The Ray's request, we have participated in scoping and planning this safety initiative and will continue to follow its progress and learn from the experience."
The collaboration includes Troup County's Marshal Office and the county fire department, which this month received Skydio drones and training as technology donations from The Ray. DFR programs have helped agencies that are responsible for public safety and emergency management improve efficiency, response times, and overall emergency services in a variety of jurisdictions across the country. Commonly referred to as "first eyes on the scene," drones piloted on site or remotely transmit photos and videos captured overhead of an incident and provide key situational awareness to police, fire and other stakeholder agencies. As such, Georgia's Emergency Management Agency and the Georgia Department of Transportation have been engaged from the beginning in the partnership's planning and execution.
The partnership is preparing to apply for the second round of awards from the US Department of Transportation (USDOT) Strengthening Mobility and Revolutionizing Transportation (SMART) Grant Program. The SMART Grant is a highly competitive and national program that leverages federal funds to accelerate innovation and technology interventions to solve real-world challenges facing communities today. Troup County's application with The Ray would be the first or among the first requests for the SMART Grant to support the development and implementation of DFR anywhere in the nation. If successful, Troup County intends to acquire remote operations equipment, additional training, and pursue Federal Aviation Administration (FAA) authorizations to engage in DFR operations. This will enable the county to build a functional DFR program that relies on remote operations and future autonomous drone operations."
Drones acting as first responders bring critical capability for crisis and emergency management and are already deployed across the country in small, medium and large communities, including Chula Vista, CA and Brookhaven, GA," said Allie Kelly, executive director of The Ray. "We at The Ray are proud to bring an opportunity home to The Ray Highway, to help Troup County develop robust, reliable, and safe drone operations. In the near future, we hope to grow the operation into a cost-efficient program that can offer remote operation of drones as a first responder to interstates 85, 185 and surrounding West Georgia counties."
To help launch the initiative, The Ray donated two Skydio drones to Troup County, and has provided the county with training resources through Skydio. The training sessions will equip Troup County drone pilots with the necessary skills and knowledge to operate the drones safely and effectively. Currently, Troup County has a limited drone program with four trained pilots and one basic drone in use. The county lacks a comprehensive program that allows trained pilots to incorporate drones into their regular emergency response activities. Through the support of The Ray and Skydio, Troup County is on the cusp of establishing a formal drone program, complete with a trained team and verified hours of operation.
"The Troup County Community Development Department is excited about incorporating drones into the team," said Jenny Parmer, Community Development Director for Troup County. "These drones are going to bring some incredible benefits to emergency response and infrastructure safety. Led by Chris Bagley, a former U.S. Army unmanned aerial vehicle master instructor, this project is getting off the ground with the Marshal Office, but the long–term vision is a collaborative effort across local public safety and emergency response departments."
Drones enable rapid assessment of accidents, missing persons, animals or livestock, disasters, and hazardous situations, providing valuable data and insights to emergency response teams in a timely, efficient manner. With drones, responders can make informed decisions and deploy appropriate resources promptly, potentially saving lives and minimizing risks to human responders. Equipped with advanced sensors and cameras, they provide situational awareness, identify hazards, and reach inaccessible areas safely. The drones will enhance coordination through live video feeds and communication with on-the-ground teams, optimizing resource allocation. With ongoing technological advancements, drones have the potential to save lives and mitigate emergencies' impact.
"At Skydio we are proud to partner with The Ray and Troup County in their pursuit to make their community a safer place. Drones enable enforcement agencies to assess potential dangerous scenes and get to hard to reach areas where every minute is critical," said Fritz Reber, Head of Public Safety Integration at Skydio. "We are committed to supporting Troup County and The Ray as they seek to grow the county's drone program into a sophisticated DFR program."
"The Ray is committed to transforming transportation infrastructure to eliminate fatalities on roadways," said Harriet Anderson Langford, Founder and President of The Ray. "By investing in DFR with Troup County, The Ray extends its focus beyond road safety to emergency situations where timely and effective response is crucial."

About The Ray
The Ray is a 501(c)(3) nonprofit charity and net-zero highway testbed, located on 18 miles of Interstate 85 between Lagrange, Georgia and the Georgia-Alabama state line. This stretch of interstate is named in memory of Ray C. Anderson (1934-2011), a Georgia native recognized as a leader in green business when he challenged his company, Interface, Inc., to pursue a zero environmental footprint. Our mission is to reimagine how we connect our communities, our lives and the world in a way that is safer, more responsive to the climate, more regenerative to the environment, and more capable of creating economic opportunity through innovative ideas and technologies that will transform transportation infrastructure. The Ray Highway is paving the way for a zero carbon, zero waste, zero deaths highway system that will build a safer and more prosperous future for us all. Learn more at www.TheRay.org.
About Georgia Department of Transportation
Georgia Department of Transportation plans, constructs and maintains Georgia's state and federal highways. We're involved in bridge, waterway, public transit, rail, general aviation, bike and pedestrian programs. And we help local governments maintain their roads. Georgia DOT and its nearly 4,000 employees are committed to delivering a transportation system focused on innovation, safety, sustainability and mobility. The Department's vision is to boost Georgia's competitiveness through leadership in transportation.
About Skydio
Skydio is the leading U.S. drone manufacturer and world leader in autonomous flight. Skydio leverages breakthrough AI to create the world's most intelligent flying machines for use by consumer, enterprise, and government customers. Founded in 2014, Skydio is made up of leading experts in AI, robotics, cameras, and electric vehicles from top companies, research labs, and universities from around the world. Skydio designs, assembles, and supports its products in the U.S. from its headquarters in San Mateo, CA, to offer the highest standards of supply chain and manufacturing security. Skydio is trusted by leading enterprises across a wide range of industry sectors and is backed by top investors and strategic partners including Andreessen Horowitz, Levitate Capital, Next47, IVP, Playground, and NVIDIA.
About Troup County
With 446 square miles of beautiful water and emerging landscape, Troup County houses three municipalities: LaGrange (County seat), West Point, and Hogansville. With a population of almost 70,000, Troup County is home to diverse industries, including automotive, textile, and chemical. It supports three institutions of higher education, including LaGrange College, Point University, and West Georgia Technical College. Located on the Chattahoochee River, the county offers access to the amenities of West Point Lake, which is predominately in Troup County.
Troup County is a division of the State of Georgia. Our government operates under an elected five member Board of Commissioners with four districts and one at large, and it has an appointed County Manager. Located in West Georgia, Troup County's primary functions are general administration, judicial, public safety, transportation and health and welfare. On our website, you will find the most relevant and up-to-date information about our departments and courts, online services and assistance, resident programs and support, the latest news, including Public Notices and S.P.L.O.S.T. information, and innovative ways to experience the culture of Troup County.
Troup County is a member of the ACCG (Association County Commissioners of Georgia) and NACo (National Association of Counties).To keep up with the latest news involving Troup County Government, go to www.troupcountyga.org or follow us on Facebook, Twitter and Instagram.
MEDIA CONTACTS:
The Ray:
Dallen McLemore, Communications Specialist, The Ray 
229.449.6168 | dallen@theray.org | @TheRayHighway
Skydio:
Troup County:
Caroline Johnson, Communications Manager, (706) 298-3670 or cjohnson@troupcountyga.gov.