Qualcomm Wireless Reach and Instituto Crescer Announce the Launch of the Ascon Education Program in Goiania
Middle school program bridges the digital divide through cellular-connected Laptops and virtual reality headsets.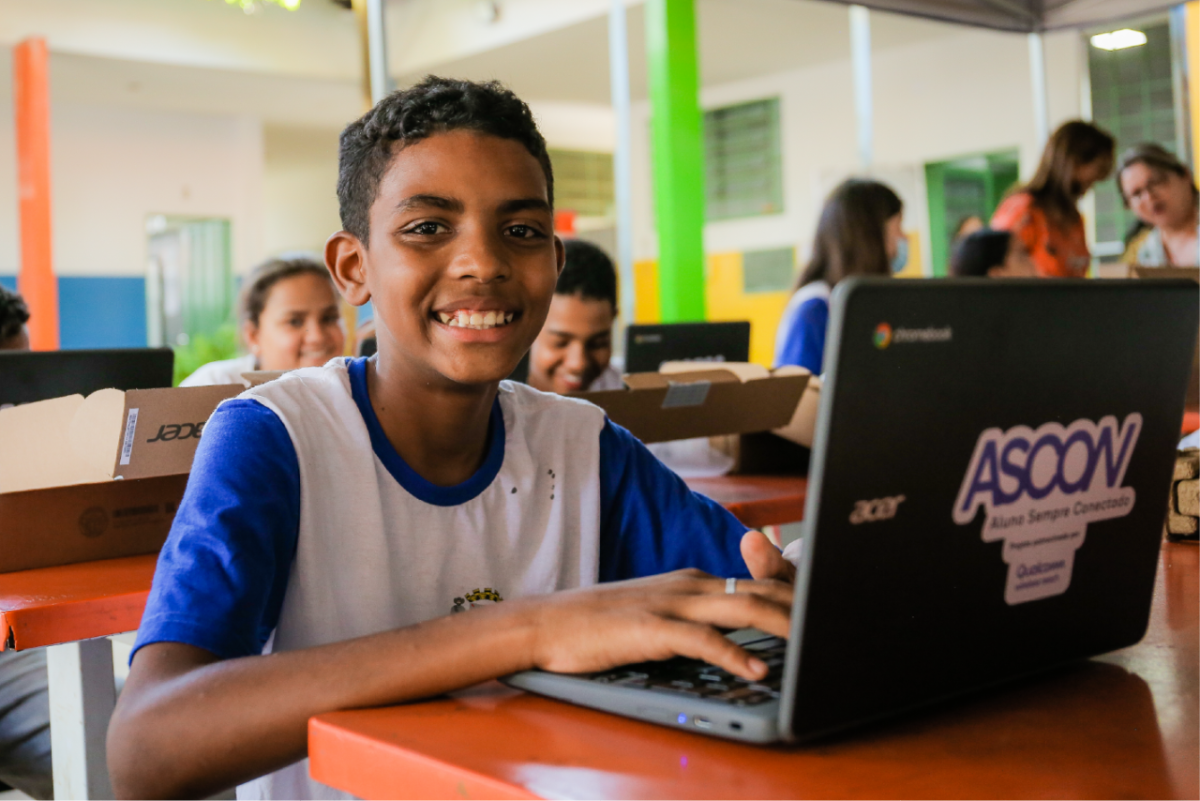 SÃO PAULO, May 18, 2023 /3BL Media/ - Qualcomm Incorporated, through its Qualcomm® Wireless Reach™ initiative, along with Instituto Crescer announced the launch of the ASCON program – Student Always Connected, to fourth school in Goiania, Brazil. The program aims to close the digital gap by reimagining the way students learn, and educators teach, by bringing the modern classroom to life and enabling a world where all students are intelligently connected from home, from the classroom or from anywhere.
During Phase I, 120s ACER 511 Chromebooks equipped with the Snapdragon® 7C processor were provided to three school communities in Goiania. Today, more than 100 students and teachers have been provided with these Always On, Always Connected laptops (ACPCs) equipped with Embratel's mobile LTE connectivity capabilities
The program aims to create an environment of digital inclusion where students have the tools needed to reach their full potential, increasing their digital literacy skills by leveraging the extended learning that ACPCs provide. "We have already seen how students can benefit from extended learning and the possibilities leveraged by using the devices outside of the school. Through the expansion to a fourth school, we ratify our role in facilitating innovative quality education, which permeates the actions of the program: devices with mobile connectivity anytime and anywhere, training of educators and students, and monitoring.", says Francisco Soares, VP, Government Affairs, Qualcomm Serviços de Telecomunicações Ltda.
Through the ASCON program, teachers learn about cutting-edge technology and other topics including cybersecurity, cyberbullying, and emotional security, metaverse, Artificial Intelligence, emerging technologies, research, and basic programming concepts. In addition, security is embedded in the program structure through Calriz, an ASCON partner in charge of implementing advanced equipment safety policies. "We are proud to facilitate a secure platform that provides safe adoption of the apps used by students and offer real usage metrics and data analytics, including real-time geolocation of the Chromebook to monitor the effectiveness of the program" - says Cleber Calegari, Founder and Commercial Director of Calriz Sistemas.
During Phase II, the program will integrate virtual reality (VR) headsets to accelerate student learning. BEENOCULUS, a company that promotes innovation in education through VR experiences, will donate VR headsets powered by the Qualcomm® Snapdragon XR1 and Snapdragon™ Spaces™ platforms. and provide educational content and training. Through the use of VR headsets, students will have access to interactive and immersive learning content on various educational topics. "When educators experience new ways of teaching, they provide students with unique and innovative opportunities. VR headsets, as an immersive resource in the classrooms, can be applied in many ways, bringing several benefits in the development of both students and educators - contributing to the digital transformation in schools.", guarantees the director of the Instituto Crescer, Dr. Luciana Allan.
ASCON is a collaboration between Wireless Reach, ACER, Claro, Embratel, Calriz, Instituto Crescer, Beenoculus and the Municipal Department of Education of Goiânia (SME de Goiânia).
ABOUT QUALCOMM
Qualcomm is enabling a world where everyone and everything can be intelligently connected. Our one technology roadmap allows us to efficiently scale the technologies that launched the mobile revolution – including advanced connectivity, high-performance, low-power compute, on-device intelligence and more – to the next generation of connected smart devices across industries. Innovations from Qualcomm and our family of Snapdragon platforms will help enable cloud-edge convergence, transform industries, accelerate the digital economy, and revolutionize how we experience the world, for the greater good.
Qualcomm Incorporated includes our licensing business, QTL and the vast majority of our patent portfolio. Qualcomm Technologies, Inc., a subsidiary of Qualcomm Incorporated, operates, together with its subsidiaries, covering all of our engineering, research and development functions, and all of our products and services businesses, as well as including our QCT semiconductor business. Snapdragon and Qualcomm branded products are products of Qualcomm Technologies, Inc. and/or its subsidiaries. Qualcomm patented technologies are licensed by Qualcomm Incorporated.
About Wireless Reach 
Wireless Reach invests in sustainable programs that demonstrate innovative uses of wireless technology to strengthen economic and social development globally. Our programs foster entrepreneurship, aid in public safety, enhance the delivery of health care, enrich teaching and learning, and improve environmental sustainability. Since 2006, Wireless Reach has benefitted more than 24 million people.
Qualcomm, Snapdragon and Wireless Reach are trademarks or registered trademarks of Qualcomm Incorporated.
ABOUT INSTITUTO CRESCER
Instituto Crescer is an institution founded in 2000 that performs in Education area in projects that aim to formation of teachers in different knowledge areas, digital inclusion projects, and professional qualification of youngsters.
ABOUT CALRIZ Calriz is a provider of digital technologies, specialized in helping its customers in the Journey for Cloud, Collaboration and Infrastructure. Our focus is to support our customers in the processes of innovation, secure connectivity and advanced internet use.
ABOUT ACER
Founded in 1976, Acer is one of the world's top ICT companies with a presence in more than 160 countries. As Acer evolves with the industry and changing lifestyles, it is focused on enabling a world where hardware, software and services will fuse with one another, creating ecosystems and opening up new possibilities for consumers and businesses alike. Acer's 7,500 employees are dedicated to the research, design, marketing, sale, and support of products and solutions that break barriers between people and technology. Please visit www.acer.com for more information.
ABOUT CLARO 
Claro is a leader in Telecommunications in Latin America and one of the largest multi-service operators in Brazil, present in all regions of the country. It is in more than 4,200 Brazilian municipalities and its networks provide services to more than 96% of the population. Claro offers integrated connectivity, entertainment, productivity and digital services solutions in a truly convergent way, across multiple fixed and mobile platforms. In 2019, the company created beOn Claro, its innovation hub, to facilitate, enhance and connect innovation inside and outside the company. Claro is a leader in pay TV, broadband and the fastest growing mobile operator. Through Embratel, it also leads the corporate services segment, which includes cloud, telecom, IT and network and application security offerings. It was a pioneer in the implementation of all generations of mobile internet in Brazil, including 4.5G, which allows browsing 10x faster than the traditional 4G network, and also in the implementation of 5G DSS which, through a frequency sharing feature that allows the use of the current spectrum already allocated, offers connections up to 12 times faster than conventional 4G. It is a leader in connection speed, both in mobile and residential broadband, with ultraspeeds. Claro is part of América Móvil, with presence in 25 countries, in Latin America and also in Europe and the United States. www.claro.com.br
ABOUT EMBRATEL
Embratel is one of the leading PROVIDERS of IT and Telecom services in Brazil and an enabler of digital transformation of companies of all segments and a leader in telecommunications with its high-level infrastructure. Embratel provides solutions such as Cloud Computing, Data Center, Security, Internet of Things, Professional Services, Connectivity and Collaboration, Omnichannel, Robotic Process Automation, data transmission, video, Internet, corporate mobile and fixed telephony, national and international long distance, as well as a number of other solutions to support the business market in its journey of growth in the new digital economy. Acting in the development, implementation and management of convergent solutions, Embratel is widely recognized for delivering excellent services with a focus on customer experience. Embratel is part of Claro and more information is available on the www.embratel.com.br.
ABOUT BEENOCULUS
Beenoculus is an innovative and pioneering company in the extended reality (XR) market, based in Brazil. Founded in 2015, the company stands out for creating immersive solutions and unique experiences, combining cutting-edge technology with innovative design. Beenoculus operates in various areas such as education, entertainment, health, and industry, developing customized projects to meet the specific needs of its clients. Furthermore, the company has spawned two innovative spinoffs: Beetools, an edtech focused on teaching languages through XR, and Junglebee, an award-winning XR storyliving production company, providing immersive and engaging experiences for users. With a highly qualified and multidisciplinary team, Beenoculus constantly seeks to evolve and improve its solutions, establishing itself as a reference in the national and international extended reality market. The company also demonstrates its commitment to sustainability and social responsibility, investing in initiatives that promote digital inclusion and democratization of access to technology.