From Program to Possibility: Elieth de los Angeles Martinez, Production Coordinator at Gildan
From Program to Possibility: Elieth de los Angeles Martinez, Production Coordinator at Gildan
Elieth discusses the impact of Gildan's training programs and personal development initiatives, revealing how they've helped her overcome adversity and advance her career.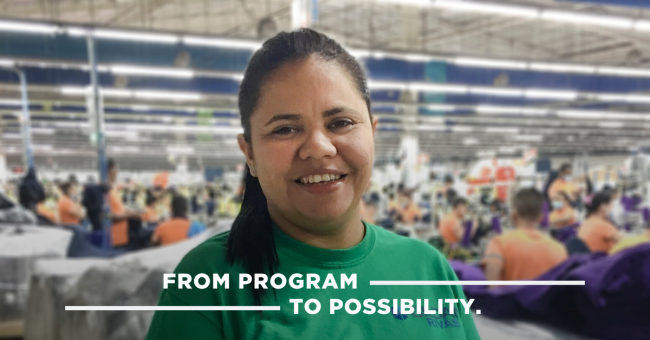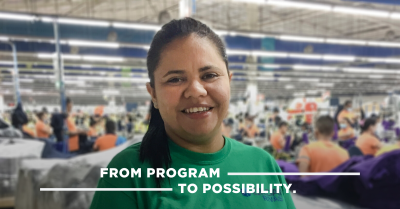 Tuesday, June 16, 2020 - 8:00am
Elieth joined Gildan 13 years ago as a Sewing Machine Operator. She has since witnessed multiple milestones at the Company: from working as an Instructor and Junior Engineer, to growing into her current position as Production Coordinator. Over the years, Elieth has participated in a range of programs at Gildan designed for personal and professional development. Today, she reveals how these initiatives have made their mark on her life.
"I have participated in numerous activities at Gildan, the most recent of them being the Dale Carnegie initiative, which teaches leadership skills and helps us develop as individuals and as professionals. The Company's leadership and personal development programs gave me the tools and confidence to pursue new opportunities at work and advance my career. I was even able to complete my degree and graduate as an Industrial Engineer thanks to one Company program that helped me keep my job while supporting me in my studies at school.
All of these initiatives have played a key role in my journey of overcoming hardships and getting to where I am today: After enduring many health issues as well as an operation on my thyroid, it was difficult for me to find balance while juggling my personal situation with school and work. But I have been blessed in so many ways, and these programs, along with the support of my family, have given me the tools and courage necessary to withstand and recover.
As a woman, I feel inspired when I see companies like Gildan supporting their employees while creating valuable opportunities for them to develop and grow. This helps to create more inclusive work environments, especially when everyone has access to such special programs and initiatives. It also helps us understand that we are not limited in our choices and that we can achieve anything.
Through these opportunities, women have the power to break gender paradigms. That's why I believe that more companies like Gildan are necessary for ensuring that women can continue to succeed like I did."
– Elieth de los Angeles Martinez, Production Coordinator