Pro Football Hall of Famer Calvin "Megatron" Johnson Jr. Visits Children and Families at the Aflac Cancer and Blood Disorders Center at Children's Healthcare of Atlanta
Former Georgia Tech Star helps Kickoff for a Cause Before the Aflac Kickoff Game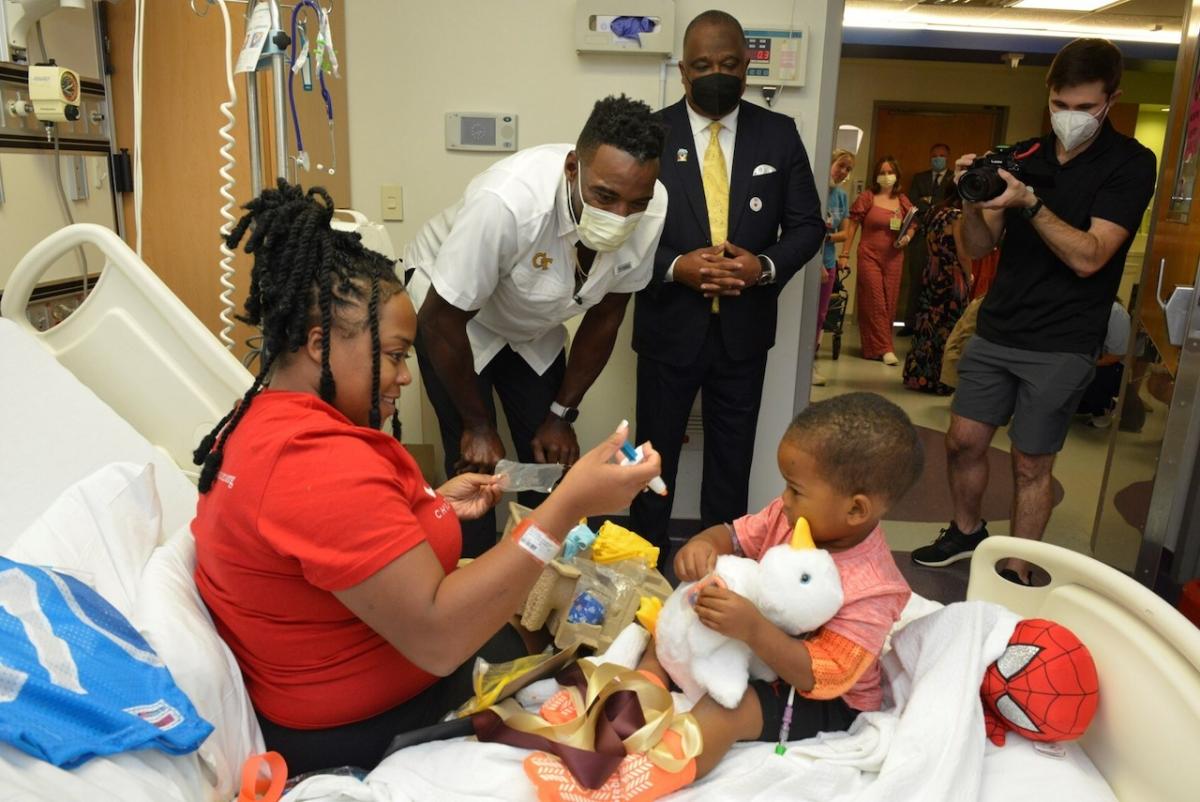 Photo: Hall of Fame football player Calvin "Megatron" Johnson Jr. delivers a My Special Aflac Duck® to a patient at The Aflac Cancer and Blood Disorders Center at Children's Healthcare of Atlanta as part of Aflac's Kickoff for a Cause football game in Atlanta.
Originally published on Aflac Newsroom
ATLANTA, September 5, 2023 /3BL/ -- NFL Hall of Fame receiver Calvin "Megatron" Johnson stopped by the Aflac Cancer and Blood Disorders Center of Children's Healthcare of Atlanta Friday, Sept. 1. The former Georgia Tech star was in town to help kick off Aflac's Kickoff for a Cause game tonight at Mercedes-Benz Stadium in Atlanta where the Georgia Tech Yellow Jackets will face the Louisville Cardinals.
Johnson, along with Aflac U.S. President Virgil R Miller, visited with children, families and health care providers, while posing for photos and delivering Aflac ducks. He also delivered My Special Aflac Ducks® to several patients who are dealing with cancer and sickle cell disease. My Special Aflac Duck is a robotic, comforting duck that helps children 3 and over cope with cancer or blood disorders like sickle cell disease. To date, Aflac has given more than 24,000 My Special Aflac Ducks to children with cancer or sickle cell in the United States, Japan and Northern Ireland.
"Calvin Johnson is one of the most elite football players who ever played the game as well as a great ambassador for community and families going through a tough time," Miller said. "Aflac, and the Aflac Cancer and Blood Disorders Center are pleased that he took time out of his day to put smiles on faces for people when they need the positive energy that he brings."
Johnson will be available later today at the Aflac Fan Fest at Mercedes-Benz Stadium where, along with the real Aflac Duck, he will meet and greet fans, before attending the game as a guest of Aflac. Johnson, who played for the Detroit Lions, was a first ballot Hall of Fame inductee in 2021 and a College Football Hall of Fame inductee in 2018.
ABOUT AFLAC INCORPORATED
Aflac Incorporated (NYSE: AFL), a Fortune 500 company, has helped provide financial protection and peace of mind for more than 67 years to millions of policyholders and customers through its subsidiaries in the U.S. and Japan. In the U.S., Aflac is the No. 1 provider of supplemental health insurance products.1 In Japan, Aflac Life Insurance Japan is the leading provider of cancer and medical insurance policies in force. In 2021, the company became a signatory of the Principles for Responsible Investment (PRI). In 2022, the company was included in the Dow Jones Sustainability North America Index for the ninth year, the World's Most Ethical Companies by Ethisphere for the 17th consecutive year, Fortune's World's Most Admired Companies for the 22nd time and Bloomberg's Gender-Equality Index for the fourth consecutive year. To find out how to get help with expenses health insurance doesn't cover, get to know us at aflac.com or aflac.com/espanol. Investors may learn more about Aflac Incorporated and its commitment to corporate social responsibility and sustainability at investors.aflac.com under "Sustainability."
Media contact: Jon Sullivan, 706.573.7610 or jsullivan@aflac.com 
Analyst and investor contact: David A. Young, 706.596.3264 or dyoung@aflac.com
1 LIMRA 2021 US Supplemental Health Insurance Total Market Report
Aflac | Aflac New York | WWHQ | 1932 Wynnton Road | Columbus, GA 31999
SOURCE: Aflac