PNC Hosts "Understanding Black Identity in Modern America" With Journalist Michele Norris on Feb. 9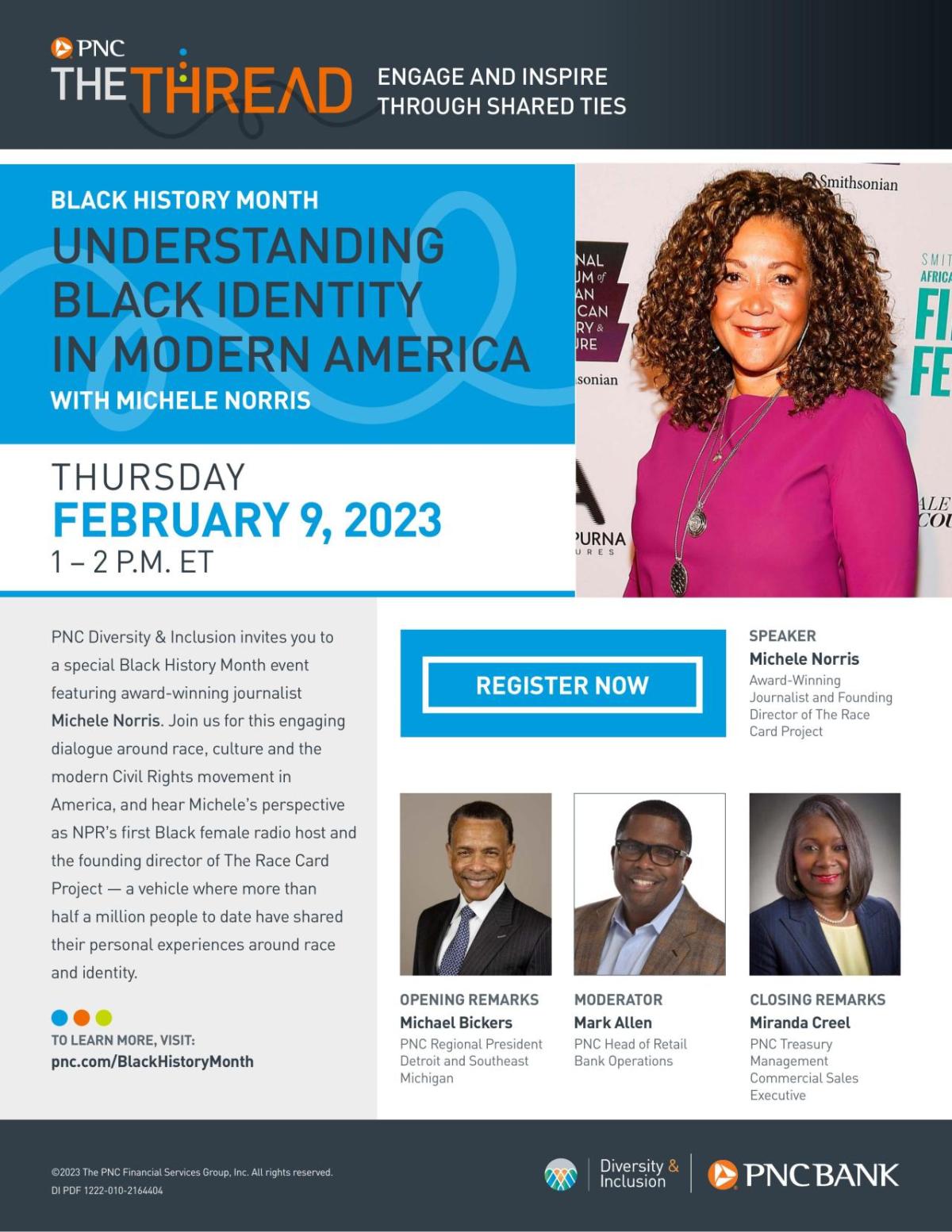 Join PNC Diversity & Inclusion for a Black History Month event featuring Michele Norris, Founding Director of the Race Card Project, which sparks moving conversations about race and identity. Hear from an award-winning journalist and the first Black female radio host for NPR, as Michele engages in a productive dialogue about race, culture, and the modern Civil Rights movement in America.
Opening Remarks: Michael Bickers Regional President Detroit and Southeast Michigan PNC Bank
Michael G. Bickers is Regional President for PNC Bank in Detroit and Southeast Michigan. Prior to being named to his current role in March 2022, Bickers served as Midwest Territory Manager for PNC's Retail Bank, responsible for leading the branch network and partner teams throughout the region.

Bickers, with more than 30 years of financial industry experience, has held several leadership positions since joining PNC in 1990, including key roles in Commercial and Retail Banking. He served as Retail Market Manager for Detroit from 2006 to 2018. Prior to being named Midwest Territory Manager in April 2022, Bickers served as Group Manager, Market Manager and Midwest Territory Executive.

Bickers has served on the Business School Advisory Council of Oakland University's Business School in Rochester Hills, Michigan. He also has served on PNC's Corporate Talent and Diversity Council. Bickers earned his bachelor's degree from Oakland University in Rochester, Michigan, and holds an MBA in Business Administration.
Presenter: Michele Norris Award-Winning Journalist Founding Director of "The Race Card Project"
An award-winning journalist and one of the most recognized voices in radio, Michele Norris engages audiences in candid discussion about race, culture and communication in America.

From the radio airwaves of NPR and primetime television to leading news publications such as The Washington Post, Norris is one of the most trusted voices in American journalism. On stage, she inspires open and honest dialogue, with memorable stories and fascinating perspectives drawn from her personal journey, investigative research, and interviews with world leaders, Nobel Laureates and influential newsmakers.

For a decade, as host of National Public Radio's longest-running program, All Things Considered, she captivated audiences nationwide while earning some of journalism's highest honors. As a Washington Post Opinions Columnist, Norris sparks important dialogue on current events, social issues and the power to make change as she breaks down commonly held beliefs and attitudes on race, diversity and bias. She makes complex and taboo issues remarkably accessible. Her audiences walk away empowered to stimulate discussion around challenging topics within their communities.

Throughout Norris' accomplished career, her efforts to promote conversation about race have resulted in her critically acclaimed book, The Grace of Silence: A Memoir. She received accolades for a Peabody Award-winning initiative, "The Race Card Project," which fosters conversation among individuals about their differences. Norris was previously the director of "The Bridge"—the Aspen Institute's program on race, cultural identity and inclusion—which addresses some of America's most complex issues by encouraging people to explore and engage with differing perspectives.
Moderator: Mark Allen Head of Retail Bank Operations PNC Bank
Mark Allen joined PNC in 2018, after a 15-year career at Comcast Cable. His responsibilities include the operational, financial, and strategic performance of the back office for Deposit products within Retail Bank Operations. His 2,500 employee organization includes AML Operations, Production Operations, Business Operations, Business Information Management, and a team of Performance Management Professionals that are leading the organization's end-to-end process mapping, operational analytics, and intelligent automation efforts.

Mark is Chairman of PNC's Corporate Diversity Council Leadership Standards Subcommittee and is an Executive Sponsor of PNC's Black Leaders Forum. Mark earned his MBA from the Wharton School of the University of Pennsylvania and holds a BA in business administration from Morehouse College. Mark is based and resides in Philadelphia.
Closing Remarks: Miranda Creel Treasury Management Commercial Sales Executive PNC Bank
Miranda Creel has 35 years of progressive experience and responsibility in banking with PNC including predecessor National City Bank. She currently holds the position of Executive Vice President of Commercial Sales leading the Treasury Management professionals covering the United States.

During her career, Miranda has held leadership positions in Retail Banking, Corporate Banking, Human Resources and Treasury Management. In addition, Miranda served as the Local Sponsor, President and founding member of one of PNC's Employee Business Resource Groups. Through this role, Miranda's leadership and extensive sales experience continues to benefit the Treasury Management organization on a broader scale.

Miranda graduated from Baldwin Wallace College and earned her Certified Treasury Professional certification. She is a current board member of the Urban League of Greater Cleveland and prior board member of the Business Volunteered Unlimited, YWCA, Junior Achievement of Greater Cleveland, and City Year.