'Plogging' - Scandinavian Fitness Trend of Collecting Litter While Jogging Comes to America
New European exercise craze integrated into a health app for first time, with support from Keep America Beautiful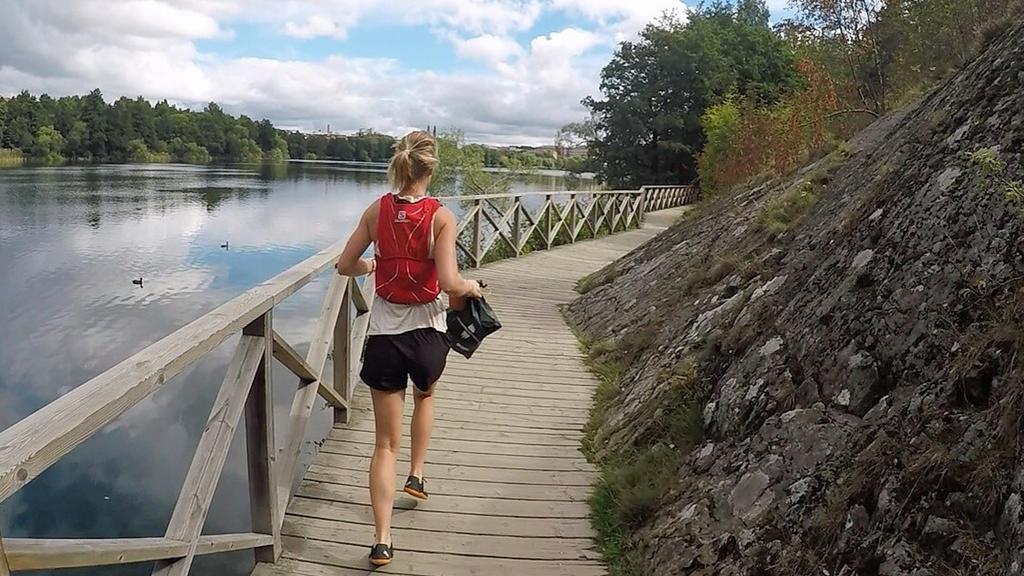 A Swedish plogger in action. (Photo credit: Instagram @majatesch)
STAMFORD, Conn., February 15, 2018 /3BL Media/ - Lifesum, has become the first health app to allow its users (25 million internationally) to log and track 'plogging': an emerging environmentally conscious exercise craze from Scandinavia in which people integrate the collection of litter within their jogging workout. The move has been supported by Keep America Beautiful, which has served as the nation's nonprofit steward of litter prevention for more than six decades.
Already adopted by thousands of Europeans (and now by American early adopters), plogging -- a portmanteau of the Swedish 'plocka upp' (meaning 'pick up') and 'jogging' -- is the act of picking up litter while running. Combining going for a jog with intermittent squatting, the activity is designed to generate exercise benefits from what might otherwise be considered an unglamorous public service. The new craze coincides with both growing environmental concerns about plastic waste, and rising obesity rates in many countries.
Lifesum, which originated (and is headquartered) in Stockholm, Sweden, has over 25 million users worldwide. The U.S. is the company's biggest market, and it recently opened an office in the Venice district of Los Angeles, California.
The Lifesum app allows users to input dietary and nutritional information, to help them lead healthier lives. As of February 2018, users will be notified of the plogging craze, and will be able to log the activity in the app. When inputted with the amount of time spent plogging, the app will instantly calculate the number of calories a user has burned. For example, 30 minutes of plogging, a typical user will burn 288 calories.
Keep America Beautiful recommends that ploggers with collected trash should visit KAB.org to learn more about its various community improvement programs as well as its recycling public service awareness campaign at BeRecycled.org in order to search by ZIP code for their nearest recycling center and information. For additional benefits of plogging, read "We Love Plogging…You Should Too!"
To continue the promotion of the worthwhile trend, Lifesum is also encouraging its users to tag photos of themselves using the hashtags #plogging and #DoBeautifulThings to encourage this growing community of eco-aware runners.
Mike Rosen, senior vice president, marketing and communications, at Keep America Beautiful, comments: "Litter impacts our quality of life and economic development, and often ends up as marine debris, polluting our waterways and oceans and harming wildlife and the environment. Plogging is brilliant because it is simple and fun, while empowering everyone to help create cleaner, greener and more beautiful communities. All you need is running gear and a bag for trash or recyclables, and you are not only improving your own health, but your local community too."
Frida Harju-Westman, in-house nutritionist at Lifesum, comments: "It was clear to us we needed to integrate plogging into the Lifesum app, so that our millions of users worldwide can learn about this healthy and helpful activity, and incorporate it into their fitness regimes. As a company with Swedish origins, we're really proud to see this Scandinavian craze gather momentum across the world."
About Keep America Beautiful
Keep America Beautiful, the nation's iconic community improvement nonprofit organization, inspires and educates people to take action every day to improve and beautify their community environment. Celebrating its 65th Anniversary in 2018, Keep America Beautiful strives to End Littering, Improve Recycling and Beautify America's Communities. We believe everyone has a right to live in a community that is clean, green and beautiful, and shares a responsibility to contribute to that vision.
Behavior change – steeped in education, research and behavioral science – is the cornerstone of Keep America Beautiful. We empower generations of community and environmental stewards with volunteer programs, hands-on experiences, educational curricula, practical advice and other resources. The organization is driven by the work and passion of more than 600 Keep America Beautiful affiliates, millions of volunteers, and the collaborative support of corporate partners, social and civic service organizations, academia, municipalities, elected officials, and individuals. Join us on Facebook, Instagram, Twitter and YouTube. Donate and take action at kab.org
About Lifesum
Lifesum is a digital health app that encourages a healthy, balanced lifestyle by combining applied psychology and everyday technology to help people change the way they eat, train and live. Having already achieved over 25 million users worldwide, the Lifesum app is available on iOS and Android, as well as wearable devices, and can be tailored by individual users and adapted to specific goals and aims, offering personal guidance based on personal data.