PFAS Desktop Screening Tool Wins Silver at 2022 Antea Group Innovation Awards
PFAS Desktop Screening Tool Wins Silver at 2022 Antea Group Innovation Awards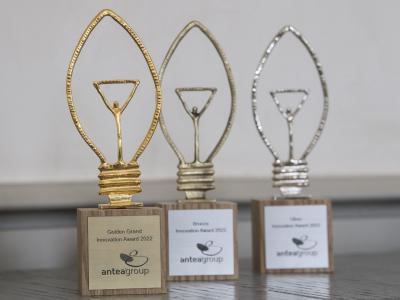 Tuesday, August 2, 2022 - 11:15am
ST. PAUL, Minn., August 2, 2022 /3BL Media/ - Antea Group USA has a new award to celebrate. Earlier this year, Antea Group launched the 2022 Innovation Awards, which aims to celebrate and promote innovation across the entire company.
Antea Group employees from across the globe are invited to submit proposals for consideration. A total of 23 innovations from across 8 Antea Group country businesses were selected to enter the international judging round where they were reviewed by a panel of judges including innovation representatives for each country along with the Antea Group Board and an external chairman. The international judging panel used the following judging criteria to come to their decision:
 Judging Criteria
Innovative character
Ability to be replicated or scaled up across the Group
Competitive advantage obtained
Economic impact on productivity, or commercial efficiency
After two rounds of judging, the 2022 Innovation Awards culminated with a ceremony in Orleans, France in May. Antea Group USA received the Silver Innovation Award for their PFAS Desktop Screening Tool. The tool was developed collaboratively by Antea Group USA and Antea Group France with key contributions from Caron Koll, Marshal Stageberg, Jolanda Boisson, and Ivar Lanting.
Check out the short video proposal for the PFAS Desktop Screening Tool: https://www.youtube.com/watch?v=S5a5LsUzQ3Q
The goals of the Innovation Award program include demonstrating a commitment to innovation and continuous improvement, sharing and scaling innovations across Antea Group country businesses, and recognizing the employees that have made significant contributions to innovations -- whether through new products and services or improved methods and processes.
Receiving the Silver Innovation Award indicates that Antea Group US demonstrated this innovation and continuous improvement the award looks to showcase. Learn more about the PFAS Desktop Screening Tool services Antea Group US offers here.
About Antea Group
Antea®Group is an environment, health, safety, and sustainability consulting firm. By combining strategic thinking with technical expertise, we do more than effectively solve client challenges; we deliver sustainable results for a better future. We work in partnership with and advise many of the world's most sustainable companies to address ESG-business challenges in a way that fits their pace and unique objectives. Our consultants equip organizations to better understand threats, capture opportunities and find their position of strength. Lastly, we maintain a global perspective on ESG issues through not only our work with multinational clients, but also through our sister organizations in Europe, Asia, and Latin America and as a founding member of the Inogen Alliance. Learn more at us.anteagroup.com.