Pentair Pool Owners Surpass 12 Billion Kilowatt Hours Saved With Energy Efficient Pool Pumps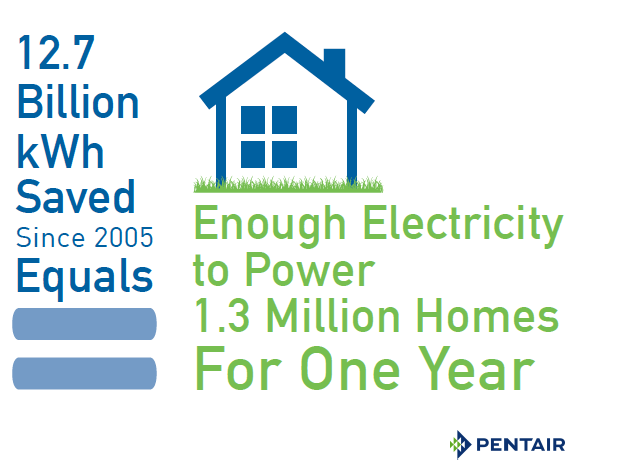 LONDON, September 29, 2017 /3BL Media/ - With the close of the summer pool season, global water company Pentair has surpassed energy savings of 12.7 billion kilowatt hours (kWh) since 2005 with its energy efficient pool pumps—helping pool owners save $1.4 billion in energy costs and conserve enough energy to power 1.3 million U.S. homes for one year.*
"In 2005, Pentair sparked an industry-wide revolution when we became the first to introduce variable speed technology to the pool industry—years ahead of any other manufacturer," said Karl Frykman, president, Pentair Water. "In addition to continuing to innovate energy-efficient pool and spa equipment solutions with our Pentair Eco Select® products, we have worked to educate consumers about energy saving opportunities. This powerful combination has helped our customers enjoy their pool while saving money."
With its continued commitment and leadership in manufacturing energy efficient pool pumps, Pentair has been recognized by the U.S. Environmental Protection Agency's (EPA) as an ENERGY STAR® Partner of the Year since 2013, and a recipient of its Partner of the Year – Sustained Excellence Award in both 2016 and 2017.
Pentair offers 80 ENERGY STAR certified pool pump models, representing approximately 40 percent of all certified pool pumps in the industry. Alongside technological innovation, Pentair has worked to educate consumers about energy savings opportunities. In 2017, Pentair held more than 500 hands-on pool pump demonstrations at retail outlets and consumer home shows showcasing the benefits of ENERGY STAR certified pumps.
Pool professionals that would like to participate in Pentair's equipment training program should visit https://www.pentairpartners.com/workshops/. To learn more about the company's complete line of energy efficient pool pumps, as well as other Pentair Eco Select pool products designed to help save energy, conserve water, eliminate or reduce noise, or otherwise contribute to a more environmentally responsible equipment system, visit pentairpool.com.
*Source: https://www.epa.gov/energy/greenhouse-gas-equivalencies-calculator
ABOUT PENTAIR
Pentair plc (NYSE: PNR) is a global company dedicated to building a safer, more sustainable world. Pentair delivers industry leading products, services and solutions that help people make the best use of the resources they rely on most. Its technology moves the world forward by ensuring that water is plentiful, useful and pure, and that critical equipment and those near it are protected. With 2016 revenues of $4.9 billion, Pentair employs approximately 19,000 people worldwide. To learn more, visit pentair.com.
###