Parental Leave Is A Hit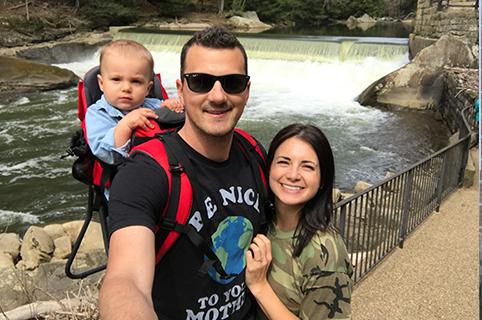 Penn, Mark and Ashley Bezilla enjoying a family outing. Mark took five weeks off with pay to spend time with his son Penn.
This article originally posted on PNC Point of View Real People. Real Perspecti…
In 2016, PNC announced a change to its parental leave policy for all new moms and dads. Eligible new parents of any gender can now receive full pay for six weeks in the year following a baby's birth. Here's one dad's take on how the leave helped his family.
For five weeks last summer, as Mark Bezilla was bonding with son Penn, the new dad became a pioneer of sorts. He took paid time off after his wife returned to work, using a new parental leave policy to be with his baby without affecting the family's finances.
It was a summer of hard work and magic moments that Bezilla says he's grateful to have experienced, a special time he'll always remember.
"I will say that I did gain an appreciation for how much time, effort, care and love goes into being with your child 24/7," said Bezilla, vice president and program manager for PNC Grow Up Great. Some of his friends, also first-time dads, were a bit envious. "
None of my friends outside of PNC have a policy like this at their workplace.
Before the new policy took effect in January 2016, Bezilla would have been eligible for one week parental paid time off. Adoptive parents would receive two weeks paid time off, and the birth mom was eligible for up to eight weeks of short-term disability.
Now, all eligible parents—birth and adoptive—receive six weeks off at 100% pay. Eligible birth moms also receive 10 weeks of leave under the short-term disability policy at 100% pay.
Since the policy took effect Jan. 1, 2016, the number of fathers taking paid parental leave at PNC has increased significantly, according to newly-compiled PNC data.
"We Live This"
While Silicon Valley firms and many up-and-coming companies now offer parental leave for all new parents, Bezilla wasn't expecting anything more than one paid week of leave for himself. He had to reread the new policy a few times before he realized he was eligible.
"Quite frankly, I was shocked," he says.
I sent my wife a text immediately. She was over the moon. This not only affected me – it affected my family.
Leave policies that cover both new moms and dads are gaining popularity as a way to recruit and retain talented employees. In a 2017 Pew Research Center survey, 74% of those surveyed said employers that provide paid leave are more likely to attract and keep good workers.
The Pew survey found a lot of support for paid leave for new parents. Specifically, it showed 82% of Americans think mothers should have paid maternity leave; it's 69% for dads. The report noted that most fathers now take an average of just one week following the birth or adoption of a child.
PNC vice president Barb Trant, who oversees absence management, recalls that employee response was swift and positive. "It was a good feeling to offer something to new parents that clearly shows we value and support our employees and want them to stay with PNC when they expand or start their family," says Trant.
We talk about helping employees with work/life balance, she says, and this policy proves "we're not just talking the talk. We live this."
Bezilla says adding a new baby to the family is a challenge, but it allowed his family time to adjust. "It's an added benefit that allowed me to have that important one-on-one time with my son at a very early age," he says. "It was amazing."