New Book Provides an Evidence-based, Step-by-step Process for Creating a Sustainable Business in the 21st Century Competitive Landscape
The Executive's Guide to 21st Century Corporate Citizenship: How your Company Can Win the Battle for Reputation and Impact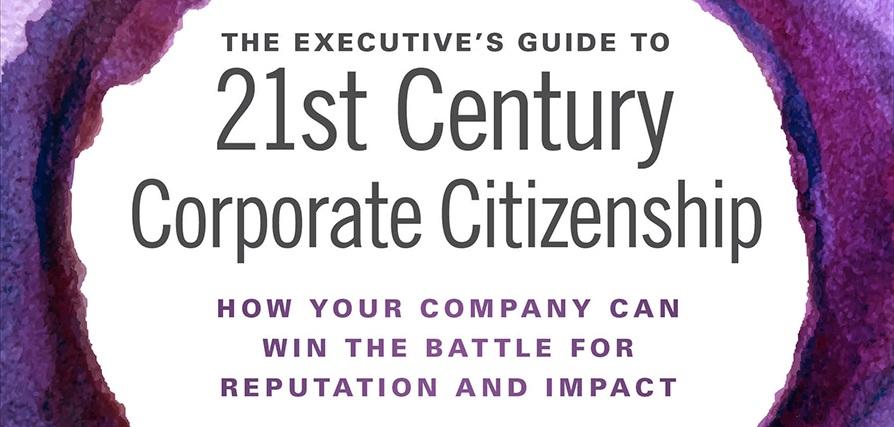 For any company looking to optimize their corporate sustainability strategy, 21st Century Corporate Citizenship is a must have.
21st Century Corporate Citizenship
September 11, 2017 /3BL Media/ - "Because of the magnitude of the challenges and opportunities we face as a society - overpopulation, climate change, inequality, water scarcity - successful executives must be excellent leaders and managers both. This book provides an excellent toolkit to support the important work of our next generation of corporate citizenship leaders - no matter which seats they occupy in their companies." Andy Boynton, Carroll School of Management, Boston College
If you are a business executive tasked with building a more ethical, resilient, sustainable and profitable company, The Executive's Guide to 21st Century Corporate Citizenship by Dave Stangis and Katherine Valvoda Smith is a must-have book for you. Providing all the information needed to understand how corporate citizenship builds reputation, delivers value to the bottom line, and mobilizes an organization's employees and customers, it clearly and concisely guides executives through a step-by-step process for leveraging all the tools, trends, and assets at their disposal. 
From setting up a corporate citizenship program to connecting corporate citizenship to business strategy, from the importance of the supply chain and procurement function to communicating your message and building on success, The Executive's Guide to 21st Century Corporate Citizenship supports you every step of the way. Each chapter includes insights and tips from executives at companies such as New Balance, Microsoft, Toyota, and the Walt Disney Company, and concludes with a clear summary of the main points and questions for managers to consider and discuss with their teams. 
"At its heart, corporate citizenship is change management. It is about envisioning a different and better future for business and society. Change management requires the skills of both leaders and managers." Whether you are a sole proprietor or working for a global megacorporation, you can make a positive impact in the world, deliver top and bottom line results for your company, and build your corporate reputation at the same time. You just need the appropriate knowledge, skills, and mindset, and this rewarding and evidence-based book will show you how. 
Dave Stangis is VP, Corporate Responsibility, and Chief Sustainability Officer of Campbell Soup Company. He leads Campbell' s CSR, Sustainable Agriculture, and Operational Sustainability strategies and previously served as VP, Public Affairs and President of the Campbell Soup Foundation. Prior to Campbell, Dave created and led the corporate responsibility function at Intel. He has led two Fortune 500 organizations in different sectors into the Dow Jones Sustainability Indices, the Global 100 Most Sustainable Corporations, and the 100 Best Corporate Citizens List. Katherine Valvoda Smith is executive director of the Boston College Center for Corporate Citizenship, and part-time faculty at the Carroll School of Management where she teaches Business in Society. She has worked with public private partnerships and joint research projects for 20+ years and has held appointments at Brown University and the University of Massachusetts, where she served also as COO of its Foundation with more than US$700 million under management. 
For a review copy of The Executive's Guide to 21st Century Corporate Citizenship 
or to speak with Dave or Katherine, please contact:
Kate Shepherd, The Oxford Publicity Partnership Ltd,
Tel: 01327 357770 or email: kate.shepherd@oppuk.co.uk