Nat Geo Reporters Win 2017 Society of Environmental Journalists Awards for Beat Reporting on Effects of Climate Change and Illegal Wildlife Trading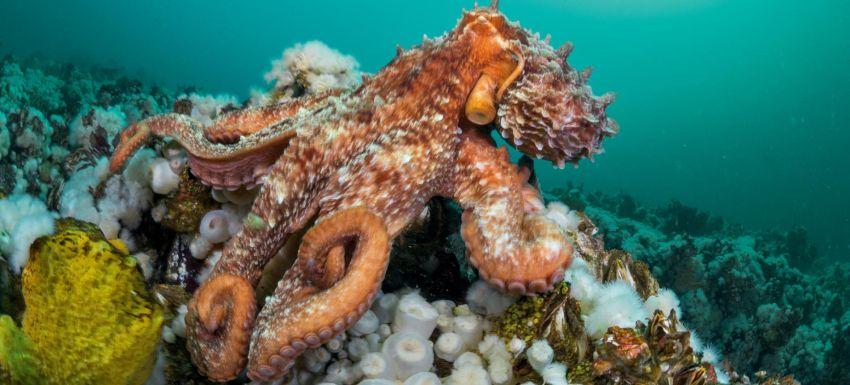 Giant Pacific Octopus, British Columbia (Nat Geo)
21st Century Fox Social Impact
From a pool of nearly 400 submissions, the Society of Environmental Journalists (SEJ) recently announced the winners of the 2016-17 Awards for Reporting on the Environment, and two awards went to 21st Century Fox's National Geographic reporters, Craig Welch and Rachel Nuwer, for their important work in illuminating pressing issues of climate change and the human impact of wild animal welfare around the world.
Welch, a Seattle-based reporter, won first place in "Outstanding Beat Reporting—Large Market" for a package of five stories across Nat Geo platforms, edited by Rob Kunzig and Brian Howard, that centered around the effects of climate change on ocean-life:
"The Blob That Cooked the Pacific"
"Ocean Slime Spreading Quickly Across the Earth"
"Mysterious New Whale Species Discovered in Alaska"
"Huge Puffin Die-Off May Be Linked to Hotter Seas"
"Orca Killed by Satellite Tag Leads to Criticism of Science Practices"
Comments from the judges touched upon Welch's descriptive analysis and writing, remarking, "Craig Welch's stories showed how the mastery of a beat can produce compelling, cutting edge journalism. His piece on rising sea temperatures provided an understanding of why the phenomenon may be occurring and what warmer water has done to marine life... I was impressed by his crisp writing style and attention to detail. Thorough, beautiful writing ("where the sea curls a crooked finger around Alaska's Kodiak Island."…"Sea wash muddies the pale fur of its face"); compelling and unforgettable storytelling; deep knowledge of place and scientific import. Rich, rich, rich."
Nuwer, a frequent contributor to Nat Geo's Wildlife Watch, won second place in "Outstanding Beat Reporting—Large Market" for a package of five stories as well, three of which were published on Wildlife Watch with the help of Nat Geo editor Oliver Payne:
"Huge Haul of Slain Sea Turtles Tests Vietnam"
"Pangolins Released Into Wild May Be Recaptured and Eaten"
"The Rare African Park Where Elephants Are Thriving"
Judges remarks included, "Rachel Nuwer made me feel like I was in Vietnam, witnessing the sad and unchecked devastation of wildlife, or in Africa, watching the last male northern white rhino live out his days. Her stories had an edge to them that stirred a sense of outrage. Great writing and reporting. I learned so much reading these detailed, finely crafted stories and I cared deeply about her subjects, most of which cannot speak for themselves. Most of all, she took me, the reader, along with her as she touched Sudan, the rhino, and as she unearthed the efforts (or lack of them) to track down who was killing the endangered sea turtles found in Vietnam. I was there. Overall, compelling and wide-ranging reporting on species and issues we know little about."
The SEJ is a non-profit organization that provides educational opportunities and vital support to journalists across media platforms to aid them in the challenge of responsibly covering complex environmental issues. 2017 winners will be honored at a celebration in October during SEJ's 27th Annual Conference in Pittsburgh, PA.