Mondelēz 2021 Snacking Made Right Report: ESG Priorities
Mondelēz 2021 Snacking Made Right Report: ESG Priorities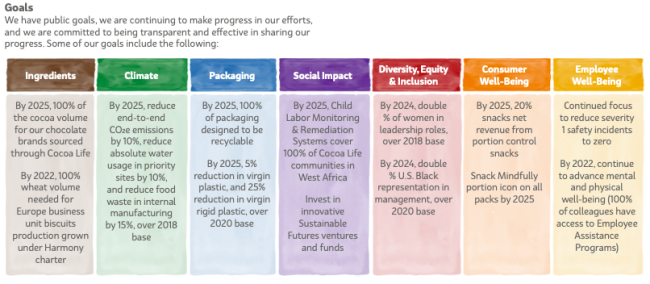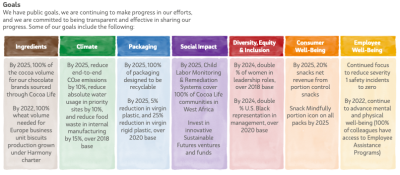 Wednesday, May 25, 2022 - 8:55am
Our Approach
We have a clear strategic approach to making snacking right, so we can drive innovative, more sustainable business growth the right way for people and the planet.
Prioritizing for Greater Impact
We prioritize where we can have greater impact, focus on long- term more sustainable outcomes by tackling root causes and take a collaborative approach. We have set public goals to achieve meaningful progress and drive positive, lasting change. And we work together in collaboration with partners, external advisors, governments and other stakeholders as we focus on increasing our long-term positive impact and supporting the needs of the planet, our consumers, our colleagues and our stakeholders.
We focus where we can make a bigger difference and deliver greater long-term positive impact. This includes reducing our impact on the environment through manufacturing and raw material sourcing, promoting the safety and well-being of our employees, partners and consumers and working to improve the lives and respecting the rights of people across our value chain. We use our scale to promote positive impacts on those who help produce and those who consume our products.
Focusing on Key Issues
We have identified four social and environmental issues that are significant to building a more sustainable snacking company, each having a clear focus of action for each one.
Safety – Prioritizing the safety of our people and products.
Supply security – Focusing on key agricultural commodities and social aspects of our supply chain, including human rights and more sustainable agriculture, through our signature programs for cocoa and wheat.
Environmental footprint – Decreasing environmental impact across our operations, supply chain and communities, including primary ingredient sourcing, product packaging and manufacturing.
Consumer well-being – Promoting health and well-being through portfolio enhancements, on-pack, digital, in-store messaging and community partnerships.
Our strategy and goals in addressing these key focus areas are central to supporting our growth around the world and underpinned by our focus on promoting a culture of safety, quality, inclusivity and equity. Our strategy includes more sustainable sourcing of key ingredients, reducing our environmental footprint, promoting the rights of people across our value chain, and evolving our portfolio to offer a broad range of high-quality snacks addressing consumer needs while encouraging consumers to snack mindfully.
ESG Priorities:
We want to make snacking right for everyone our business reaches — from the consumers who enjoy our snacks to the farmers and communities we work closely with to source key ingredients.
To be effective, particularly in the fight against climate change and plastic pollution, we need to recognize our impact on the world, prioritize and focus our programming on action we believe is transformational and attainable – so we can have a measurable and lasting long-term impact, faster. To this end, our priorities flow from our materiality evaluation. Our strategic focus areas and 2025 goals map to the areas of our business that account for our greatest opportunity to make a positive lasting impact on the environment and communities. They are also aligned to what is most material to our long-term business success. By focusing our efforts in these areas, we can drive sustainable business growth and deliver meaningful progress in reducing our environmental impact and empowering people and communities.
Environmental | Reducing Our Environmental Impact & Sourcing Sustainably
Ingredients – Developing signature sourcing programs across key raw materials including Cocoa (Cocoa Life), Wheat (Harmony Wheat), and Palm Oil (Palm Oil Action Plan) to build greater end-to-end resilience in these supply chains
Climate – Combating climate change with an end-to-end, science-based, and thirdparty verified approach focused on reducing emissions in our operations and in our sourcing of key raw materials
Packaging –Reducing net waste packaging by investing collaboratively in the innovation of materials, education and infrastructure to improve recycling globally
Social | Empowering People & Communities
Social Impact – Promoting human rights across our business and helping to empower underprivileged communities
Well-being – Empowering consumers with contemporary option and choices, such as portion control package sizes and portion guidance, that encourage mindful snacking habits
Diversity, Equity & Inclusion – Championing progress for our colleagues, culture & communities
Quality & Safety – Providing high-quality, safe food and fostering a culture of zero incidents and zero defects
Governance | Promoting Strong Governance Throughout the Company
Oversight – Strong board oversight
Accountability – A culture of accountability and compliance
Incentives – Aligned incentives across our business
Dialogue – Proactive two-way dialogue with stakeholders