Mining Supercluster's CLEER Project Shortlisted for $950 Million Funding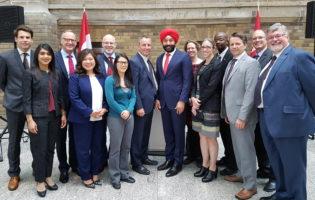 Goldcorp is amongst the industry's leaders in our approach to innovation and responsibility at every stage of the mining cycle and our involvement in the Innovation Superclusters Initiative provides an additional collaborative opportunity to support the industry's transformation.
Canada's federal government recently announced it has chosen the mining supercluster's CLEER (Clean, Low-energy, Effective, Engaged and Remediated) initiative as one of 9 proposals shortlisted to qualify for a piece of a $950-million federal fund intended to boost the country's economy and job creation. CLEER was short-listed in recognition of its potential to generate significant environmental benefits, energize regional economies and create jobs.
With the Innovation Superclusters Initiative, the federal government aims to create "superclusters" – consortiums of stakeholders, including companies, academic institutions and not-for-profit organizations, to form dense business areas where large and small companies can collaborate with research institutes and organizations to commercialize ideas and fast-track innovation and technological developments.
The mining supercluster, jointly led by the Canada Mining Innovation Council (CMIC) and the Centre for Excellence in Mining Innovation (CEMI), and backed over 90 mining related organizations including Goldcorp, Barrick, Teck, Glencore, Vale, and University of British Columbia, submitted a proposal which looks at transforming Canada's mining sector with an emphasis on clean resources, clean technology and responsible sourcing of metals.  The proposal focuses on water use, energy intensity and environmental footprint, with aggressive targets of a 50% reduction in each area by 2027.
The CMIC and the CEMI will work together to advance the project through the next phase of the application process, and in early 2018, around 5 final supercluster proposals will be selected for funding, which will be spent over 5 years.
For more information on the Mining Supercluster, click HERE.
Goldcorp encourages innovation at every stage of the mine lifecycle to make our operations safer, more efficient, reduce our impact on the environment and identify exploration targets more effectively. We are proud to present #DisruptMining 2018 in support of fueling innovation in the mining industry.
Image: Navdeep Bains, Minister of Innovation, Science and Economic Development at the Innovation Superclusters Initiative announcement