MetLife Supporting UNCF and HBCUs for More than 75 years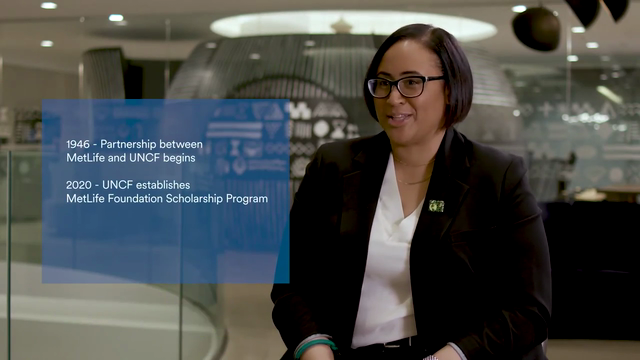 MetLife and MetLife Foundation have partnered with UNCF since 1946 and helped finance the education of thousands of students at Historically Black Colleges and Universities (HBCUs).
Click here for more information on MetLife's commitment to DEI.
About MetLife
MetLife, Inc. (NYSE: MET), through its subsidiaries and affiliates ("MetLife"), is one of the world's leading financial services companies, providing insurance, annuities, employee benefits and asset management to help individual and institutional customers build a more confident future. Founded in 1868, MetLife has operations in more than 40 markets globally and holds leading positions in the United States, Japan, Latin America, Asia, Europe and the Middle East. For more information, visit www.metlife.com.
About MetLife Foundation
At MetLife Foundation, we are committed to expanding opportunities for low- and moderate-income people around the world. We partner with nonprofit organizations and social enterprises to create financial health solutions and build stronger communities, while engaging MetLife employee volunteers to help drive impact. Our financial health work has reached more than 17.3 million low- and moderate-income individuals in 42 countries. Learn more at MetLife Foundation.