Meet PNC's First Accessibility Officer
Greg Pollock says his position is just one example of the organization's ongoing commitment to accessibility and disability inclusion.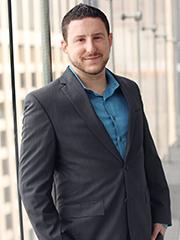 Real People. Real Perspective. Real Insights. 
Read more POV Stories »
It's rare for a company to have an accessibility officer in its ranks. As organizations deepen their commitment to diversity and inclusion, a best practice is emerging: companies like PNC are adding roles specifically focused on disability and accessibility. 
In late 2017, a team of leaders from around the company convened to form a 'disability roundtable' to advance PNC's work around disability inclusion. As the team explored opportunities and needs, one recommendation was clear: hire an accessibility officer. "Leaders at all levels of the organization are committed to accessibility and disability inclusion," says Greg Pollock, PNC's first-ever accessibility officer, "and my position is proof of their commitment to this strategy." 
Since joining PNC, Pollock has been hard at work partnering with colleagues across the organization to develop an accessibility strategy that will impact every aspect of the bank's operations. Pollock joined PNC in May after working for years in public affairs and human resources at another large company. 
It Starts with PNC's Commitment to Employees 
In 2018, The Disability Equality Index named PNC a Best Place to Work for people with disabilities.[1]
Accessibility impacts every area of the company's human resources and talent strategy. "Our employees are our most valuable resource," says Pollock. "We need to make sure employees with disabilities know that PNC values their individual expertise." There's a broad range of disabilities, and no one individual can truly understand the specific needs of each one, he explains. To that end, "it's important that we hire people from diverse backgrounds and leverage each individual's unique differences and perspectives to strengthen our company," he says. 
Pollock believes that it's only by working together that PNC employees can make products and services accessible for everyone. "From recruitment and training to accommodations, our enterprise strategy will take a holistic approach."
The Business Case for Accessibility 
Pollock's work aligns with PNC's commitment to employees and its corporate values of diversity and inclusion. Beyond that, accessibility impacts everything the bank does. "Really, it's about making the banking experience easier for everyone – employees and customers," Pollock says. 
It's logical that if PNC makes tools, products and services accessible to more people, it will grow its customer base. Making something accessible for people with disabilities makes it easier for everyone to use. For example, websites that are friendly to computer screen reader programs tend to be easier to read for all people with low vision. The goal is to make products and services accessible for all customers, regardless of abilities.
Beyond Compliance 
Like many large organizations, PNC complies with the Americans with Disability Act (ADA), a law that prohibits discrimination against individuals with disabilities in all areas of public life. In practice, this means having an accessible option for people with disabilities, such as equipping buildings with compliant wheelchair ramps and elevators. "While ADA compliance is important, it is the minimum standard, a passing grade," explains Pollock. And PNC is setting its sights beyond compliance. "This means any time customers or employees enter our doors or interact with our organization in any way, there are no barriers or friction for anyone," Pollock says. "It's about making sure that whatever tool, path or approach our customers want to use is available to them." 
Instead of merely reacting to requests for accessibility, Pollock's role is to help the company take a proactive approach. "Rather than retrofitting a building or website to meet accommodation requests, we want to get to a place where we're anticipating all the needs of our customers and employees at the point of inception," he says. 
"Ultimately, we want to be the most accessible bank in the world," he says. 
Learn more about PNC's commitment to diversity and inclusion »