Meet Amgen Scholars Alumni Andrea Pérez González From Universidad Francisco de Vitoria
"Although I had no previous research experience, Dr. Hugh Robinson gave me the opportunity to do my project on electrophysiological properties of small-cell lung cancer."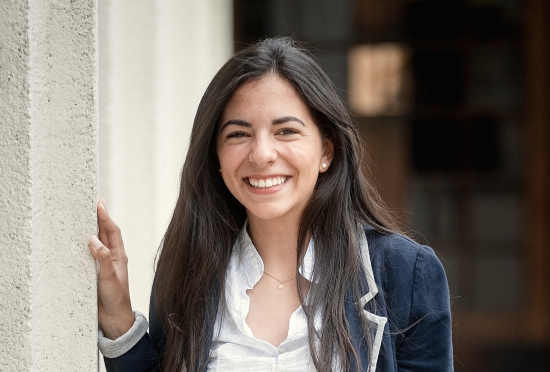 Madrid, Spain
Host University: University of Cambridge
Home University: Universidad Francisco de Vitoria
Amgen Scholar Year: 2017
Major: Biotechnology and pharmacy
Expected Graduation: 2019 and 2021 (for a joint degree)
Journey to Science
How did you become interested in science?
Progress in science and technology has always fascinated me. However, until recently, I had not understood why cancer is one of the main causes behind many deaths in the world despite developments in biomedical research. For this reason, full of curiosity, I enrolled myself in a biotechnology and pharmacy joint honors degree, expecting to achieve the best theoretical basis possible to do oncological research.
Academic and Professional Ambitions
What's the larger significance of your Amgen Scholars research? What's your ultimate career goal?
During my participation as part of the Amgen Scholars Program at the University of Cambridge, I was based in the Department of Physiology, Development and Neuroscience. Although I had no previous research experience, Dr. Hugh Robinson gave me the opportunity to do my project on electrophysiological properties of small-cell lung cancer. We found that a specific potassium voltage-gated channel appears to be related to tumor growth, making it a potential target for therapy. With this project, I was able to get insights in oncological research while also helping me reach my ultimate career goal, which is pursuing a science-based career looking for new therapies in either oncology or neuroscience.
Why did you apply to the Amgen Scholars Program?
Applying to the Amgen Scholars Program at the University of Cambridge was an incredibly challenging opportunity to do research in one of the top universities in the world. Through the Program, I expected to gain experience in research and learn laboratory skills, especially helping my ability to think as a scientist, as well as team work abilities. From this experience, I also wanted to reaffirm my interest in pursuing a science-based career.
What aspects of the program did you enjoy most? What do you love about the Amgen Scholars Program?
Having the opportunity to work side-by-side with my supervisor, who was the principal investigator of the laboratory, and learning something new from him every day was one of the most enjoyable aspects of the program.
I also enjoyed living in such an emblematic city as Cambridge with the other Amgen Scholars. Being part of this international program allowed me to meet people from many different nationalities, learning about different cultures and having a greatly rewarding time.
In addition, participating in the Amgen Scholars European Symposium allowed me to improve my skills as a scientific communicator while also giving me an outstanding networking opportunity to meet scientists and scholars from other universities.
To learn more about the Amgen Scholars Program, please visit AmgenScholars.com and check out the #AmgenScholars hashtag on Twitter. Follow @AmgenFoundation to stay up to date with all STEM-related news from the Amgen Foundation.