Meet the 2018 AT&T Aspire Accelerator Class
by Anne Wintroub, Director of Social Innovation, AT&T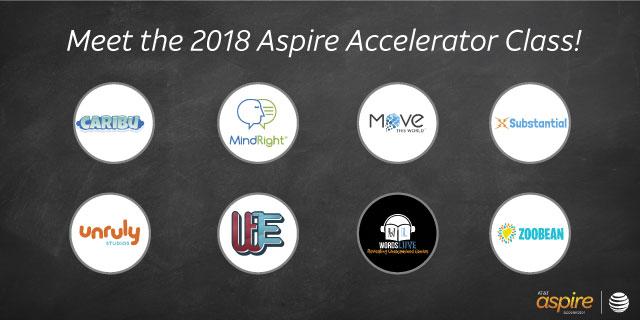 2018 Aspire Accelerator Class winners
Read more from Connect to Good Blog
I love getting to meet and learn from innovators from all walks of life. When people from diverse backgrounds — geographically, culturally, ethnically or professionally — come together to address social challenges, the results are awe-inspiring.
That's what I love most about our AT&T Aspire Accelerator. We believe we found the most promising entrepreneurs from all over the country, with varied backgrounds, who offer solutions to problems they've personally seen or experienced in education.
The program supports for- and nonprofit organizations using tech to promote student success beyond the classroom. Participants receive financial support, mentorship and guidance from AT&T and other organizations.
Since launching the program in 2015, we've worked with 19 inspiring ed-tech organizations to reach more than 12.2 million students with game-changing learning solutions.
I'm thrilled to be in San Francisco this week to hit the ground running with our 2018 cohort. This year's class comes from all across the U.S. and includes 3 nonprofits. Never before has an AT&T Aspire Accelerator class championed such a diverse portfolio of leaders — a trait we believe strengthens the program.  
Through the programs and tools developed by this year's class, students can learn coding while engaging in physical play with friends, increase reading engagement and even find support via text message as they recover from trauma associated with systemic oppression.
Meet the innovative, diverse and impactful start-ups that make up the 2018 AT&T Aspire Accelerator class:
I am looking forward to working with our class over the next 6 months. We'll  explore the ways learning, technology and innovation can merge and drive transformative change and impact for students and educators everywhere.