Mary Barra Shares Progress Made Toward an All-Electric Future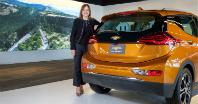 General Motors Chairman and CEO Mary Barra, with a Bolt EV, provides and update on the company's progress to an all-electric future.
Mary Barra Shares Progress Made Toward an All-Electric Future
In a recent LinkedIn post, General Motors Chairman and Chief Executive Officer, Mary Barra, outlined our progress toward an all-electric future.
Along with our efforts to support industry standards and policies that will bolster EV development, partnering with utilities, states and others to build a robust infrastructure and helping to increase consumer awareness, we're moving forward on bringing more electric vehicles to market.
In the post Barra states, "…in October 2017 we shared that we will launch 20 new all-electric vehicles globally by 2023.  Thanks to our talented team, technology, and global scale, we're on our way, while keeping our customers' needs at the center of everything we do."
The post highlighted recent news, including:
We announced a production increase of the Chevrolet Bolt EV. Our scale and global manufacturing capability help us satisfy customer demands faster and more efficiently, and we continue to leverage smart partnerships. To support the production increase, a new LG Electronics facility in Hazel Park, Mich., will start making battery packs this fall to supply our Orion Assembly Plant, also in Michigan, where we build the all-electric Chevrolet Bolt EV.
We expanded our battery lab. We're now able to complete nearly all battery testing under one roof, reducing development time and cost. The significant expansion of this lab, already one of the largest in the world, brings the facility to more than 100,000 sq. ft. and includes new heavy and mild battery abuse test areas. Over the last decade, this lab, located at our Global Technical Center in Warren, Mich., helped bring the Chevrolet Volt, Spark EV and Bolt EV to life, and now it's paving the way for an all-electric future. And we're not done.  Additional major enhancements begin this fall with new test chambers and advanced equipment to accelerate our next-generation battery architecture.
We unveiled two EV entries in 2018. Since the October 2017 announcement, we revealed our first two new EV entries – the Buick Velite 6 EV and the Baojun E200. China is the world's largest EV market and will be a large driver of global EV adoption.
We're looking ahead. We know our customers want shorter charging times, and we're applying our technical savvy to help achieve this. One example – we'll deliver a prototype vehicle capable of a 180-mile range with less than 10 minutes of charging to Delta Electronics for official testing as part of a new U.S. Department of Energy initiative. We also will continue seeking partners to help drive adoption and develop supporting infrastructure.
As Mary says, "This is just the beginning." You can read the full post here. To learn more about General Motors' sustainability efforts see visit gmsustainability.com.