Many Businesses Still Fail to Report Financial Value From Strong Environmental Performance, According to New Research From Accenture, CDP and Hermes Investment Management
Despite almost $500bn in reported opportunities from climate change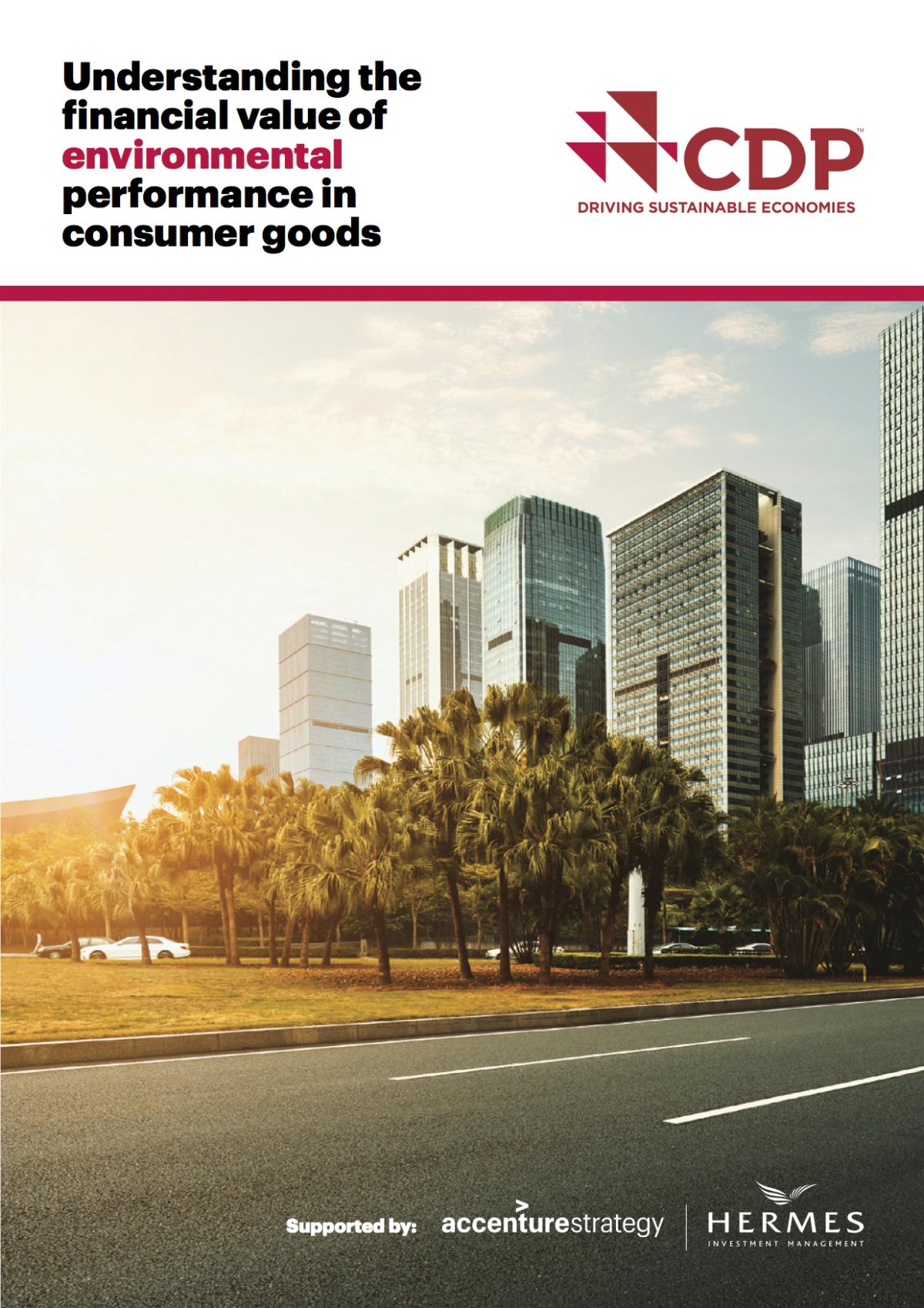 NEW YORK, September 13, 2017 /3BL Media/ - Four in 10 telecommunications and consumer goods companies reporting to CDP fail to capture or report any financial value from strong environmental performance, according to new research released today by Accenture (NYSE: ACN), CDP and Hermes Investment Management. The largest emitters in the global economy— responsible for 50 percent of carbon emissions reported to CDP— account for a cumulative $447bn opportunity from climate change. Yet 42 percent of these companies have not yet quantified the potential value.
"We see this as a huge missed opportunity for companies. Reporting on financial value through environmental performance allows businesses to build investor trust, provide meaningful transparency and help ensure long-term profitability," said Justin Keeble, Managing Director, Accenture Strategy. "Through this partnership with CDP and Hermes, we're bringing Accenture Strategy industry-leading insights to help companies focus on sustainability as a means for value creation."
Additional key findings from the analysis highlight that climate and environmental risks, with known impacts of at least $700bn, remain poorly understood and under-quantified, despite increasing investor urgency in both the telecommunications and consumer goods sectors. Moreover, although sustainable business leaders understand how strong environmental performance drives improved financial results, many businesses are still missing out.
"The bottom line is that environmental performance improvement makes sound business sense, "said Paul Simpson, CEO at CDP. "By recognizing the tangible business and financial benefits of disclosure and action, companies can drive sustainable economies and secure long-term growth." 
The results of the research provided three key actions for businesses to undertake that will help them on this journey to progressive environmental performance and stronger financial outcomes:
Define a suitable framework for understanding how sustainability action can create or protect value. Understand environmental performance and how it impacts your specific business context through lenses of revenues, costs, assets, liabilities and capital.
Target sustainable business cases with clear commercial and environmental potential. Build a finance-driven business case, and use early successes to convince the entire organization of the commercial benefits related to of strong environmental action.
Confront environmental risk, capture emergent revenue and cost opportunities, and contribute to a more resilient business. In the long term, capabilities for measuring and delivering value creation through sustainability can be applied to strategic decision-making regularly, and for disclosing the value captured or preserved to investors.
"There is no doubt in the positive correlation between sound and progressive environmental performance and how a company performs financially," said Bruce Duguid, Director, at Hermes Investment Management. "What we've found through our own work, which was cemented by this latest analysis, is that the investment community pays increasingly close attention to how a company captures and reports environmental performance and opportunities."
For more information on this research and its findings please visit: www.cdp.net/consumer-goods-value and www.cdp.net/telco-value . 
Methodology
This study is based on Accenture Strategy analysis of the responses to CDP Climate, Water and Forests questionnaires in 2014, 2015 and 2016. The initial analysis drew on Accenture Strategy and the proven valuation frameworks to examine what Income Statement and Balance Sheet impacts the companies reporting to CDP had experienced, and that they could experience in the future, as a result of their environmental performance. In addition to evaluation of discrete quantitative responses, Accenture Strategy also assessed several thousand qualitative responses to CDP questionnaires to collate a fuller picture of the financial outputs and outcomes of CDP members' environmental performance.
In the second phase of work, a range of stakeholders from across the Telecommunications and Consumer Goods sectors were consulted via interviews to explore the key barriers each sector is facing to using environment-focused financial data when making business decisions, and to explore potential solutions for how to address these barriers.
Accenture Strategy, CDP and Hermes focused on Consumer Goods and Telecommunications sectors to highlight differences in financial opportunities and risks across sectors. Consumer Goods businesses are heavily exposed to physical, climate and operational risks through reliance on agricultural and commodity inputs, and face challenges to brand value from inaction on environmental issues. Telecommunications businesses have exposure to carbon risks through their energy consumption intensity, yet offer products and services which play a major role in enabling carbon footprint reductions for customers and others.
About Accenture
Accenture is a leading global professional services company, providing a broad range of services and solutions in strategy, consulting, digital, technology and operations. Combining unmatched experience and specialized skills across more than 40 industries and all business functions – underpinned by the world's largest delivery network – Accenture works at the intersection of business and technology to help clients improve their performance and create sustainable value for their stakeholders. With more than 411,000 people serving clients in more than 120 countries, Accenture drives innovation to improve the way the world works and lives. Visit us at www.accenture.com.
Accenture Strategy operates at the intersection of business and technology. We bring together our capabilities in business, technology, operations and function strategy to help our clients envision and execute industry-specific strategies that support enterprise wide transformation. Our focus on issues related to digital disruption, competitiveness, global operating models, talent and leadership help drive both efficiencies and growth. For more information, follow @AccentureStrat or visit www.accenture.com/strategy.
About CDP
CDP is an international non-profit that drives companies and governments to reduce their greenhouse gas emissions, safeguard water resources and protect forests. Voted number one climate research provider by investors and working with institutional investors with assets of US$100 trillion, we leverage investor and buyer power to motivate companies to disclose and manage their environmental impacts. Over 5,800 companies with some 60% of global market capitalization disclosed environmental data through CDP in 2016. This is in addition to the over 500 cities and 100 states and regions who disclosed, making CDP's platform one of the richest sources of information globally on how companies and governments are driving environmental change. CDP, formerly Carbon Disclosure Project, is a founding member of the We Mean Business Coalition. Please visit www.cdp.net or follow us @CDP to find out more.
About Hermes Investment Management
We are an asset manager with a difference. We believe that, while our primary purpose is helping beneficiaries retire better by providing world class active investment management and stewardship services, our role goes further. We believe we have a duty to deliver holistic returns – outcomes for our clients that go far beyond the financial and consider the impact our decisions have on society, the environment and the wider world.
Our goal is to help people invest better, retire better and create a better society for all.
We offer clients access to a broad range of specialist, high conviction investment teams with £30.1 billion* assets under management. In Hermes EOS, we have the industry's leading engagement resource, advising on £310.7 billion* of assets.
Hermes' investment solutions include:
Private markets – Infrastructure, private debt, private equity and real estate
High active share equities - Asia, global emerging markets, Europe, US, global, and small and mid cap
Credit - Absolute return, global high yield, multi strategy and global investment grade
Multi asset - Multi asset inflation
Stewardship – Active engagement, intelligent voting, sustainable development and advocacy
*Please note the total AUM figure includes £5.9bn of assets managed or under an advisory agreement by Hermes GPE LLP ("HGPE"), a joint venture between Hermes Fund Managers Limited ("HFM") and GPE Partner Limited. HGPE is an independent entity and not part of the Hermes group. £0.1bn of total group AUM figure represents HFM mandates under advice. Source: Hermes as at 30 June 2017 with the exception of one portfolio totaling £10.5m valued as at 31 May 2017.
###
Contacts:
Tourang Nazari
Accenture Strategy
+1 202-322-4640
tourang.nazari@accenture.com
Rojin Kiadeh
CDP
+44 (0) 203 818 3912
rojin.kiadeh@cdp.net
Jeannie Dumas
Hermes Investment Management                                       
+44 (0)20 7680 2152                                         
jeannie.dumas@hermes-investment.com