Making Apparel Better™ - Gildan Recognizes Young Athletes for Excellence in Sports, Academics and Community Leadership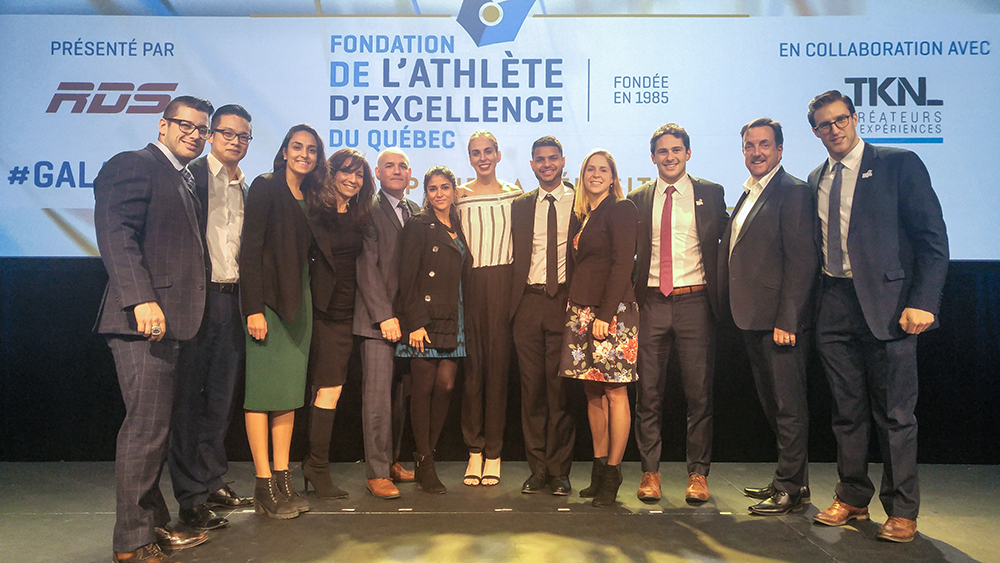 For the 12th year, Gildan is proud to be a partner of the Foundation for Athletes of Excellence in Québec (FAEQ) in recognizing outstanding student athletes that combine strong athletic performances with excellent academic results. For the past several years Gildan has sponsored the Leadership Category which adds an extra dimension for students that demonstrate leadership skills in creating community based programs that deliver a benefit to society.
This year Gildan's sponsorship provided five scholarships totalling $11,000 in the Leadership Category to assist in the pursuit of their academic and athletic activities. This year's recipients include:
Myriam Robitaille: McGill University volleyball player who maintained a 3.19 GPA pursuing studies in French Literature and Languages and organized a tournament that raised $30,000 for the "SENS" campaign to support sex education. Myriam was selected as the Top Recipient this year and received an incremental $250 scholarship in recognition.
https://youtu.be/DiVH5LtwG_M
Sanchit Gupta: McGill University soccer player maintained a 4.0 GPA pursuing a degree in Cell Biology and founded an organisation named MealCare which collects food waste from restaurants, cafeterias and caterers and delivers it to shelters dealing with food scarcity in the city.
https://youtu.be/O0YXcuLvFuM
Alex Cromer-Émond: University of Montreal football player who is studying medicine, carrying a 3.0 out of 4.3 GPA while creating programs to teach youth about perseverance and determination in the pursuit of their goals. Alex's efforts also fund a scholarship to a teenager wanting to attend college in Quebec.
https://youtu.be/FLgsg5HyVFM
Nathan Chiarlitti: McGill University hockey team captain who is completing his masters in Exercise Physiology and developed programs that leverage the status of hockey players in Canada to deliver assistance for integration and inclusivity for a variety of groups.
Phillippe Hudon: Concordia University hockey player who works with Bell Media's Let's Talk campaign addressing mental health issues. Phillippe speaks to youth groups and students about the issues and the support that is available.
The FAEQ held its 32 Annual Gala for all the recipients of scholarships on Wednesday November 29th, distributing a total of more than $250,000 in funding to 85 student-athletes. The FAEQ annually delivers more than $1.4M of assistance to student-athletes in Quebec ranging in age from eleven to twenty eight years of age.
Over the past 12 years, Gildan has donated more than $120,000 to the Foundation and is proud to support amazing individuals that creating positive impacts in their communities. These initiatives align with the Company's commitment to positive community engagement with a focus on areas of education, active lifestyle, entrepreneurship and leadership.