Leaders Call for Bold Action Where Climate, Health, and Equity Meet in the Built Environment
Living Future 2021: Inclusion + Unity Highlights Leaders Building a Movement Built on Diversity, Equity, Inclusion, and Justice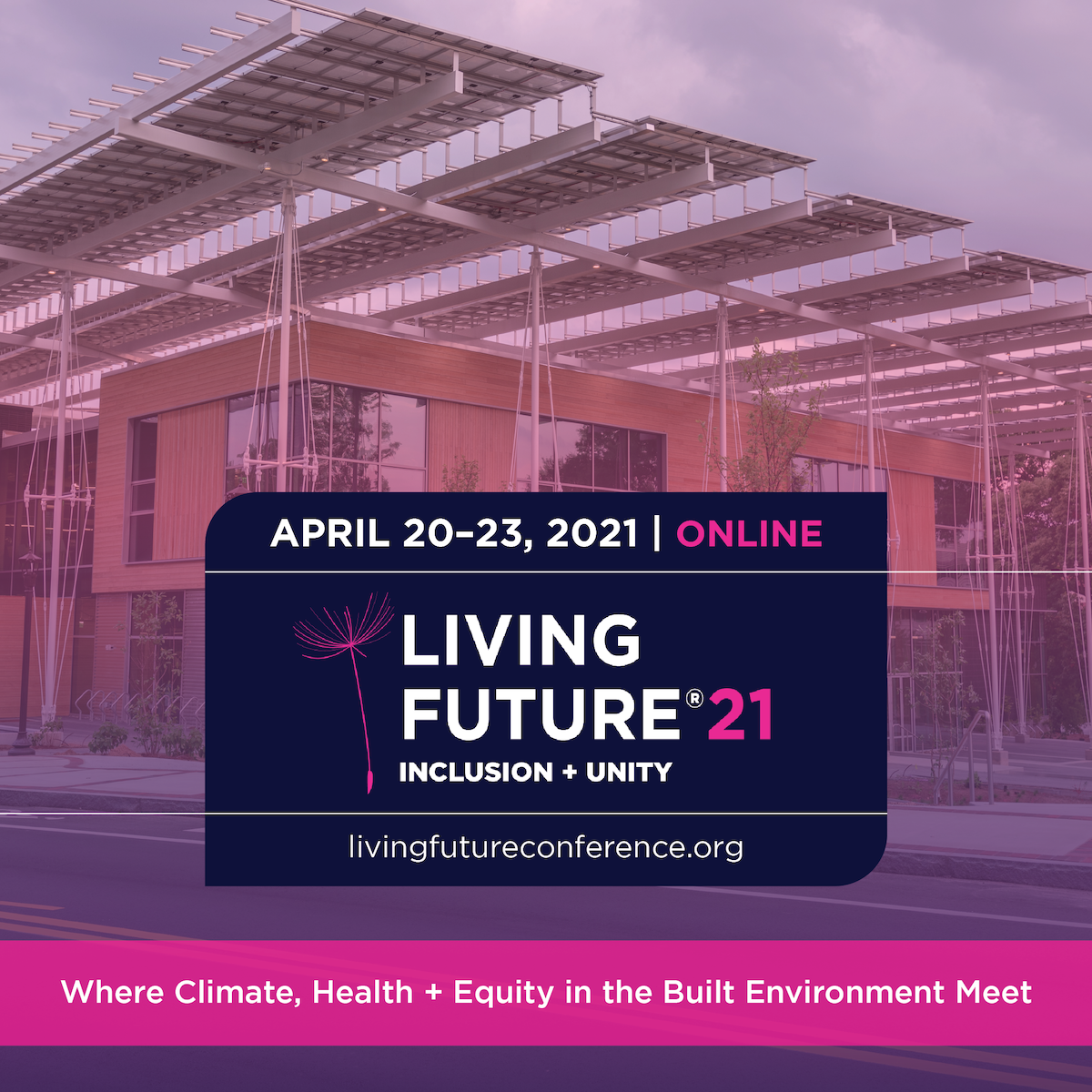 Leaders Call for Bold Action Where Climate, Health, and Equity Meet in the Buil…
April 23, 2021 /3BL Media/ - Living Future 2021: Inclusion + Unity put a spotlight on climate, health, and equity in the built environment, closing today with awards celebrating leaders and projects inspiring transformational changes.
"Now more than ever, we need a hopeful vision of the future," said Anthony Guerrero, Board Chair of the International Living Future Institute and Vice President Workplace and Real Estate Strategies at Earthjustice. "We've proved that Living Buildings are possible, now we need a movement making them common everywhere, which means we need everyone involved."
Living Future 2021 highlighted diversity, equity, and inclusion, with dozens of leaders of color bringing their perspectives on design and sustainability. The event also awarded a wide array of leaders and projects for their accomplishments, demonstrating the progress and momentum underway.
Living Future Heroes
The Living Future Hero award was created to acknowledge and celebrate individuals in the regenerative design community who have dedicated significant time and effort to advancing the Living Future programs and mission. The individuals chosen as Heroes exceed expectations in environmental advocacy, champion Living Future projects and products, and share this vision with their peers. The 2021 Living Future Heroes are as follows:
Julie Johnson for two decades of leadership at the Hitchcock Center for the Environment, including development of its Living Building.
Fred McLennan for volunteering huge amounts of time behind the scenes to the Institute, including to help initially develop the Just label.
Haris Moraitis (posthumously) for being a beloved and energetic leader in Australia's green building movement for more than twenty years.
Emmanuel Pauwels, LFA for being a tireless champion for the Institute and its programs in Europe, leading to the creation of Living Future Europe.
Sim Van Der Ryn for his contributions to nearly all aspects of the built environment, his passion for good design, and his love for people.
Kirstin Weeks, LFA for dedicating her career to creating regenerative buildings and communities, while also mentoring young professionals.
Stephen R. Kellert Biophilic Design Award
An expert committee selected two impressive biophilic buildings, Maggie's Leeds and Louisiana Children's Museum, to be the 2021 Stephen R. Kellert Biophilic Design Award winners. The awards highlight exemplary projects that promote the connection between people and nature, acknowledging Kellert's legacy as a pioneer in articulating and applying biophilic design principles to the built environment.
Just Organization of the Year
The Institute selected Ayers Saint Gross as the first-ever Just organization of the year, based on its efforts to manifest social equity in their actions, with significant inclusion and engagement results. Just is a social justice transparency tool for organizations, offering a roadmap for organizations to engage employees around equity.
Living Future Challenge Accomplishments
In addition 23 projects were honored for achieving certification under the International Living Future Institute's rigorous programs:
Kendeda Building for Innovative Sustainable Design, Atlanta, GA - Living Certified
Loom House, Bainbridge Island, WA - Living Certified
Civitas | archimania, Memphis, TN - Dual Certified: Zero Energy and Zero Carbon Certified
Sonoma Academy, Santa Rosa, CA - Dual Certified: Petal and Zero Carbon Certified
Burwood Brickworks, Melbourne, VIC, Australia - Petal Certified*
Cope Environmental Center, Centerville, IN - Petal Certified
Green Point Project, Cowichan Bay, BC - Petal Certified
Harvard Science and Engineering Complex, Boston, MA - Petal Certified
Mesquite House, San Antonio, TX - Petal Certified
Tanglewood, Auckland, New Zealand - Petal Certified
Monarch School, Houston, TX - Petal Certified
MSR Design New Office, Minneapolis, MN - Petal Certified
PCC Ballard, Seattle, WA - Petal Certified
Adlai Stevenson High School East Addition, Lincolnshire, IL - Zero Energy Certified
North Coastal Live Well Center, Oceanside, CA - Zero Energy Certified
School of Design and Environment 4, Singapore - Zero Energy Certified
West-MEC SW Campus Building X, Buckeye, AZ - Zero Energy Certified
Marie Selby Botanical Garden, Sarasota, FL - LCC Master Plan Compliant
Reserva Santa Fe, Mexico - LCC Master Plan Compliant
Sacramento Valley Station, Sacramento, CA - LCC Vision Plan Compliant
Song Saa Reserve, Cambodia - LCC Vision Plan Compliant
City Services Building, Santa Monica, CA - LBC Ready
Marisol Lot 17, Malibu, CA - Zero Carbon Ready
*This project is not yet certified but the audit is in process.
Combined, these projects demonstrate a dramatic increase in momentum, scale, and complexity for the world's most advanced, holistic performance standards for buildings.
With 150 certified projects and 760 registered projects, the International Living Future Institute is making waves across 36 countries. This strong international growth is reflected in the Living Future Network, with affiliates offering events, project support, and advocacy in Europe, China, Australia, New Zealand, Latin America, and the Middle East.
"We are seeing uptake around the world as more people address the challenges facing humanity," said K C Gaudine, interim CEO of the International Living Future Institute. "We are witnessing the awakening of the human spirit as people embrace bold action on the intersecting climate and social justice crises."
Taking place on April 20-23, Living Future 2021: Inclusion + Unity is only possible due to support from Google, HMTX Industries, Mohawk Group, Red2Green, and many other sponsors. The Institute is thankful for their support.
For more information, visit https://www.livingfutureconference.org/.
About the International Living Future Institute
The International Living Future Institute is a global nonprofit organization that inspires the greenest buildings for a healthy world. The Institute's mission is to advance communities that are socially just, culturally rich, and ecologically restorative. ILFI operates the Living Building Challenge, the world's most ambitious, advanced, and holistic performance standard for green, resilient, and healthy buildings. It is also a hub for many other visionary programs that support the transformation toward--and provide a compelling vision for--a living future accessible to all. Learn more at www.living-future.org.
# # #