Latin American Corporate Leaders Champion Business Solutions for Sustainable Development, Releasing Latin American Version of the CEO Guide to the SDGs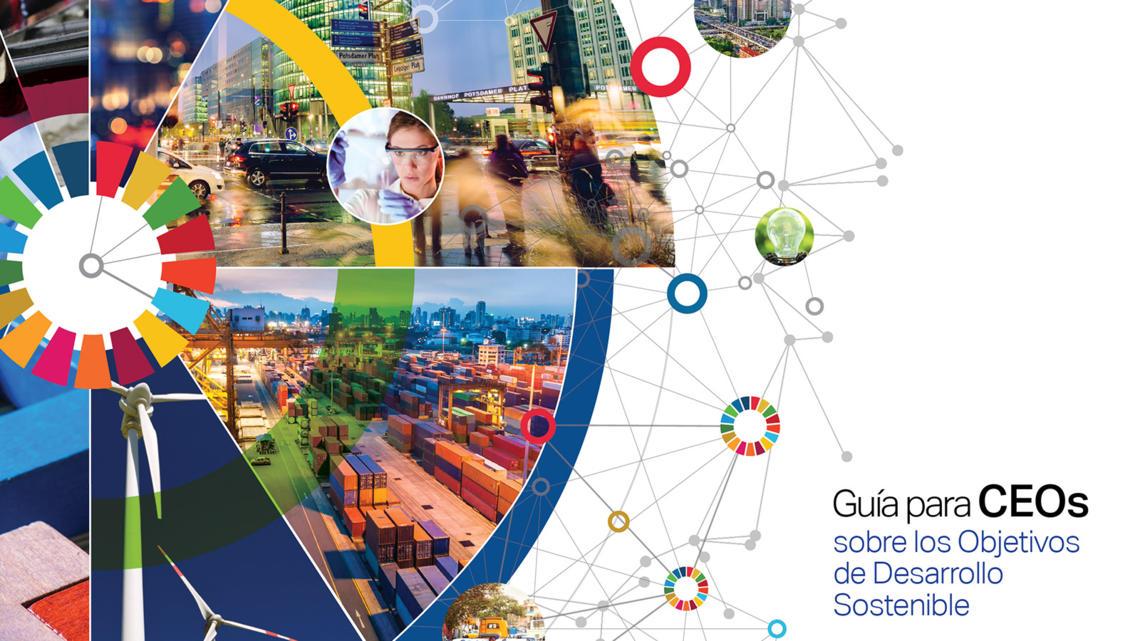 Latin American CEO Guide to the Sustainable Development Goals
Originally published on WBCSD | News & Insights on October 16, 2017
Today, the World Business Council for Sustainable Development (WBCSD) launched the Latin American version of its CEO Guide to the Sustainable Development Goals, highlighting the importance of business leadership in realizing the ambitions of the SDGs in the region.
The Latin American version of the CEO Guide complements the original version – published in English earlier this year – and outlines a shared vision around the implications of the SDGs on businesses across Latin America.
Business leaders in the region are supportive of the Guide.
All Latin American WBCSD member companies have signed the foreword – including 10 CEOs and top executives. 13 Chairs of WBCSD Global Network partners have also signed. They collectively underline the importance of:
Promoting sustainability strategies and business solutions towards achieving the SDGs, keeping in mind the UN Guiding Principles on Business and Human Rights – in their operations, value chains and commercial relationships;
Advocating for framework conditions that stimulate and strengthen an active and forward-looking role for the private sector; and
Spreading knowledge, strategies and tools that integrate the SDGs in corporate structures.
The CEO Guide to the SDGs sets out clear actions that CEOs can take to align their organizations with the SDGs and plot a course towards unlocking the value they represent.
It draws on the landmark research of the Business & Sustainable Development Commission (BSDC) which finds that achieving the SDGs could be worth at least US$12 trillion a year in market value by 2030 and could create 380 million jobs across four economic systems (energy, cities, food and agriculture, health and wellbeing). For Latin America alone, the value represents more than US$1.2 trillion and up to 24 million jobs.
Highlighting the critical role for business in realizing the SDGs, the Guide also explores the business implications of the SDGs across the spectrum of risk, opportunity, governance and transparency, as well as the need for collaboration.
The Guide's original foreword is signed by WBCSD's President and CEO Peter Bakker as well as Paul Polman (CEO Unilever and Chairman, WBCSD), Sunny Verghese (Co-founder and CEO of Olam) and Svein Tore Holsether (CEO, Yara International), in their capacities as  WBCSD Council Members and Commissioners of the Business & Sustainable Development Commission.
Each agrees that, "The SDGs provide us with a new lens through which to translate global needs and ambitions into business solutions. These solutions will enable companies to better manage their risks, anticipate consumer demand, build positions in growth markets, secure access to needed resources and strengthen their supply chains, while moving the world towards the delivery of the SDGs."
In addition to these latest editions published in Spanish and Brazilian Portuguese, the CEO Guide has been translated into several other languages and is complemented by a short video and a foldable pocket guide.
Download the CEO Guide from the SDG Business Hub, a central resource for information, tools, case studies and insights to support business as it looks to align with the SDGs.
Contact:
Felicity Glennie-Holmes, Director, WBCSD Communications 
Email: glennie-holmes@wbcsd.org  
Phone:+41 (0)22 839 31 00, +41 (0)79 933 3665