Land Betterment's Entrepreneur Zone Building Is Now 95% Occupied
Land Betterment's Entrepreneur Zone Building Is Now 95% Occupied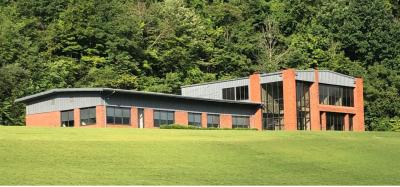 Friday, January 28, 2022 - 9:30am
Mountain Comprehensive Care Center (MCCC) leases the entire ground floor of the Entrepreneur Zone in Hazard Kentucky
Entrepreneur Zone offers workspaces, community resources, education and start-up capital to help foster and grow the businesses renting the space
FISHERS, Ind., January 28, 2022 /3BL Media/ - Land Betterment Corporation ("Land Betterment" or the "Company"), an environmental solutions company fostering positive impact through upcycling former coal mining and industrial sites to create sustainable community development and job creation, is pleased to announce that it's Entrepreneur Zone ("E-Zone"), located in Hazard Kentucky, is now 95% occupied.
Land Betterment created the Entrepreneur Zone in a former coal mining company's office headquarters. After an extensive and thorough renovation of the building, completed in spring 2021, E-Zone now offers extensive technology upgrades and modern work spaces. The E-Zone building provides a collaborative community environment that will bring diverse entrepreneurs together. E-Zone offers workspaces, community resources, education and start-up capital to help foster and grow the businesses renting the space. The E-Zone building is both centrally and prominently located, making this a very desirable facility for lessees.
Immediately after re-opening the newly renovated building, the E-Zone obtained its first tenant, a small business specializing materials handling technologies and elemental analysis using density gauges and analyzers that had offices in Tennessee, but was looking for a foothold in Hazard, Kentucky.  Shortly thereafter, Mountain Comprehensive Care Center (MCCC) entered into a lease for the majority of the space in Land Betterment's E-Zone, now occupying the entire ground floor.
MCCC provides regional behavioral healthcare to individuals seeking support.  MCCC plans to use the space for both professional offices as well as community space for individuals needing MCCC's services.  The additional floors of the building are shared with other tenants who are using this for professional offices such as occupational therapists and other specialists.
Tom Sauve, Land Betterment's Chief Development Officer commented, "We are thrilled to have MCCC as our primary tenant and we are both looking forward to working together to provide additional solutions to MCCC's clients, such as housing in our eko Villages." Tom continued, "The current occupancy rate is a testament to the quality and attractiveness that the E-Zone model offers communities looking to attract new industries to this region after the decline of the coal mining industry. This is a clear success of this entrepreneurship model that was launched by Land Betterment in 2020. We plan to build upon this, and will be looking to other parts of rural Kentucky to replicate the E-Zone model to further assist growing businesses expand and help with the redefinition of eastern Kentucky."
About Mountain Comprehensive Care Center
Mountain Comprehensive Care Center (MCCC) is committed to providing quality behavioral health care that offers recovery and hope. Serving nearly 23,000 clients annually, MCCC provides an array of services throughout Kentucky that address community needs related to behavioral health, addiction, housing, therapeutic foster care, primary medical care and more. MCCC is present is 60 counties in Kentucky and is one of the largest care facilities in the state.
About Land Betterment Corporation
Land Betterment Corporation, an Indiana Benefit Corporation and Pending B-Corp, is an environmental solutions company focused on fostering a positive impact through upcycling former coal mining sites to create sustainable community development and job creation.  The Company utilizes a complete solution-based lifecycle program to restore and rehabilitate the environment and revitalize communities in need of change and opportunity. Land Betterment accomplishes this by identifying un-reclaimed, run-down and neglected coal mining sites, fixing the environment through reclamation and remediation, and then repurposing the land to support a sustainable business that serves the community.  Land Betterment firmly believes that with real solutions it is possible for restoration of impacted areas to live side-by-side long term employment, while building sustainable and safe surroundings for communities and our planet.  For more information visit landbetterment.com or connect with the Company on Facebook, Twitter, and LinkedIn.
Special Note Regarding Forward-Looking Statements
This press release contains "forward-looking statements" within the meaning of the Private Securities Litigation Reform Act of 1995.  Forward-looking statements involve known and unknown risks, uncertainties, and other important factors that could cause the Company's actual results, performance, or achievements or industry results to differ materially from any future results, performance, or achievements expressed or implied by these forward-looking statements.  These statements are subject to a number of risks and uncertainties, many of which are beyond Land Betterment Corporation's control.  The words "believes", "may", "will", "should", "would", "could", "continue", "seeks", "anticipates", "plans", "expects", "intends", "estimates", or similar expressions are intended to identify forward-looking statements, although not all forward-looking statements contain such identifying words.  Any forward-looking statements included in this press release are made only as of the date of this release.  The Company does not undertake any obligation to update or supplement any forward-looking statements to reflect subsequent events or circumstances.  The Company cannot assure you that the projected results or events will be achieved.
Company Contacts:
Mark LaVerghetta
317.537.0492 ext. 0
Chief Governance Officer, Corporate Finance
info@landbetterment.com
Stephanie Conzelman
207.205.0790
Stakeholder Engagement Director
info@landbetterment.com
Source:  Land Betterment Corporation