Land Betterment Corporation Discusses Betterment Harvest - Its Sustainable Agriculture Division
Company is transforming former coal mining sites and infrastructure into a replicable agriculture tech platform in Appalachia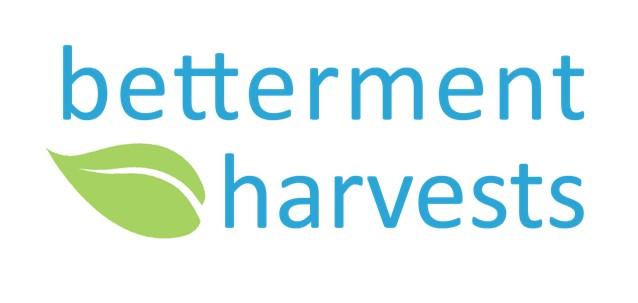 FISHERS, Ind., August 5, 2020 /3BL Media/ - Land Betterment Corporation ("Land Betterment" or the "Company"), an environmental solutions company fostering positive impact through upcycling former coal mining and industrial sites to create sustainable community development and job creation, is excited to discuss its sustainable agriculture division, Betterment Harvest, in more detail.  
Central Appalachia and rural Midwest communities are facing a growing number of environmental and social problems due to the decline in the thermal coal industry and the United States' shift away from coal-based fuels.  The thermal coal industry's decline has left a void of employment opportunity for so many in this region.  As a result, the poverty rate has significantly outpaced the national average which has led to a number of additional social issues. 
The region needs a "shot in the arm" in terms of investment and efficient, innovative and sustainable solutions.  Betterment Harvest aims to build on the early momentum the region is experiencing in creating a new sustainable agriculture and Ag-Tech hub in this region of the United States.  Currently, Betterment Harvest is upcycling a 21,000 square foot, former mining supply warehouse in Perry County, Kentucky into a state-of-the-art, indoor, hydroponic, vertical grow house. The facility will be divided into four, 5,000 square foot individual grow rooms offering complete control of the rooms' climate and to allow the production of a variety of organic greens, herbs, fruiting crops and plant propagation.  
Additionally, Betterment Harvest is currently developing Gold Star Farm, in conjunction with its Betterment Spirits division, to create a fully organic, farm-to-bottle craft distillery.  Gold Star Farm will produce organic crops at its southern Indiana location to be included in the distillery's mash bill.  The Gold Star Farm site was once the location of a former thermal coal mine and processing facility that provided local utilities with coal to be burned to generate electricity.  Land Betterment has been undertaking the environmental remediation of the former mine site and repurposing the land into its Gold Star Farm and Coal Craft Spirits divisions. 
Mark Jensen, Executive Chairman of Land Betterment Corporation commented, "Betterment Harvest is a very exciting sustainable business pillar for us.  Given our access to over 13,000 acres in the region as well as existing facilities such as the one we are repurposing in Perry County, Kentucky, the Betterment Harvest concept has tremendous ability to scale and be replicated with the support of the local communities.   There is a huge opportunity here to make a significant impact and build on the early regional momentum to establish Appalachia as sustainable agriculture powerhouse.  We know from our nearly fifteen years of experience in the region that the labor force, that has been severely displaced from the downturn in the thermal coal industry, is excited about the opportunities this industry can bring, and the skillset transitions very well into the agriculture industry.  With its replicable model, Betterment Harvest is tackling the needs of the community by providing sustainable opportunities and premium agriculture through the redevelopment of impacted lands."
To view the Betterment Recycling corporate presentation and to learn more, visit:  https://uploads-ssl.webflow.com/5df92851d999cba349de25fd/5f2a9b4989e0251165006b43_Betterment Harvest Presentation.pdf
About Land Betterment Corporation
Land Betterment Corporation, an Indiana Benefit Corporation and Pending B-Corp, is an environmental solutions company focused on fostering a positive impact through upcycling former coal mining sites to create sustainable community development and job creation.  The Company utilizes a complete solution-based lifecycle program to restore and rehabilitate the environment and revitalize communities in need of change and opportunity. Land Betterment accomplishes this by identifying un-reclaimed, run-down and neglected coal mining sites, fixing the environment through reclamation and remediation, and then repurposing the land to support a sustainable business that serves the community.  Land Betterment firmly believes that with real solutions it is possible for restoration of impacted areas to live side-by-side long term employment, while building sustainable and safe surroundings for communities and our planet.  For more information visit landbetterment.com or connect with the Company on Facebook, Twitter, and LinkedIn.
Special Note Regarding Forward-Looking Statements
This press release contains "forward-looking statements" within the meaning of the Private Securities Litigation Reform Act of 1995.  Forward-looking statements involve known and unknown risks, uncertainties, and other important factors that could cause the Company's actual results, performance, or achievements or industry results to differ materially from any future results, performance, or achievements expressed or implied by these forward-looking statements.  These statements are subject to a number of risks and uncertainties, many of which are beyond Land Betterment Corporation's control.  The words "believes", "may", "will", "should", "would", "could", "continue", "seeks", "anticipates", "plans", "expects", "intends", "estimates", or similar expressions are intended to identify forward-looking statements, although not all forward-looking statements contain such identifying words.  Any forward-looking statements included in this press release are made only as of the date of this release.  The Company does not undertake any obligation to update or supplement any forward-looking statements to reflect subsequent events or circumstances.  The Company cannot assure you that the projected results or events will be achieved.
Company Contact:
Mark LaVerghetta
317.537.0492 ext. 0
Chief Governance Officer, Corporate Finance
info@landbetterment.com