KeyBank Provides $5.7 Million in Financing for Construction of Affordable Housing for Seniors in Ohio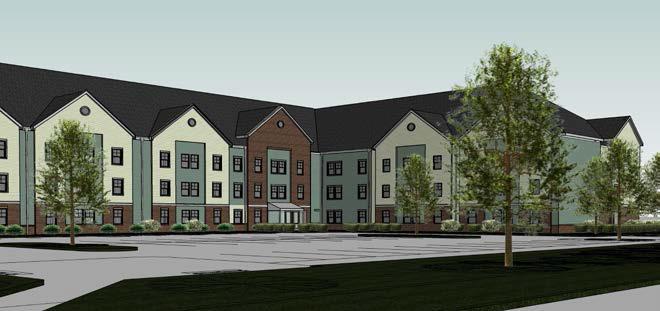 CLEVELAND, October 18, 2017 /3BL Media/ - KeyBank Community Development Lending & Investment (CDLI) has provided $5.7 million to The Woda Group, Inc. (Woda) for the new construction of Audubon Crossing, located in Dayton, OH. The 50-unit, three-story residential apartment community will be income- and age-restricted to seniors 55 and older with 35-60% AMI.
The property is part of a larger development known as Salem Crossing Hope IV. The Hope IV program is part of the Greater Dayton Premier Management's efforts to improve the physical quality of housing and revitalize neighborhoods.
The financing represents Key's 18th project with Woda.
Kelly Frank of Key's CDLI group arranged the construction loan. The project utilizes multiple sources of funding, including an allocation of 4% Low Income Housing Tax Credits (LIHTC), City of Dayton HOME funds, a Replacement Housing Factor (RHF) Loan from Greater Dayton Premier Management and a Housing Development Assistance Program (HDAP) loan.
About the Woda Group
The Woda Group, Inc. and its affiliates are experienced developers, general contractors, and property managers specializing in the design, construction, and management of affordable multi-family apartments, senior communities, and single-family homes. Considered leading experts in the affordable housing industry, the Woda team is known for producing and maintaining high quality affordable housing. Affordable Housing Finance Magazine ranked The Woda Group, Inc. 9th overall among Affordable Housing Developers and 22nd overall among Affordable Housing Owners in its April/May 2017 issue.
The Woda Group, Inc. has developed and currently manages more than 275 communities and more than 10,000 units. The Woda Group, Inc. has offices in Westerville, Ohio; Annapolis, Maryland; Savannah, Georgia; Shelbyville, Kentucky; Norfolk, Virginia; Indianapolis, Indiana; and Mackinaw City, Michigan. For more information, visit www.wodagroup.com.
About Key Community Development Lending/Investment
KeyBank Community Development Lending and Investment (CDLI) helps fulfill Key's purpose to help clients and communities thrive by financing projects that stabilize and revitalize communities. Experts in complex tax credit lending and investing, Key is one of a handful of affordable housing lenders in the country with a platform that brings together balance sheet, equity, and permanent loan offerings. CDLI has a substantial investment and loan portfolio worth more than $2 billion, 90% of which is Low Income Housing Tax Credit (LIHTC) projects. For its ability to lend to, invest in, and serve its communities –especially low-to-moderate income communities – KeyBank has earned eight consecutive "Outstanding" ratings on the Community Reinvestment Act exam, from the Office of the Comptroller of the Currency.
About KeyCorp
KeyCorp's roots trace back 190 years to Albany, New York. Headquartered in Cleveland, Ohio, Key is one of the nation's largest bank-based financial services companies, with assets of approximately $135.8 billion at June 30, 2017. Key provides deposit, lending, cash management, insurance, and investment services to individuals and businesses in 15 states under the name KeyBank National Association through a network of more than 1,200 branches and more than 1,500 ATMs. Key also provides a broad range of sophisticated corporate and investment banking products, such as merger and acquisition advice, public and private debt and equity, syndications and derivatives to middle market companies in selected industries throughout the United States under the KeyBanc Capital Markets trade name. For more information, visit https://www.key.com/. KeyBank is Member FDIC.
Contact: Laura Mimura laura.mimura@key.com