KeyBank Provides $49 Million of Financing for Affordable Housing Construction in Florida
Development to provide affordable housing for families and people with special needs.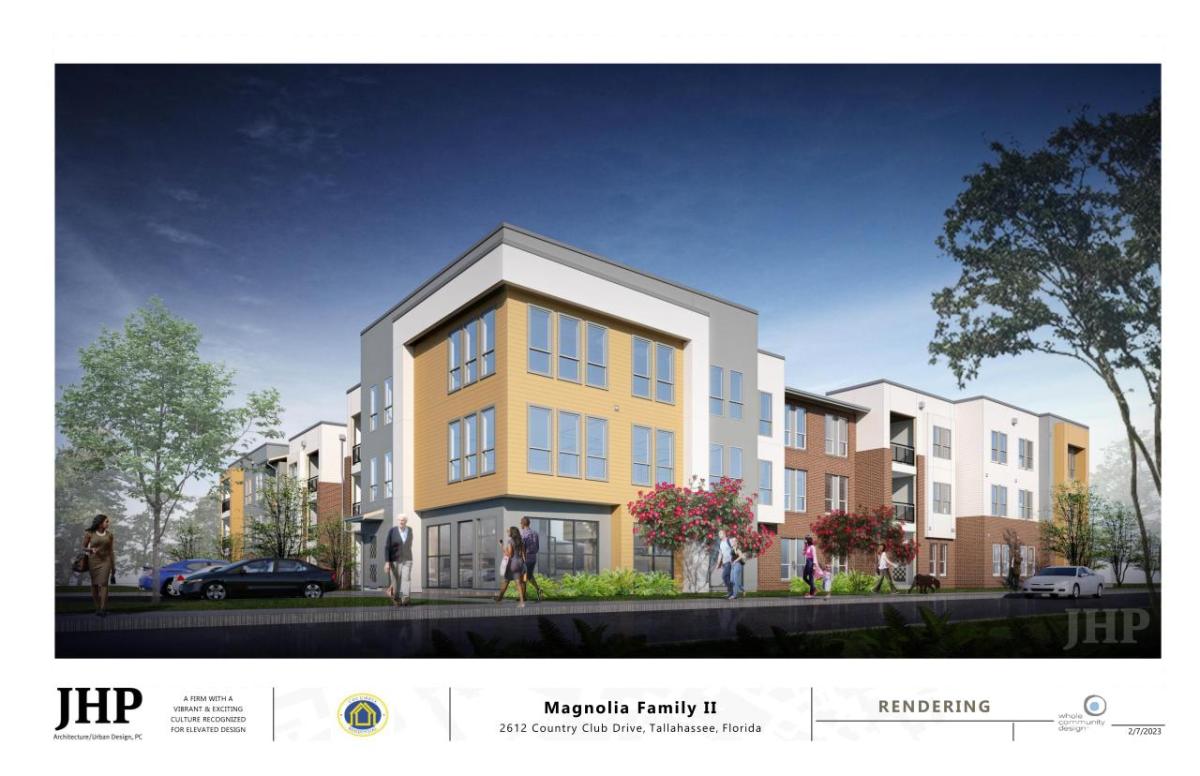 CLEVELAND, March 7, 2023 /3BL Media/ – KeyBank Community Development Lending and Investment (CDLI) and KeyBank Real Estate Capital (KBREC) provided $49 million of financing for Columbia Residential ("Columbia"), a partner of the Tallahassee Housing Authority, to construct an affordable housing property in Tallahassee, Florida.
CDLI provided a $33 million construction loan and a $15.9 million Freddie Forward Commitment permanent loan to fund the new construction of Magnolia Family II. The property includes a total of 160 units, of which 128 units will meet income restricted requirements of 33% and 60% or less of the area median income (AMI). The remaining 32 units will remain at market rate value. 
Residents of Magnolia will receive supportive services at no cost including:
Employment Assistance Program (EAP): Quarterly scheduled EAP workshops/meetings offering employment counseling and skills workshops providing instruction in the basic skills necessary for getting, keeping, and doing well in a job. 
Financial Management Program: Quarterly classes to provide residents training in various aspects of personal financial management including financial budgeting and bill-paying, tax preparation, fraud prevention, retirement planning/savings, and homebuyer education including how to prepare to buy a home, and how to access to first-time homebuyer programs in the county in which the development is located. 
Adult Literacy: Literacy tutor(s) who will provide weekly literacy lessons to residents in private space on-site.
The project also received support from RBC, which provided a $19.5 million equity investment through the low-income housing tax credit (LIHTC) program, as well as approval from the Tallahassee Housing Authority, for Project-Based Voucher Assistance. 
Magnolia Family II is the second phase of the redevelopment of a public housing complex operated by the Tallahassee Housing Authority, which was originally constructed between 1971 and 1972. CDLI and KBREC provided financing for Magnolia Family Phase I and is scheduled to be complete by November 1, 2023. The demand for affordable housing has increased in Tallahassee and both Magnolia Phase I and Phase II have received financial support from all levels of government to make the properties a success. 
Reginald Fenn of CDLI and Leslie Meyers of KBREC structured the financing. 
About KeyBank Community Development Lending and Investment
KeyBank Community Development Lending and Investment (CDLI) finances projects that stabilize and revitalize communities across all 50 states. As one of the top affordable housing capital providers in the country, KeyBank's platform brings together construction, acquisition, bridge-to-re-syndication, and preservation loans, as well as lines of credit, Agency and HUD permanent mortgage executions, and equity investments for low-income housing projects, especially Low Income Housing Tax Credit (LIHTC) financing. KeyBank has earned 10 consecutive "Outstanding" ratings on the Community Reinvestment Act exam, from the Office of the Comptroller of the Currency, making it the first U.S. national bank among the 25 largest to do so since the Act's passage in 1977.
About KeyCorp 
KeyCorp's roots trace back nearly 200 years to Albany, New York. Headquartered in Cleveland, Ohio, Key is one of the nation's largest bank-based financial services companies, with assets of approximately $189.8 billion at December 31, 2022. Key provides deposit, lending, cash management, and investment services to individuals and businesses in 15 states under the name KeyBank National Association through a network of approximately 1,000 branches and approximately 1,300 ATMs. Key also provides a broad range of sophisticated corporate and investment banking products, such as merger and acquisition advice, public and private debt and equity, syndications, and derivatives to middle market companies in selected industries throughout the United States under the KeyBanc Capital Markets trade name. For more information, visit https://www.key.com/. KeyBank is Member FDIC.