KeyBank Provides $39.4 Million in Financing for the Redevelopment and Preservation of a Historic Cleveland Affordable Housing Property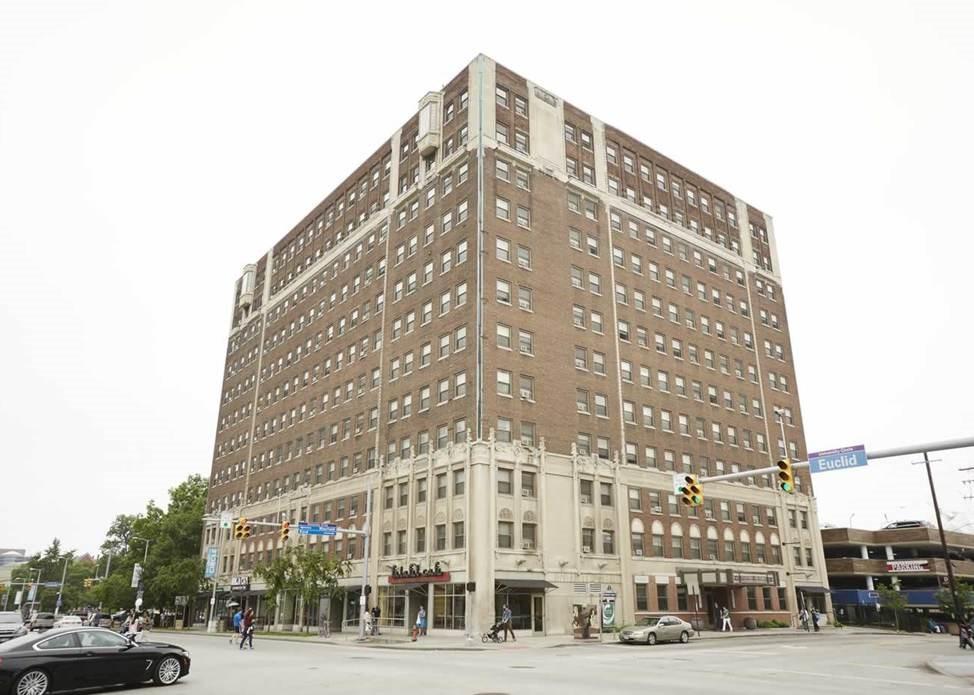 CLEVELAND, October 22, 2018 /3BL Media/ - KeyBank Real Estate Capital and KeyBank Community Development Lending and Investment (CDLI) have provided a total of $39.4 million in financing for the redevelopment and preservation of Commodore Apartments in Cleveland, OH. Specifically, KeyBank provided a $16.6 million LIHTC equity investment, an $11.6 million construction loan and an $11.1 million non-recourse, FHA 221(d)(4) first mortgage loan.
"At KeyBank, our integrated platform allows us to provide unique financing solutions that best meet the needs of our clients and the communities in which we serve," said Rob Likes, national manager of KeyBank's CDLI team. "Our partnership with The Community Builders, Inc. and University Circle demonstrates our commitment to creating and preserving affordable housing where we live and work."
The 12-story, high-rise building was originally constructed in 1924 as a hotel and later converted into apartments in 1964, with renovations in 2008 and 2010. The 198-unit multifamily apartment complex features 23 studio, 142 one-bedroom and 33 two-bedroom units. A project-based Section 8 HAP contract will provide rental assistance to 144 units for tenant earning between 30-60% AMI. 
"This redevelopment preserves and improves nearly 200 quality apartments for families of all incomes at the heart of University Circle. The Community Builders is thrilled to work with KeyBank and our local partners to preserve and enhance the historic Commodore Apartments and provide connections to opportunities in this thriving neighborhood," said Terri Hamilton Brown, regional vice president of development, Midwest."
The building will be substantially rehabilitated, including replacement of the roof, elevator modernization, new fire alarm system installation, replacement of domestic water supply and waste plumbing, accessibility upgrades, and in-unit renovations, including upgrading the kitchens, baths, flooring and interior doors, among other items.
"The historic Commodore building is an important part of University Circle's past, present, and future. University Circle Inc. is pleased to see The Community Builders Inc., KeyBank Community Development Lending and Investment and KeyBank Real Estate Capital make a significant investment to preserve and enhance the building for the residents and retailers and add to the spectrum of housing choices that ensure University Circle remains an economically integrated and vibrant community," said Chris Ronayne, president of University Circle Inc. 
Jeff Rodman of Key's Commercial Mortgage Group and Kelly Frank and Victoria O'Brien of Key's CDLI group arranged the financing. The financing was made possible by Ohio Housing Finance Agency, the City of Cleveland and The Community Builders. 
About The Community Builders
The Community Builders (TCB) is one of America's leading nonprofit housing organizations. Our mission is to build and sustain strong communities where people of all incomes can achieve their full potential. We realize our mission by developing, financing and operating residential communities, neighborhood amenities and resident opportunity programs. Since 1964, we have constructed or preserved hundreds of affordable and mixed-income housing developments and pioneered the Community Life (CL) model for resident success. Today, anchored by offices in Boston, Chicago, Cincinnati, New York and Washington, D.C. we own or manage 11,000 apartment homes in more than 14 states.
About Key Community Development Lending/Investment
KeyBank Community Development Lending and Investment (CDLI) helps fulfill Key's purpose to help clients and communities thrive by financing projects that stabilize and revitalize communities. Experts in complex tax credit lending and investing, Key is one of a handful of affordable housing lenders in the country with a platform that brings together balance sheet, equity, and permanent loan offerings. CDLI has a substantial investment and loan portfolio worth more than $2 billion, 90% of which is Low Income Housing Tax Credit (LIHTC) projects. For its ability to lend to, invest in, and serve its communities –especially low-to-moderate income communities – KeyBank has earned nine consecutive "Outstanding" ratings on the Community Reinvestment Act exam, from the Office of the Comptroller of the Currency.
About KeyCorp
KeyCorp's roots trace back 190 years to Albany, New York. Headquartered in Cleveland, Ohio, Key is one of the nation's largest bank-based financial services companies, with assets of approximately $138.8 billion at September 30, 2018. Key provides deposit, lending, cash management, and investment services to individuals and businesses in 15 states under the name KeyBank National Association through a network of over 1,100 branches and more than 1,500 ATMs. Key also provides a broad range of sophisticated corporate and investment banking products, such as merger and acquisition advice, public and private debt and equity, syndications and derivatives to middle market companies in selected industries throughout the United States under the KeyBanc Capital Markets trade name. For more information, visit https://www.key.com/. KeyBank is Member FDIC.
Media contact: Laura Mimura, laura.mimura@key.com, 216-471-2883
###